Many models available for Mad River Adventure. Check descriptions below.
Safety Notes:
Enjoy motoring but don't flip over it! Stabilizers help you keep yourself right-side-up.
Set motor trim angle right for safety and efficiency.

Sticking your nose up in the air goeth before a fall. Put some weight in the bow to reduce risk. A balanced boat is a safer boat.

For MyCanoe owners, be sure to ask for special version in your order comments.
click "more info" links to see price and/or to order
Super Strong Motor Mount

Rigid "Super Strong" for both trolling motors and gas motors. Extension fits either and lets you mount motor farther forward where canoe is wider, for better balance when motoring solo. Extremely rigid and well made. Don't risk your motor with a flimsy motor mount. A motor mount should be strong.

We can make ithe Super Strong, the Hinged and the Any Length models compatible with the Mad River Adventure. Request in comment space during checkout. Only the Adventure. Other Mad River canoes take standard clamps.

Hinged Motor Mount (Flipper)

Hinged for trolling motors where you are worried about hitting something underwater. Your motor will flip up automatically if it hits an underwater obstruction

Side Saddle Motor Mount

Suitable only for Old Town canoes with thick vinyl gunwales and others with thick gunwale lips. Clamps just to one side, and has no crossbar. (Will not work on Old Town Penobscot with aluminum gunwales, too thin). For trolling motors only.

Ash Motor Mount

Beautiful and economical reinforced wood motor mount for your canoe. Trolling motors only. Ash wood, stainless steel clamps, phenolic knobs. Made in USA.

Any Length Motor Mount

This all-aluminum canoe motor mount is sturdy and versatile. Available in many different lengths so it can span a wide canoe. With optional mounting holes, crossbar can accept accessories including stabilizer floats, leeboards, or portage wheels. Have a Mad River Adventure? Request compatible clamps,

Video on MyCanoe Click Here

Any Length Motor Mount with Stabilizers

Our Any Length Motor Mount with Hydrodynamic Stabilizers to help keep your canoe from flipping. Floats adjust up and down and in and out

Customer Review of

Any Length Motor Mount

(Shown 1 row & 2 rows above)

"Best Motor Mount I Ever Tried"

"I used this motor mount today on my old town tripper canoe ,with a 40lb thrust minkota endura max . It is extremely strong , There was no flex ,at all , the clamp worked great very secure ,they did not loosen at even with the motor at full power. 20 years ago I bought my first trolling motor for this canoe , but after trying several mounts, out of frustration i made my own . 20 years later my mount is showing its age , and i saw this one -- FANTASTIC! I don't have to make a new one! . Simple design, fast to install , lightweight , yet incredibly strong at a great price !"

Snap In Motor Mount

Snaps into end of our canoe stabilizer crossbar or front crossbar of sail kit. Works best when mounted in the front or rear. (If mounted in the middle, you won't have good steering control unless you put a leeboard up front.)
Stabilizers help you keep yourself right-side-up! Greatly reduces canoe motoring risk.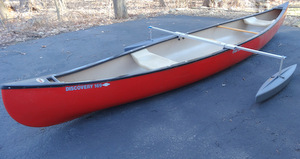 Please note: Only use motors approved for use with your dinghy by the dinghy manufacturer.
Motor Mount for Intex Inflatables

Fits Mariners, Seahawks from 2005 on and the Excursion

Motor Mount for 9'-12' Caravelle & Super Caravelles

For the Sevylor Caravelle, Super Caravelle, HF280 or HF 360. Mounts to the motor mount fittings on the boat.

Motor Mount for Navigator, Jilong, Solstice. Cheyenne, Atol Boats

For Jilong and Red Star boats such as the Navigator II 500 and Navigator III 400, Cheyenne and Atol. Also Solstice Quest.

Snap In Motor Mount

Snaps into end of the crossbar of our canoe stabilizers or front crossbar of our Dinghy sail kit.

Clamps to Sail Inflatable with Motor Mount

Motor mounts use the same fittings we use for normal attachment of the steering oar unit, so trying to use both at once presents a conflict. This item resolves that conflict

ELECTRIC MOTOR PACKAGE

Electric motor, battery, charger, and power meter to power your dinghy when the winds won't.
Extension for our Super Strong and Hinged Motor Mounts

Fits only on the Super Strong and Hinged Motor Mounts. With the extension you can move the motor mount foward on your canoe. Most canoe motor mounts won't accomodate the width of a canoe anywhere but very close to the stern. This extension allows these motor mounts to go up to 30 inches wide.

Clamps for Canoe Motor Mounts or DIY projects

Pair of Clamping jaws, bolt and star-knob nut to replace a lost or damaged set of gunwale clamps on our Super Strong or Hinged canoe motor mounts. Free Shipping!

Portage Wheels

Slip on these wheels into your Any Length Motor Mount crossbar's channels. Makes your canoe portable on land. (If you don't have the Any Length Motor Mount, add the Crossbar with Clamps or our Accessory Seat.)

16" wheels are heavy duty, like a contractor's wheelbarrow tire, for easy rolling on rough or soft ground.

Lightweight 12" wheels are more compact and lower cost.

Shown with 12" wheel

16" wheels (shown with it's own crossbar)

12" wheels (shown installed in our accessory seat)

Leeboards with Moveable Mount

Clamp these leeboards onto your canoe near the front to help you go straight. One on each side. Leeboards are large fins in the water. Crossbar is telescoping so you can adjust the length to fit width of your canoe at any point. (Note: Leeboard blade appearance has changed. See next photo for more up-to-date photo of blade design)

Snap-in Leeboards

For our Any Length Aluminum Motor Mount, these snap into either of the crossbar's two accessory channels. Helps you go straight.
Co-owners Jim Luckett and Rob Michael are passionate about extremely portable inflatable sailboat sailing. If you need assistance shopping, sailing advice, or have a boat not listed on our site, call or email us!
Contact Us: Call 1-888-Joy-Sail or 1-978-263-7598. Email: Jim@SailboatsToGo.com
General Ordering Information and Return Policy