Any Length Aluminum Motor Mount with Stabilizers for Canoes
Item #: 5216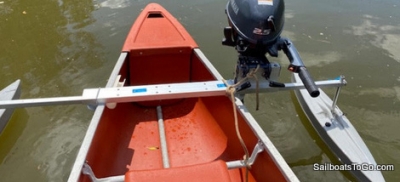 This is a motor mount and stabilizer in one product! Same as the item 5215 but with the addition of hydrodynamic stabilizer floats (pontoons) to help keep your canoe from flipping.

We drill the Any Length Motor Mount with the hole pattern required to accept stabilizer pontoon float arms and we provide a pair of streamlined hard plastic floats on telescoping arms. (Hydrodynamic floats). Floats adjust up and down and in and out. Motors up to 3 HP.

Standard length is 36 inches but you can specify a length in order comments. Lengths over 47 inches will incur additional shipping, which will be manually quoted for you after you order.

Customer comment: "I just wanted to send you a Thank You for everything! The stabilizers worked amazingly! The canoe is very stable with the engine on it and I can easily set the whole thing up by myself, which is what I wanted. I am finally able to do what I set out to do. All the best to you!"

We recommend this 2 float version, because you may overcompensate on a turn and start to flip the other way, but if you want to save money and have a float only on the motor side, see item 5217.

Upgrade your float arms in this order to square post type by adding item 1031.

Specify float color in order comment space during checkout -- grey, yellow or red. For MyCanoe owners, be sure to ask for special version in your order comments.
PRICE: $379.00 + $35.00 S&H --> BUY NOW! <--
---