Kayak Sailing
Call:

1-888-Joy-Sail or 1-

978-263-7598
Email: Jim@SailboatsToGo.com
You can have both a Kayak and a full fledged sailboat with just one boat!

Fun, Fast, Affordable, Comfortable, and very Portable!

For every kayak. No tools needed.

Already got a kayak? Sail Kits

Want a kayak too? Kayak/Kit packages

Above: Our Sea Eagle 380x Explorer Kayak plus Sailkit package.

We have kits for every kayak plus kits tailored for many popular models and several specialty kayaks too.
Our sail rig converts your kayak into a sailboat in minutes. Fun, Fast, Portable, and Comfortable. Rig folds to less than a 4-foot-long golf bag size package. Full upwind sailboat performance.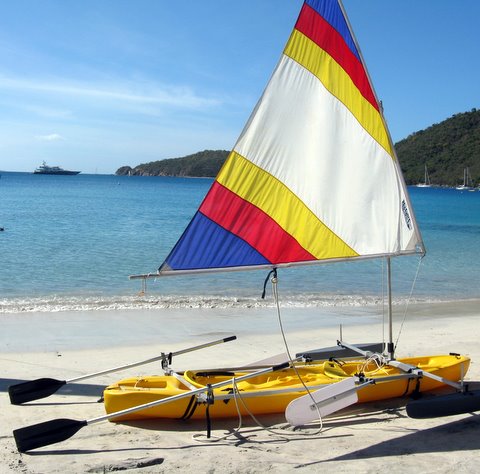 Our Any Kayak Sail kit on a Sit-on-top kayak (left). The Any Kayak kit fits on all kayaks. We have kits tailored for many popular inflatable kayaks too.
Enjoy the thrilling power of nature's wonderful wind. Feel that power in the tug of the sail on the rope in your hand, and the throb of the steering oar in your other hand as its blade knifes through the rushing water.
Co-owners Jim Luckett and Rob Michael are passionate about sailing. Need help shopping, sailing advice, or have a boat not listed on our site? Call or email us!
Contact Us: 1-888-Joy-Sail or 1-978-263-7598. Email:Jim@SailboatsToGo.com
General Ordering Information and Return Policy