Canoe Sailing

Call: 1-978-263-7598

(9 AM to 9 PM eastern, 7 days a week) Worldwide shipping.

Email: Jim@SailboatsToGo.com
SailboatsToGo Sail kits fit any canoe!

Click any underlined phrase. Example: Chart of All Kits is a link to a chart explaining all canoe sail kits. Try the underlined phrases below. Call or email Jim: 1-978-263-7598 (eastern time zone); Jim@SailboatsToGo.com

Clamps on. No drilling or gluing. Market proven since 2003. Personal attention from SailboatsToGo owner Jim Luckett always available.

Choose a standard kit or Deluxe or Super Deluxe package.

Click Here for Chart of All Kits

See details of the parts that make up a kit, with pics and videos.

Add upgrades & options.

Choose sail colors & material.

The sail kits fold to a compact size and are easily shipped to your door, stored in your closet and carried in any car.

Buy a SportsPal Canoe from us and save 10% on your sail kit purchased at the same time.




Our Standard Canoe Kit. Click picture for Video

Here's another video, provided by a happy customer: Click Here

We are a dealer for Pakboat folding canoes , SportsPal Aluminum canoes and the Sea Eagle inflatable Travel Canoe and offer sailkit/canoe packages for these brands.
Clamp-on sail rig converts your canoe into a sailboat in minutes. Fun, Fast, Portable, and Comfortable. Rig folds to less than a 4-foot-long golf bag size package. Does not damage your canoe. Full upwind sailboat performance.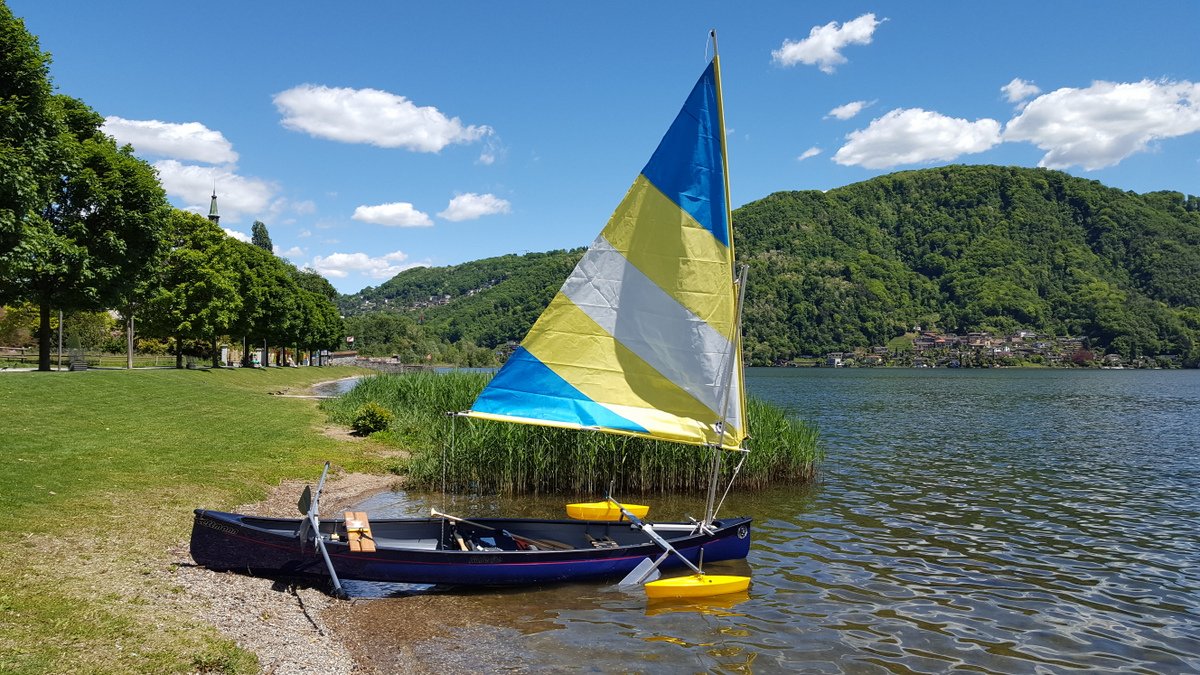 Enjoy the thrilling power of nature's wonderful wind. Feel that power in the tug of the sail on the rope in your hand, and the throb of the steering oar in your other hand as its blade knifes through the rushing water.
Owner, founder and manager Jim Luckett is passionate about sailing. Need help shopping, sailing advice, or have a boat not listed on our site? Call or email me!
Contact Us: 1-888-Joy-Sail or 1-978-263-7598. Email:Jim@SailboatsToGo.com
General Ordering Information and Return Policy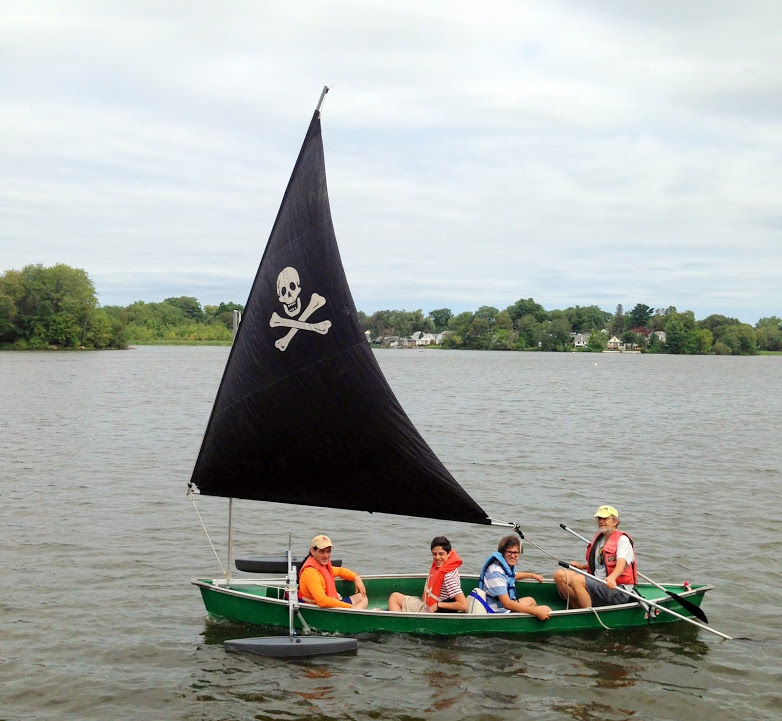 Four men in a 15-foot Coleman canoe with our sail kit. The whole middle of the canoe is open for passengers. And since every part of the sail kit is at the gunwale or above, there is no loss of space for gear if you want to go sail-camping. Just watch out for pirates!
Comment from a customer:
I am from Canada and delivery was really fast. Any questions I had were answered really quickly. As for the sail rig, I've got nothing but good comments!
I just came back from a two-day camping trip. As the rig sits above (or level with) the highest points of the canoe, it lets me put all of my stuff as per a normal canoe. This thing opens up so much more possibilities for trips and explorations.
I'm looking forward to the next adventure!!!
-Zenon
(Quebec)
Photo of Zenon's rig: