Order a SportsPal Canoe
Delivered to your Door. Or pickup in Adrian, MI.
Special Offer: 10% Rebate on Price of Any Sail Kit, Rowing Kit, Stabilizer, Portage Cart, motor or Other Accessory*
* Must be part of same order with a SportsPal canoe. No rebate on shipping
Ordering Links At Bottom of This Page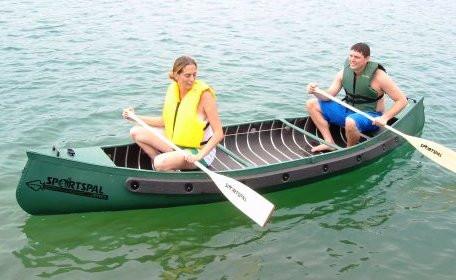 Seven models to choose from. Some are pointed stern ("Double End" as above), some square stern for motoring, one has a wide square stern.
Available in Red, Green, and Birch Bark
Shipped right to your door. Email Jim@SailboatsToGo.com for a shipping quote or with other questions. Or call 978-263-7598.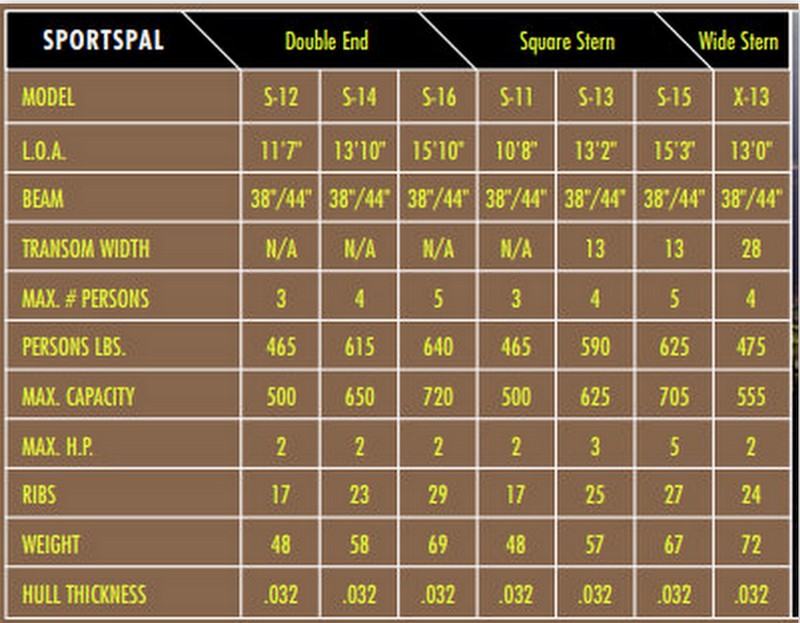 Square Stern Vs. Wide Square Stern
Features and Benefits:
Ultra-light aircraft aluminum.
Made by a stretch-form process that eliminates need for side seams and makes them stronger.
T-keel backbone provides superior tracking and added strength.
Wide, flat bottom for stability.
Cross ribs give the floor added strength and rigidity without adding much weight
Cushiony inner hull lining is non-absorbent and makes the canoe quieter and warmer to the touch. Also adds buoyancy.
Side sponsons add stability and buoyancy. Also act as bumpers.
Lighter in weight for easier portability on land.

Video Links

Note: Videos by enthusiasts. We disclaim responsibility for their content.

Video One

Video Two

Lighter Than Conventional Aluminum Canoes Because the Rib Reinforcements Allow Skin To Be Thinner

Note: Boating involves risk of injury or death. Learn the rules of safe boating to reduce your risk.

Accessory Links

10% off when purchased with a canoe!

Motors

Sail Kits

Rowing

Carts

Roof Racks

Stabilizer Pontoons

Motor Mounts

Trailers
Ordering Links - Click on a Product Number (Left-hand Column) To Enlarge Photo & Text For That Item
Click Numbers in thie column to Enlarge Picture & Text

11' Sportspal Canoe - S11 -Square Stern, Aluminum - shipping TBD




Weight 48 lbs. Centerline Length 10'8" Beam 38"/44" Transom Width 13" Transom Height 15" Persons 3 Max. Capacity 500 lbs. Max. Horsepower 2 Hull Thickness 0.032 Number of Ribs 17 Stern Type Square Shipping cost to be determined on a case-by-case basis. You can request an advance quote. Otherwise, you'll be given a chance to cancel once shipping is quoted.

1199.00

Shipping**
0.00
Add to Cart
Check Out
3042

12' Sportspal Canoe S12 - Aluminum - shipping TBD -


Weight 48 lbs. Centerline Length 11'7" Beam 38"/44" Persons 3 Max. Capacity 500 lbs. Max. Horsepower 2 Hull Thickness 0.032 Number of Ribs 17 Stern Type Double-Ended

Shipped to your door. Cost to be determined. You can request advance quote, or place the order first, with right to cancel if shipping cost is unacceptable. Shipping cost runs around $200 - $300 to many places, but higher (up to $550) out west.

Boating involves risk of injury or death. Please learn the rules of safe boating to reduce your risk.
1172.00

Shipping**
0.00
Add to Cart
Check Out
3044

13' Sportspal Canoe S13 - Square Stern - Aluminum - shipping TBD -




Weight 57 lbs. Centerline Length 13'2" Beam 38"/44" Depth - Transom Width 13" Transom Height 15" Persons 4 Max. Capacity 625 lbs. Max. Horsepower 3 Hull Thickness 0.032 Number of Ribs 25 Stern Type Square



Shipped to your door. Cost to be determined. You can request advance quote, or place the order first, with right to cancel if shipping cost is unacceptable. Shipping cost runs around $200 - $300 to many places, but higher (up to $550) out west.

Boating involves risk of injury or death. Please learn the rules of safe boating to reduce your risk.
1383.00

Shipping**
0.00
Add to Cart
Check Out
3045

13' Sportspal Canoe X13 - Aluminum - WIDE Square Stern - shipping TBD -




Wide transom canoe for more stability and more space at the rear than the other square stern canoes in this line.

Weight 72 lbs. Centerline Length 13'0" Beam 38"/44" Depth - Transom Width 28.5" Transom Height 15" Persons 4 Max. Capacity 555 lbs. Max. Horsepower 2 Hull Thickness 0.032 Number of Ribs 24 Stern Type Square

Shipped to your door. Cost to be determined. You can request advance quote, or place the order first, with right to cancel if shipping cost is unacceptable. Shipping cost runs around $200 - $300 to many places, but can be higher (up to $550 or more), especially out west.

Boating involves risk of injury or death. Please learn the rules of safe boating to reduce your risk.
1572.00

Shipping**
0.00
Add to Cart
Check Out
3046

14' Sportspal Canoe S14 - Aluminum - shipping TBD




Weight 58 lbs. Centerline Length 13'10" Beam 38"/44" Persons 4 Max. Capacity 650 lbs. Max. Horsepower 2 Hull Thickness 0.032 Number of Ribs 23 Stern Type Double-Ended

Shipped to your door. Cost to be determined. You can request advance quote, or place the order first, with right to cancel if shipping cost is unacceptable. Shipping cost runs around $200 - $300 to many places, but higher (up to $550) out west.

Boating involves risk of injury or death. Please learn the rules of safe boating to reduce your risk.
1299.00

Shipping**
0.00
Add to Cart
Check Out
3048

15' Sportspal Canoe S15 - Square Stern - Aluminum - shipping TBD -




Weight 67 lbs. Centerline Length 15'3" Beam 38"/44" Transom Width 13" Transom Height 15" Persons 5 Max. Capacity 705 lbs. Max. Horsepower 5 Hull Thickness 0.032 Number of Ribs 29 Stern Type Square

Shipped to your door. Cost to be determined. You can request advance quote, or place the order first, with right to cancel if shipping cost is unacceptable. Shipping cost runs around $200 - $300 to many places, but can be higher (up to $550 or more), especially out west.

Boating involves risk of injury or death. Please learn the rules of safe boating to reduce your risk.
1492.00

Shipping**
0.00
Add to Cart
Check Out

Click Numbers in thie column to Enlarge Picture & Text

16' Sportspal Canoe S16 - Aluminum - shipping TBD -




Weight 69 lbs. Centerline Length 15'10" Beam 38"/44" Persons 5 Max. Capacity 720 lbs. Max. Horsepower 2 Hull Thickness 0.032 Number of Ribs 27 Stern Type Double-Ended

Shipped to your door. Cost to be determined. You can request advance quote, or place the order first, with right to cancel if shipping cost is unacceptable. Shipping cost runs around $200 - $300 to many places, but can be higher (up to $550 or more), especially out west.

Boating involves risk of injury or death. Please learn the rules of safe boating to reduce your risk.
1438.00

Shipping**
0.00
Add to Cart
Check Out