What Buyers Say About The Sail Kits And Other Boating Products We Sell
And send us your comments! Send to Jim@sailboatstogo.com Questions? Email or call 978 263 7598
(A bunch more customer comments, mostly about the stabilizers and the rowing rig, are on another page - click here) Also, comments are often posted on our Facebook page rather than here -- http://www.Facebook.com/sailboatstogo
Testimonials - 2022
Great Products
Great products and quality made.
Mark (Jan 2022)
Fantastic
Your plans are fantastic and we have had a blast with the rig.
Jack (Jan 2022)
Testimonials - 2021
Love Your Product
Thanks for the solutions! I really do love your product and I'm glad you're filling orders. It's brought me a lot of joy.
Carson (Dec 2021)
Excellent

I received the lever lock this morning. Thank you very much for your excellent attention.
Fook (Dec 2021)
Great Customer Service
Thank you, Jim, for your great customer service! Thank you for sharing your joys of sailing.
Peter (Nov 2021)
Impressed
Just wanted to thank you and let you know how impressed I am with the build and design of the canoe rowing attachment.
Pierre (Oct 2021)
Excellent
I received my 55 sq. ft. Sail Kit yesterday. The quality looks excellent and should provide lots of enjoyment next spring when things warm up.
Russell (Oct 2021)
Plenty of Power
I just finished building a 16 foot trimaran - i used your 55 sq ft sail rig you sold me - its plenty of power.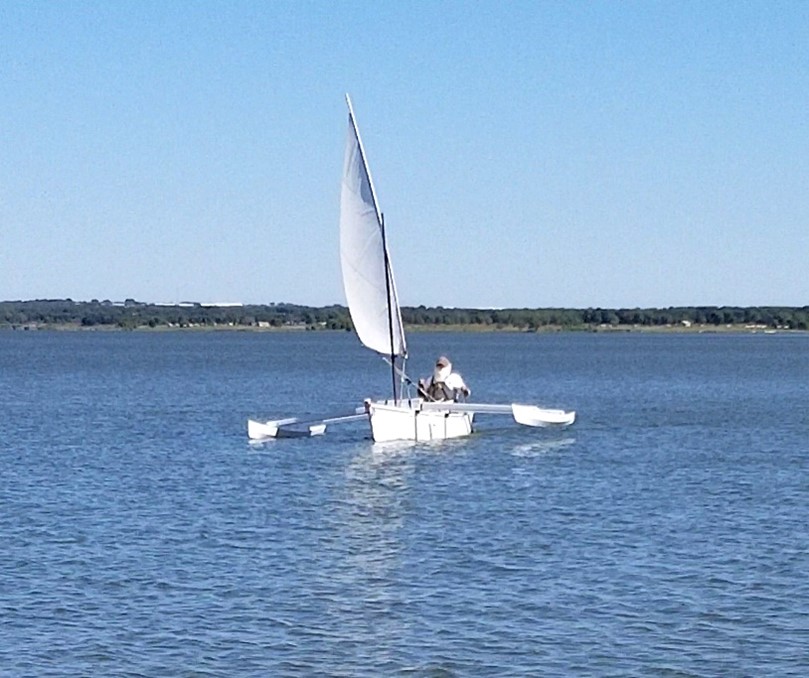 Forrest (Oct 2021)
LOVE sailing my canoe
First off I have to say I absolutely LOVE sailing my canoe. I have a 25' Catalina and this is easily more fun to sail. Not only that, I made this canoe and it deserves to be used more. Since I bought your kit I have used it more in the last few months than I have in the 12 years I've had it.
Carson (Oct 2021)
Worth Every Penny
Just letting you know that the outriggers have surpassed all of my expectations. Even at the minimum setting, I am able to stand up on the canoe. I did a custom transom and fitted the canoe with a 2.3 HP Honda. Im thinking of picking up the motor mount outriggers next. Make myself a canoe mini barge! Thanks for making a great product. Worth every penny.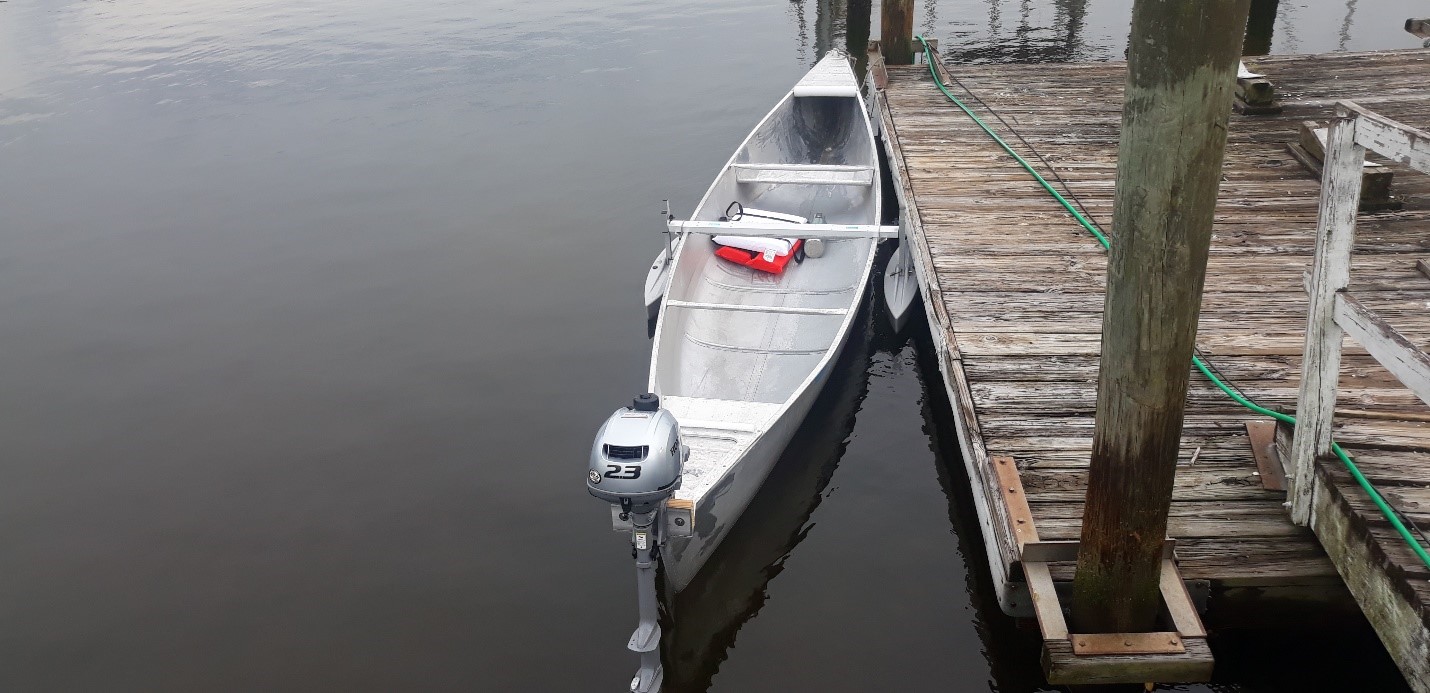 John (Oct 2021)
Outstanding
THANKS for your outstanding, clear and precise answer and comments.
I could NOT have expected more responsive, detailed and better answers to all my questions!
No one in business has ever attended and care answering in such detail and precision posted questions .
I AM VERY, VERY GRATEFUL.
Giulio (Sept 2021)
Awesome
LOVE your replacement plastic daggerboard! Drops right in! Easy in and out! In fact, it drops in so easy I thought it might be too loose, but it's got decent weight to it, drops right in there, stays in place.
And the boom swivel I got just previously if awesome too!
Next might be the boom extension! My sheet catches my life preserver when I tack and gybe.
Dave (Sept 2021)
Testimonials - 2020
Sail Kits in Action - Wheelchair Users
Just thought you'd like to see some pictures of your sail kits in action.
These are all sailors who are also full-time wheel chair users.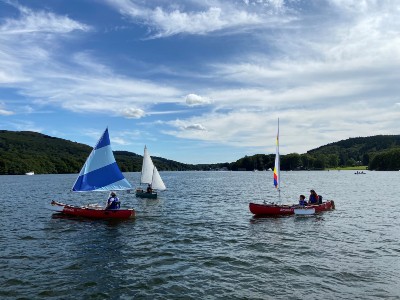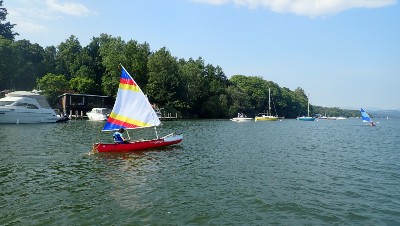 Chris (December 2020)
Great Service
Yesterday order was delivered by UPS. I want to thank you for your great service.
Thanks again.
J.P., (Oct 2020)
Fast Delivery
Thanks for the fast delivery of my sail. Here's a pic of how it looks. As you can see, I have a very early version of the Super Snark. My dad bought this boat back in the 70s. I cleaned it up, refinished all the wood, made a new mast, and now with the new sail I'm good to go.
Your video helped a lot with the rigging.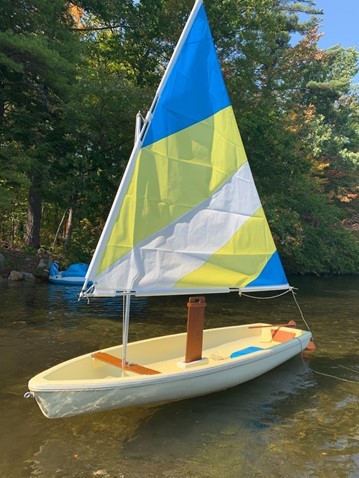 Bill (Sept 2020)
Thank You For All Your Hard Work
Thank you for all your hard work to make these sail kits available :)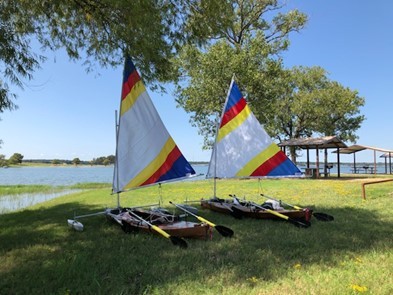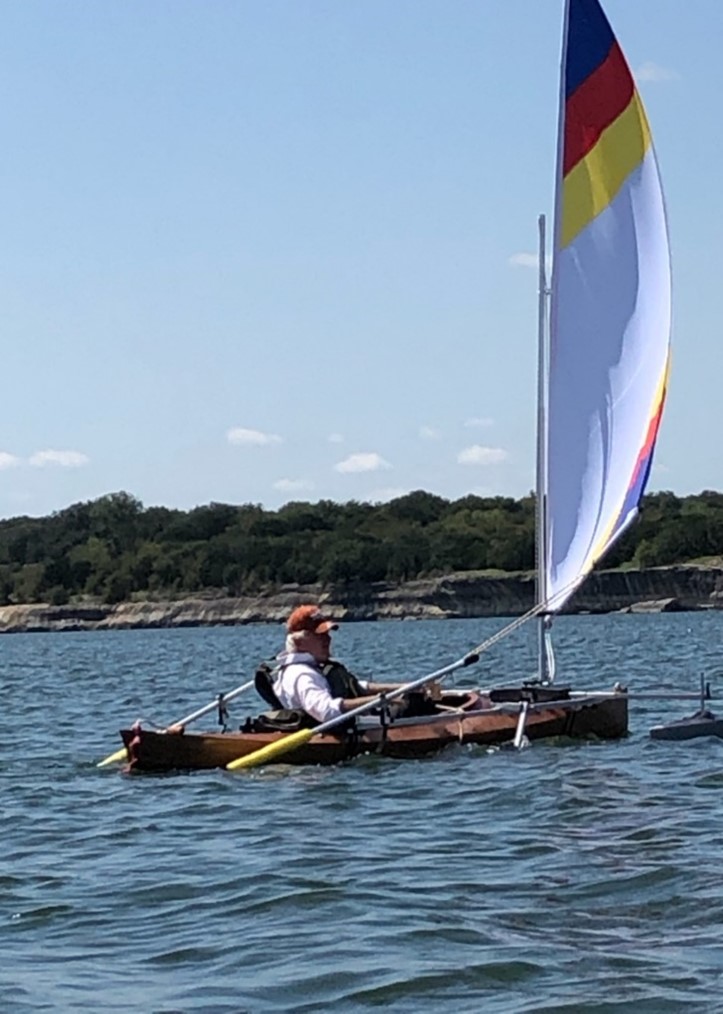 Forrest (Sept 2020)
Strongly Recommend
Great for my wife to come sail!
The Sea Eagle 420x is a comfy and stable way to get my wife out on Lake Erie. The softness of the inflatable hull makes the ride a pleasure when the winds pickup and waves begin to build. She can move around in the bow area of the kayak and make herself right at home. We use it for day sailing and have taken it with us on vacations as well. I would strongly recommend this sailing combo for any entry level sailors, or those looking for my options for sailing.
Andy Sept 2020
Really Impressed
I had a chance to try my new Stabilizers today, and I am really impressed by how effective they are. I was sailing in a 8-10 mph wind, with some flukey gusts. I wouldn't have gone out without them, and if I had I'm sure I would have flipped. The sailing was still "exciting," and faster than my canoe has previously sailed, but it wasn't terrifying! I can't imagine sailing a canoe without them in the future. I also find that the double-channel cross bar, and the wider gunwale clamps, attach to the canoe much more securely than the single-channel crossbar I was using previously with the leeboards alone. I also find the yoke rudder control very easy to use.

Thanks for your quick response to my order, for the new leeboard arms, and for making such excellent products. A couple of people have already asked about the fig, and I've referred them to your website.

Regards,
Dan (Sept 2020)
Had a Blast
Just wanted to let you know that I got the u-bolts, and we had a blast taking the sail kit out for the first time, spending 5 hours out on the Chesapeake Bay.
Thanks again,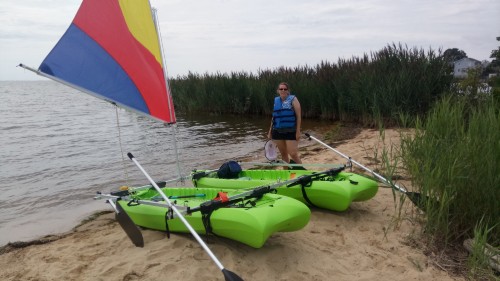 Al (Aug 2020)
Extremely Happy
I bought from you Seagle 380 kayak with heavy duty mast. I must say I'm extremely happy with this boat and its sail performance.
Javier (Sept 2020)
Long-time Customer
I'm a long-time customer. Converted my Navigator inflatable to sail and motor 7-8 years ago now I believe, with your kit. Had it on rivers, lakes and even the open Pacific Ocean. Has been fantastic and I have received compliments often, once even when I pulled up to a dock with million dollar yachts in Newport Harbor CA.
After a few adventures I have lost parts and I don't want to abandon this boat. I need the steering paddle w/tiller extension and mounting bracket with male peg and strap to fasten tiller to hole in frame. Also chasing air pump adapters for the Double Action Hand Pump that came with the Navigator III. If any thoughts come to mind?
I appreciate your help.
My best story with your boat was when hosting a friend from Austria, we went sailing on the open Pacific. We tied off to a mooring line in a kelp field near Crystal Cove Park CA. Listening to my portable stereo on shuffle the grateful dead came on. Drinking beers and floating in the caLi sun. Suddenly we heard a loud wssssh sound. Looking over just in time to see a whale blow hole take a breath and check us out 15-20 feet away. I believe it was the guitar solos of Jerry Garcia echoing under my little yacht that attracted him.))
Good times. Thanks again.
Jace (Sept 2020)
Wonderful design !!!!
I got a used Lifetime Tamarack Angler sit on top 10 foot Kayak which works really well with your Any Kayak Kit The same kit works on all three kayaks I have, a tandem sit on top, a single sit inside and my new sit on top . One of the real nice features on my new sit on top is that I can move toward the mast on the water and lower the sail bundle it up and then raise it back up like you showed me on your video to get it out of the way for paddling and then lower it back down when the wind picks up , all while on the water . I have found that paddling works real well with the sail up , the sponsons raised up as high as they will go to avoid as much drag as possible and moving the leeboards up out of the water . Today on the lake in the morning I had some nice winds that died out completely for a couple of hours and then picked back up . I was on a big lake and it was real nice to get the sail out of the way and up against the mast for paddling, really a unique feature. My main sheet rigging goes from the stern threw to blocks on the boom and then down to a rachet block on a D ring on my kayak. I can leave all the rigging attached as you can see when I raise the mast, so it is all ready to go when raise the sail back up. Really a double threat watercraft with paddling or sailing equally available.
Wonderful design!!!!
Here are some pictures: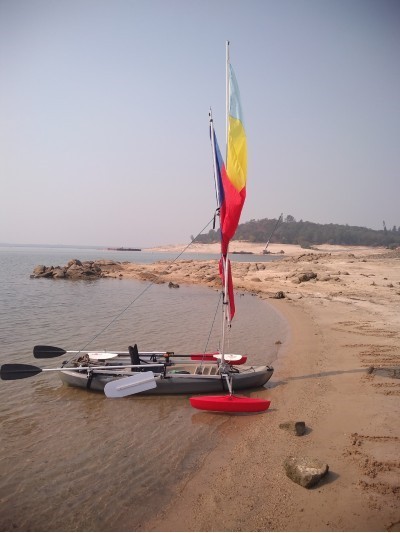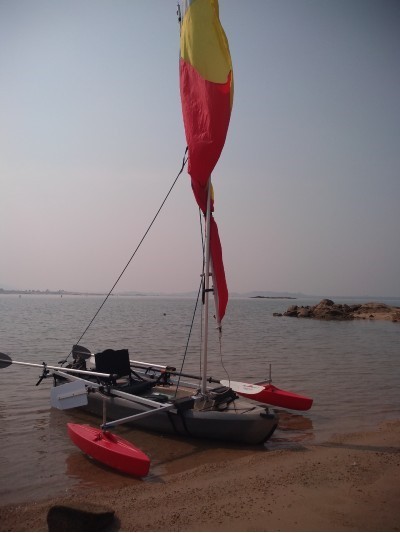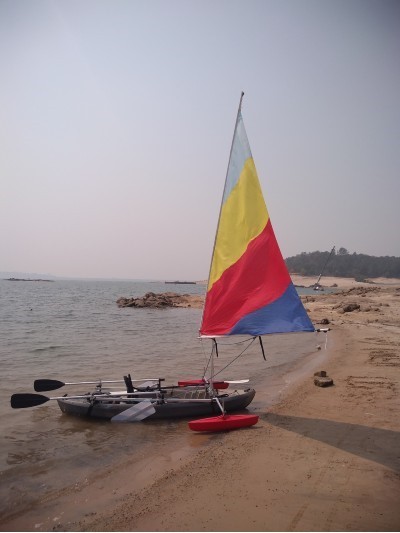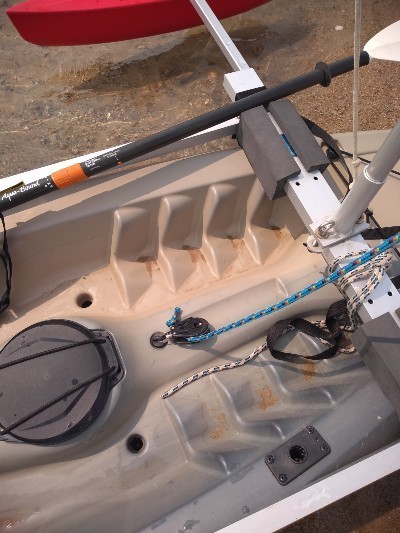 Jack (Aug 2020)
Had A Blast!
We tried it out today for the first time, had a blast : )
The Driftsun Rover 220 works great with your kit. Just wish we had a little more breeze!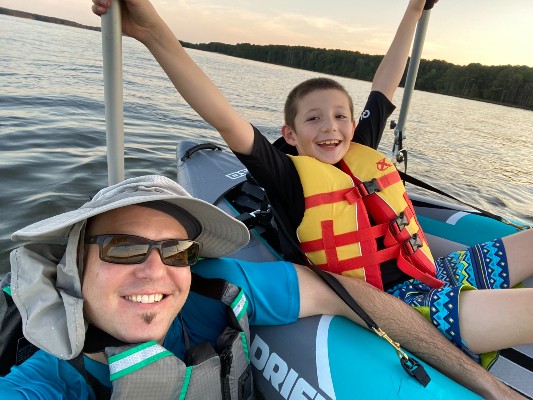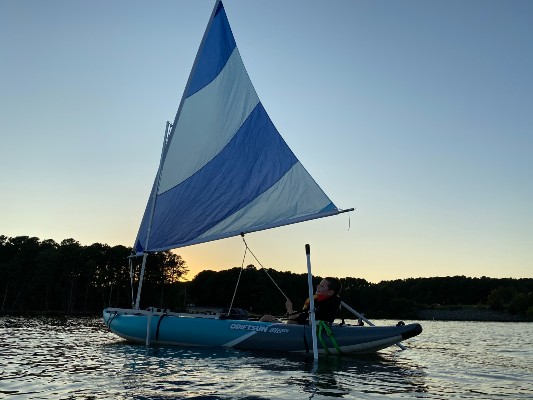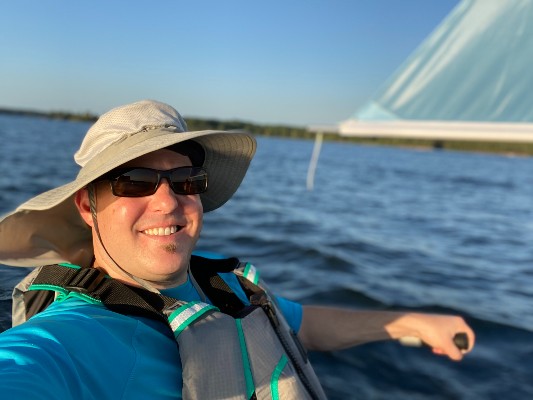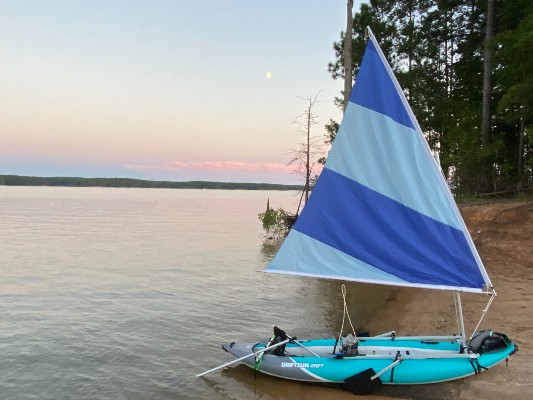 Russell Harper (Aug 2020))
So Clever!
Everything arrived as planned last week and I finally got out again today. Thank you. A couple was sailing their sunfish on the bay today. They both loved your rigging on my dinghy. The wife thought it was so clever. The husband loved how the boom was up and away from my head.
All praise for Sailboatstogo!
Albert August 2020
Appreciate the Extra Stability and Generosity
Thank you, Jim! Just back from another camping trip with the Sailboats to Go equipped canoe. Had a lot of fun and didn't sink it, guess I'm getting better, but I started using the high seat and that gave me an edge for balancing! Still haven't graduated to the larger sail. I sure am glad I bought the small sail to learn the ropes, would recommend that to any novice. As I may have mentioned, I'm am limited to launching ramps so I find myself needing to row out a couple of hundred yards normally into the wind, before I have enough space to drop the lee boards, remove the oars and connect them to the steering bar, grab the flapping sail and get the canoe to go. One set of oars works great. If I tried to use two sets, I'd probably get in trouble and sink the canoe by accidentally having an oar drop into the water. Aug 24 2020
Jim, thank you very much for the generosity! I certainly wasn't expecting it. I'll get those wheels out shortly. And, yes, I am having fun with both the sail and rowing kit. Where I'm at I find myself mounting the row kit, stabilizers, leeboards (raised all the way) and raising the sail then rowing out a couple of hundred yards heading directly into the wind until I have enough room to use the wind to clear shore. But you sure have to hurry to move the oars to the steering position, drop the leeboards, get in the rear, and grab the flapping sail before getting into trouble! I certainly appreciate the extra stability your equipment provides. Aug 4 2020
Mike (Aug 2020)
Amazing!
The pakboat has been amazing. So much lighter, and now I can store it in the closet!
Ludwig (Aug 2020)
Performed Beautifully
I swapped in my new 55 sq foot sail yesterday and it performed beautifully. It is a MUCH nicer sail than the one I ordered on ebay 10 years ago. Thank you for that. The eye straps are not a must have right now.
Thanks again,
Mike (Aug 2020)
Thanks for making sailing portable and sharing it!
I have replaced the Pivot by using an equivalent metric screw and nut. I was also going for a test run yesterday and no self-disassembling happened anymore (the only disappointment was the relative lack of wind). So everything is up and running and I am a happy ultra-portable sailboat owner.
There were also some curious bystanders asking about the kit, since they have never seen such a thing...
Thanks for making sailing portable and sharing it!
Donat (Aug 2020)
SUPER AWESOME!!!!!
Got home today and opened my new sail. I was happily surprised to see the Jolly Roger printed on both sides, I don't think that is made clear on your page. Even though it was late, I had to put it on the boat. The black with my yellow boat (also has some black trim made with pipe insulation-think black pool noodles) SUPER AWESOME!!!!!Shipping was very fast Next I will be getting your out riggers, I made some before I saw yours; wish I hadn't wasted the money
Robin (Aug 2020)
Great Product!
Thank you, I took it out yesterday, was so much fun. The center rudder works great, I have a nerve damaged foot that makes it hard to shift side to side around the center rudder, so is a limitation of mine. This is a great product thank you.
Darrell (Aug 2020)
Having a Blast!
I'm having a blast sailing my canoe. I can't tell you how many comments I get when people see the Jolly Roger on my silver Grumman. Thank you for your support.
D B (Aug 2020)
A Delight!
I thought you might enjoy the attached picture. We made it to the outer beach at Cape Cod / Nauset today about 4 miles one way traversing Pleasant Bay and landing on the outer beach, then a short walk to the Atlantic Coast. In the picture you see my son Christian (19) standing proudly like an explorer of the new world (with life jacket!). Also note the electric trolling motor attached to the square stern. We used the motor outbound against the wind, and then swapped it for the new foldable rudder on the way back at a more favorable wind angle.
The whole trip, including exploring the outer beach for about an hour took 4 hours. The sailing kit performed very well and the new rudder is a delight (much preferred over the dual steering oars).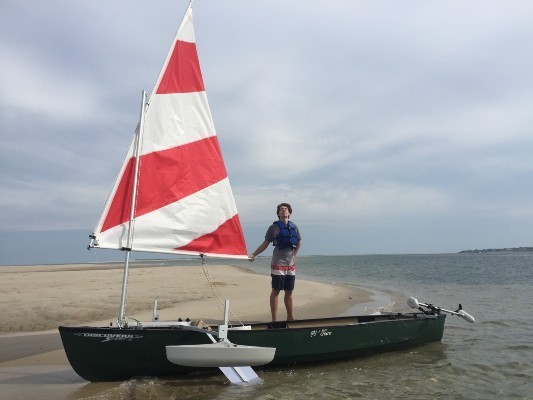 Oli (Aug 2020)
The Best!
Jim, your sailing kit is the best thing I could imagine. It's like having two boats for the space of one. We sailed around shallow lakes with narrow bays and shifty wind and had a great time.
Sam (Aug 2020)
Very Happy!
Oh, Jim I'm a very happy man. This is exactly the right part and am very excited about finishing my project. Thanks so much for selling this piece to me and have a great day.
Gray (Aug 2020)
Worked Fantastic!
Hi Jim. Had my first sail with the new rig. It was awesome! Hadn't been sailing for several years. Can't wait to go again. The equipment all worked fantastic!!
Rob (Aug 2020)
Had A Blast!
I finally went sailing for the first time today in my Saturn & sail kit at a local lake in Silverdale Washington and had a blast, so thank you! It worked as advertised, and even though I haven't sailed a boat since around 1982 the muscle memory kicked in after only a few turns and I felt right at home. Also, I agree that rudder oars work much better than conventional rudders to kick the boat around very quickly! In fact, I found it very intuitive and didn't even have to think about how to use it, which surprised me.
Thanks again,
Tim (Aug 2020)
Fits Perfectly!
I just tried the sail and it fits perfectly! We're so happy. Thank you so much.
Dmitry (Aug 2020)
Excellent Customer Service
I received the extension and it works perfectly.
I want to thank you for your excellent customer service and for the advice that you have given me while setting up my canoe.
Before I got the idea to put a sail on my canoe, I had never owned or sailed a boat.
I originally was going to order just a mast step and bracket and you recommended the H configuration and the upgraded mast to allow for future upgrades. That was great advice.
After a few times out and experiencing the thrill of sailing, I quickly recognized the value of outriggers and bought the hydrodynamic version.
My original leeboard bracket was an Old Town wooden one but it was too narrow for my boat and did not allow adjustability.
With the new one that I purchased from you I believe that I now have maximum flexibility to adjust both the mast and leeboard positions. It also gave me the perfect spot to mount a fairlead with a cam cleat.
I also added the additional bench seating so I no longer need to sit on the floor. I am 63 and not a limber as I used to be.
I am looking forward to some wind and testing it out.
Attached are a few pictures.
Thanks again.
As I gain experience, I will be looking to upgrade my sail to a 55 sq ft one.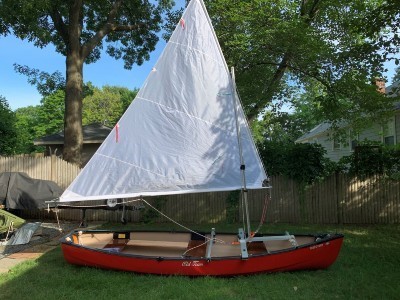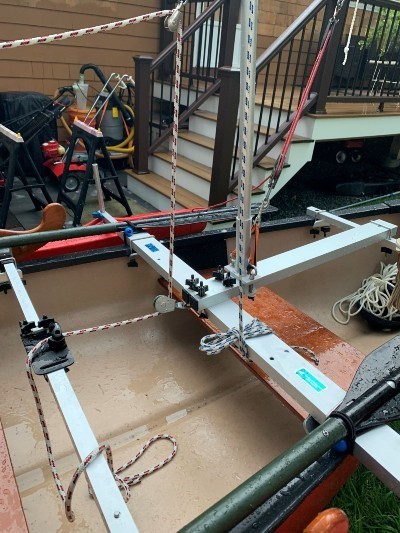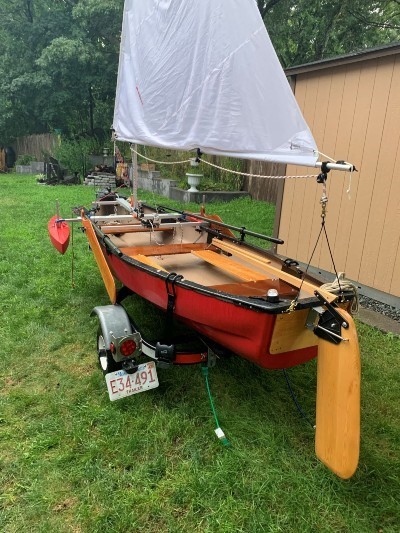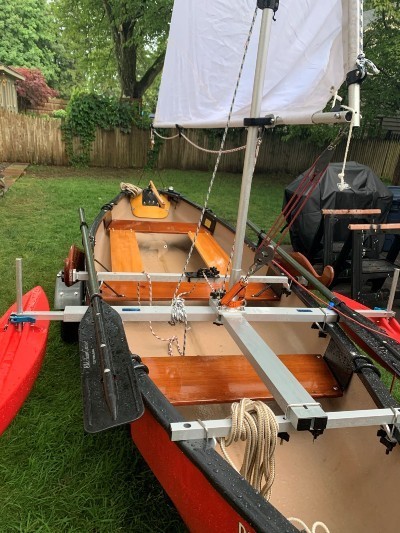 Regards,
Fred (Aug 2020)
Works Great!
Love the fact that the Saturn rd365 works great both as a kayak and as a sailboat.
Larry (July 2020)
Good Products at Reasonable Prices
I bought one of your dacron 55' lateen sails through Ebay to use use on my old Folbot Super kayak. The original Folbot sail was a 60' lateen, I kind of have a franken-rig of odd parts. I've also ordered square u-bolts from you, they helped me rig a folding dinghy. I'm quite pleased with both. Today I set the sail on the Folbot for the first time, it served well. I posted a picture on Facebook in two groups: Folbot Owners and Skinny Hull Sailing. Feel free to copy or share them. You sell good products at reasonable prices, and help guys like me sail anything that floats.
Thank you,
John (July 2020)
Like the Sale, Price, and Fast Shipping
I just posted a picture of one of your sails on an old Folbot Super. They're in Skinny Hull Sailing and Folbot Owners groups. In case you want to share the post here. I like the sail, the price and the fast shipping, thanks!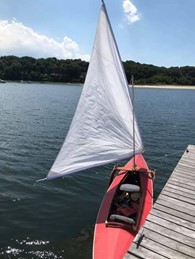 - John (July 2020)
You're a Legend!
Awesome Jim. You're a legend and I'm stoked to own one of your sail kits! I'll be sure to advertise your great product. Thanks again.
Matt (July 2020)
Thanks For Your Help
Hey Jim, we ordered parts from you to refurbish a 1975 Sunflower. Here's a picture of it after we got it all put together and on n the water on her maiden voyage. Thanks for all your help on ordering the parts!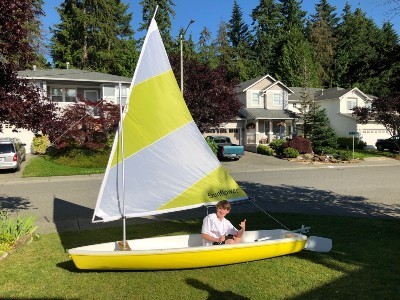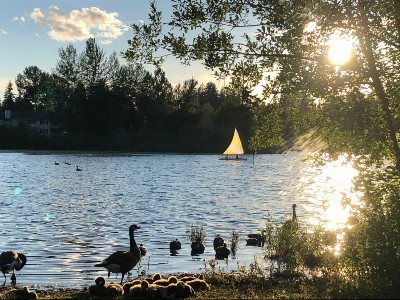 Ricky (July 2020)
My wife and I love sailing our Sea Eagle 420x. I've been a casual sailor for many years, and have sailed several different types of boats from a 144 foot tall ship to the smaller Hobie cat/ Sunfish/Laser. I was so excited to find sailboatstogo.com. The 420x is by far my favorite. We have a small lake behind our house and the portability makes it easy to stow without having to keep it in my yard (which our HOA doesn't allow) or at a boat slip/storage unit. In about 30 minutes we can go from "hey it looks like a nice day for sailing" to being on the water. I also find it to be surprisingly responsive and love the two steering oars - I found your online videos quite helpful to make the transition to the steering oars from using a rudder (which is what I was used to).
We also have several locations within 10 minutes of our house that are also great for sailing or kayaking - and we've done both - we love the fact that your sailing rig doesn't alter the kayak. And everything is so easy to transport by car. We look forward to bringing the boat to other larger lakes and even the ocean - there are so many possibilities!
Especially when the "stay at home stay safe" orders were issued in my area from COVID-19, the boat has been our favorite toy - social distancing in style :). It keeps us from going stir crazy.
I've had so many folks watch us sailing and express "that's so cool!" And everytime I tell them sailboatstogo.com is the place to go. I hope some of them follow up!
I'm so grateful for the care you took to answer all my questions, the recommendations you gave (the inflatable stabilizers, wheels, and hand pump have definitely come in handy), the quality of your equipment, and the way you stand behind your product.
Thanks so much!
Best,
Richard (July 2020)
Like the Sale, Price, and Fast Shipping
I just posted a picture of one of your sails on an old Folbot Super. They're in Skinny Hull Sailing and Folbot Owners groups. In case you want to share the post here. I like the sail, the price and the fast shipping, thanks!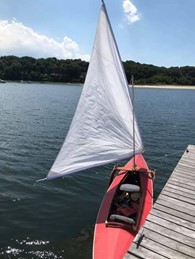 John (July 2020)
Awesome!
Boat awesome. Thanks for an awesome product. Gets a lot of looks.
Nicholas (July 2020)
Priceless!
I had to send you a picture of my two grandsons on the Sea Skimmer as we prepare for their first sailing adventure. It was priceless!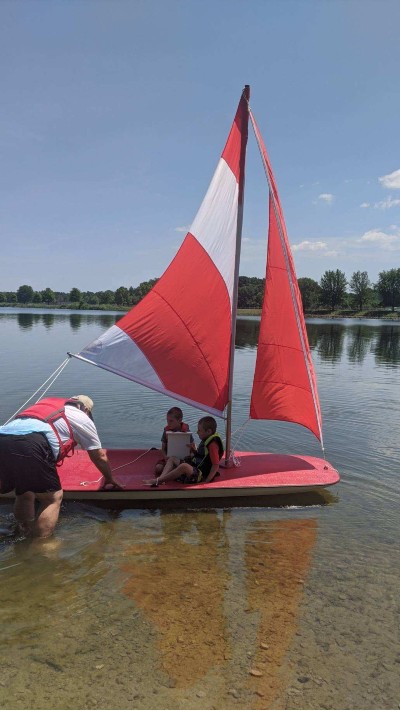 John (July 2020)
Fantastic!
Here we go! :) Fantastic sailing experience even from the first try.
Niko (July 2020)
Thrilling New Sailing Experience!
My entire family has enjoyed a wonderful sailing experience with our Sailboats to Go sail kit for our West Marine Water Tender. A couple of years ago, we moved to a lakefront house on a 90 acre lake in Kentucky, inheriting a Water Tender dinghy along with the house. We have enjoyed fishing and rowing around the lake in the dinghy, but I have always wanted to try sailing, and was thrilled to discover Sailboats To Go and the Serendipity Water Tender sail kit. Jim Luckett was a great resource on the phone, and my Deluxe sail kit arrived promptly and in great shape. The written instructions were included, and offered clear direction in building and installing the sail, mast, leeboards and rudder. The instructions and the online videos were most helpful, too. As a beginner, I headed out on my first sailing trip with great excitement. Although I had studied the sailing charts and Jim's great online videos, there is nothing like the first couple of expeditions to get me hooked and wanting to learn more. My son and I had our best outing yet over the 4th of July and still have the summer ahead of us to improve our skills! The kit is easy to assemble and dismantle, with sturdy but simple snap-apart components, and I can put up the sail quickly myself (I'm 63 with two knee replacements) when I see a good wind outside! During a summer of COVID 19 and other anxieties, sailing has provided a terrific and safe get-away to the sun, wind and water. Thank you for helping me have this thrilling new sailing experience.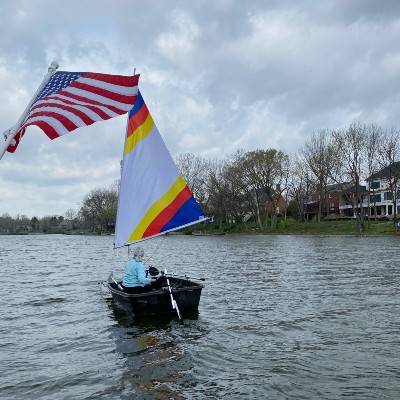 Susannah (July 2020)
Having A Wonderful Time!
Having a wonderful time this summer with your Sailboats To Go Any Kayak kit on my two person kayak.
Here are a couple of photos of me giving my eldest son a ride!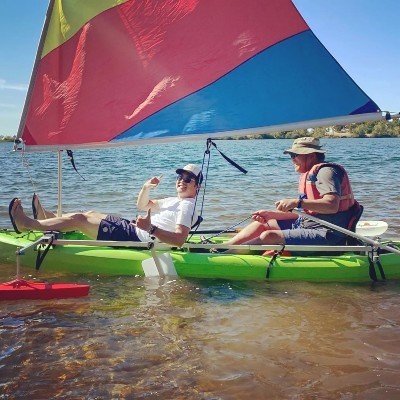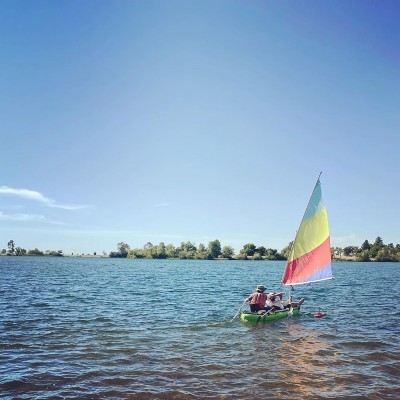 Jack (July 2020)
It Is a 10!!!
I wanted to express my sincere appreciation for your wonderful sailboat kit and all the support you have given me over the last 2 months. From the very beginning of my time working on putting the kit together I was impressed by the meticulous attention to detail you took with the instructions. The photographs and explanations were easy to follow and very clear. As you know, I am not a mechanical person and even I was able to be successful in putting everything together. The follow up phone calls were always accepted with thoughtfulness on your part and very helpful.
In terms of the actual kit itself, it is a 10 !! on a scale of 1-10. The parts all fit together well and once I was able to launch the sailboat it was exactly what I was looking for. I was able to convert my kayak into a wonderful sailboat which works very well and has provided me with great pleasure and fun for both me and my wife. I wanted something that was portable, lightweight and easy to assemble. My times for setting up have improved and I can now put it together in 30 minutes.
Beyond having an extremely fine product that lives up to what you advertise on the web page, I have really enjoyed sharing with you the process of my sailing experiences. You have been friendly, helpful and supportive. I think anyone who has a kayak or other similar boat that your kit can be adapted to will find working with you a real pleasure. My overall rating of your sailboat kit is outstanding Thanks again for everything.
Robert (July 2020)
Easy to Transport
I wanted to give you some positive feedback on your sail kit. I have not sailed in over twenty-five years and the kit brought back some very good memories. I took the kids out sailing last weekend and had a great time. I could really tell that you put a lot of thought into every design element.
An inflatable sailboat will never compete well in a race against a regular sailboat, but that is not the point. I now have a sailboat that fits in the back of my car and takes up so much less space in the garage. An inflatable sailboat is also very easy to beach unlike a sailboat with a keel.
Looking forward to another sailing adventure in the near future. I just bought the improved leeboard to improve the sailing experience. I noticed that the boat slides sideways under the wind when trying to tack upwind.
James (June 2020)
Easy to Follow Instructions
I wanted to follow up and say THANK YOU. we received the package and, much to our satisfaction, have already had chance to test it out on the water here in Seattle.
Your instructions were thorough and easy for us to follow, and we could tell that you've put a lot of thought and iteration into your product.
I've attached two pictures - my wife's and my first time assembling the kit and raising the sail, as well as our maiden voyage.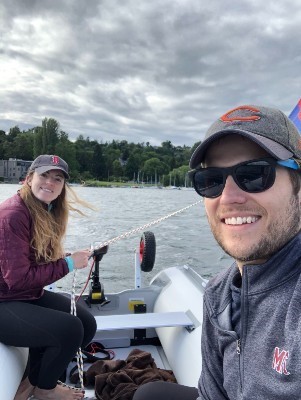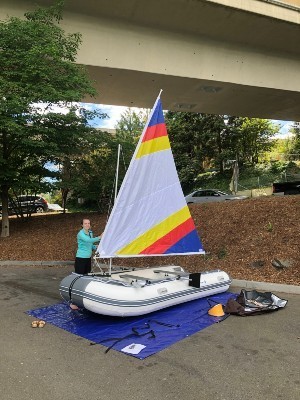 Thanks again,
Kevin (June 2020)
Thank You for Everything!
I just wanted to send you a Thank You for everything! The stabilizers worked amazingly and the piece of wood you supplied to me worked like a charm! The canoe is very stable with the engine on it and I can easily set the whole thing up by myself, which is what I wanted. I am finally able to do what I set out to do.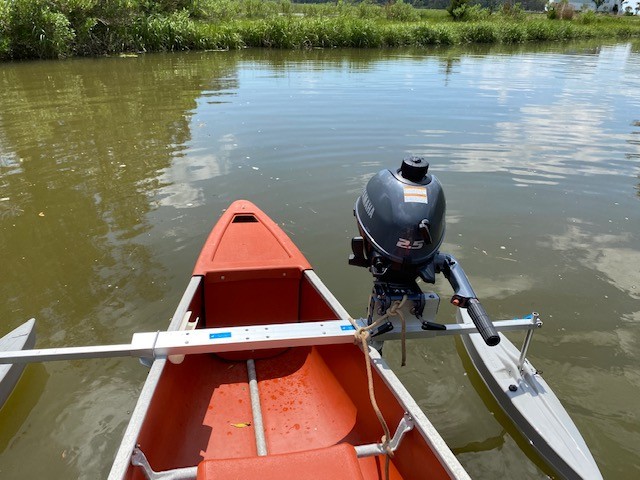 Curt (June 2020)
Love Our Boat
My wife and I loved our boat on our past adventures. We have sailed it from Vermont to the outer Banks NC on the inlet side, and now, in about 3 lakes, here in Colorado. Although I have not been out in it in about 3 years, I am looking forward to more fun times on the water.
Alan (June 2020)
Stellar Product and Workmanship
Got the center seat for the Grumman 17 today! Thanks so much for the lightning fast delivery. You're product and workmanship are absolutely stellar. Communication has been very pleasant, effective, and informative. So, I figured out how to set the whole thing up on the boat, instructions were good. I'm sending along some photographs of the finished ( for now ) work. I haven't had her in the water yet, maybe tomorrow morning.
Thank you again, for the fine workmanship and your very accommodating style of running your business. Best of luck to you in the future.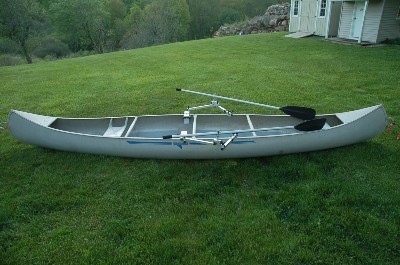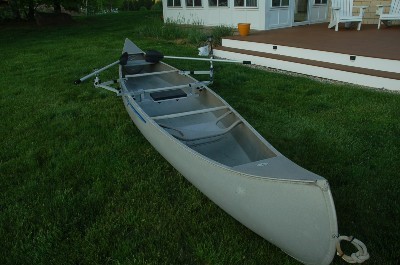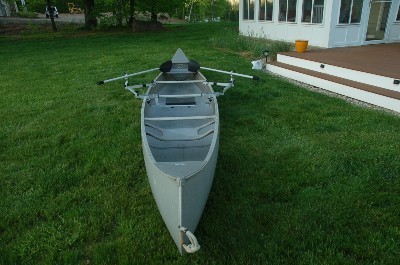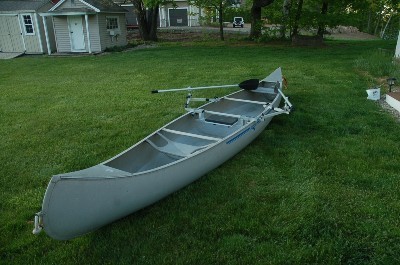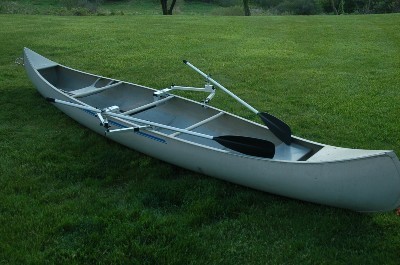 Sincerely,
Gary (May 2020)
Quite Happy
I have put it together! I am quite happy with your kit. We sailed in Lake Washington and it was great.
Lawrence (May 2020)
Enjoying Immensely
I would also express my general gratefulness for your products. Your sailing kit has been one of the most joyful items I have ever had in my life and after so many years I'm still enjoying immensely.
All my best and regards,
Pietro (May 2020)
Very Quick and Easy to Set Up
I'm making the most of social distancing by sailing on my uncrowded local lake! My kayak and your sailboats to go kayak rig all fits nicely inside my Toyota Sienna van. I'm able to drive right up to the launch site and just unload everything from the van. I leave the rectangular metal drop on part all assembled, the sail rolled around the spars in the nice sail bag I got, and everything else in a golf bag. Very quick and easy to set up.
I have never windsurfed from this launch site because the wind is usually off-shore with a wind shadow making it hard to get back. With your drop on kayak rig I have been very surprised how easy it is to tack upwind and even if there is a wind shadow coming in I can just pull out the kayak paddle I bring along and just paddle the last few yards upwind into the wind shadow. Very cool product. Here are pictures of everything inside the van and my van at the launch site. Earlier this year I sent you a picture of the fully assembled rig.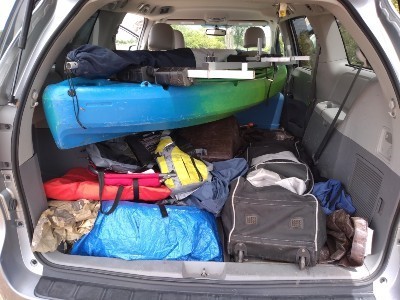 Jack (May 2020)
Wonderful Time Sailing the Snark
Just wanted to reach out and say how much of a wonderful time I've had (socially-distant) sailing the Snark on the local lake. Thank you so much for the service you provide at SailboatsToGo. The Snark is keeping me happy and healthy when races and rentals are all shut down.

Link to pictures:
https://www.instagram.com/p/CACVNuhAEnk/?igshid=3xuay7ejlgiv
Craig (May 2020)
Having So Much Fun!
Hi Jim, first day out this spring on my kayak with your drop on sail kit, super fun! I ended up tying the mainsheet off in the rear handle of the kayak then along the boom dropping down to a racket block on the front deck I installed works just fine and enough line with the mainsheet line you supplied. I'm having so much fun!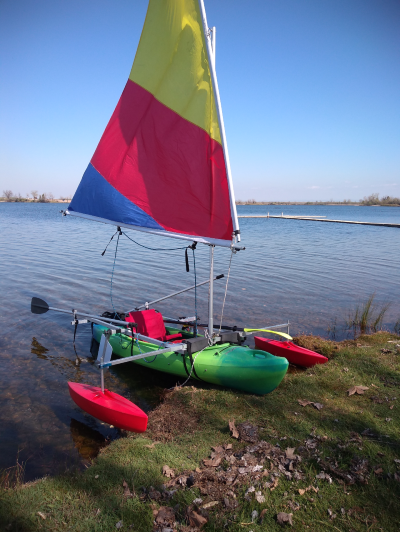 Jack (May 2020)
Arrived Very Quickly
Last week I ordered a Snark Jib from you and it arrived very quickly last Friday and I was able to try it out this weekend.
The jib, even in its temporary jury-rigged attachment without a bow sprit, gave a big performance boost to my little kayak and it performed nicely.
I liked reading the story of how you started your business and my background of wanting something different than what is available is similar.
I like being able to paddle as well as sail.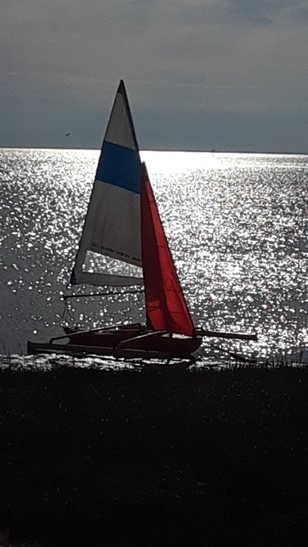 Thanks!
Jonathon (May 2020)
Fantastic Products
I purchased a Kayak sail kit and 2 x extra sails, a second steering oar and rigging accessories from you - from January 2013.
I am pleased to advise you I have been using your fantastic products quiet extensively since buying them from.
Graeme (March 2020)
Love the Kayak
So far I love the kayak by itself and am really looking forward to testing the sailing kit with my wife and 95 year old dad (who is a former sailor) this summer!
Respectfully,
Tim (February 2020)
Thoroughly Enjoy Canoe Sail Kit
I have had your canoe sail kit for several years and have thoroughly enjoyed it. I have since purchased a hardshell two seat sit on top kayak and wonder what parts I need in addition to what is provided with my canoe kit to sail the kayak.
Thanks,
Blair (February 2020)
Very Well Built
Received this morning with thanks for the swift service.
Looks very well built, can't wait to paddle down river.
Andrew (January 2020)
Great Customer Service
Yes, thank you! Item arrived Christmas Eve!
It was a surprise gift for our son, so its arrival was perfect timing!
Our son had been unable to use his raft for fishing for some time because his motor mount had been lost in a move. He had not been able to find a replacement anywhere and was really mourning the loss --- of the mount -- and the fishing!
We thank you so much for your help in getting this shipped in a timely manner! Thank you for your great customer service!
Happy New Year!
Pat and LeAnn (January 2020)