What Buyers Say About The Sail Kits And Other Boating Products We Sell
And send us your comments! Send to Jim@sailboatstogo.com Questions? Email or call 978 263 7598
(A bunch more customer comments, mostly about the stabilizers and the rowing rig, are on another page - click here) Also, comments are often posted on our Facebook page rather than here -- http://www.Facebook.com/sailboatstogo
'I Go Sailing At Least Twice a Week'
Thanks again for your superior customer service. Very pleased with your service and product.
I go sailing at least twice a week when there's wind over here. I love the exhilaration of high winds and the challenge of light winds. The boat and sail are my decompression chamber after a tiring day at work.
Thanks again.
Tanny July 2015 Which boat do you sail most, Tanny? "
Usually the 300x [1-person Sea Eagle kayak] when I'm alone or the 420x [3-person Sea Eagle kayak] when with someone. It's like sailing on a couch with the big pontoons.
'Dinghy Kit Absolutely Tons of Fun'
Hi Jim!

I bought a Hydroforce dinghy with sail kit from you last year and it's fantastic!!! -- works excellently and easily, instructions were great, and the boat is absolutely _tons_ of fun (and was a very good price too)! I tell all my friends and work colleagues about it, and I'm also thinking about getting one for my dad (who lives in New Hampshire) as a gift when he finishes his vacation place
Justin July 17, 2015
'Sturdy Design and Quality Construction'
Hi Rob,
Just wanted to let you know that my new mast arrived today, very fast. It looks great, sturdy design, and quality construction." Frank S. May 20, 2014
'Super Happy'
Hi Jim,
I wanted you to know that I'm super happy with my purchase. I've taken the inflatable and sail kit to
the bay here in Newport Beach California and also to Arizona on a family trip to two different lakes. So happy that
I found you and the quality of your products!
- Blair A. (Oct. 2013) bought Intex Mariner 4.
'This is a company that truly loves sailing'
With my husband and I being empty-nesters recently, and also being able to go camping at the Outer Banks a lot more than ever, we needed something to do other than sitting on the beach all the time (which we do love)! We used to have an Aquaglide for a few years which was a blast to do on the Sound. It was a great way to learn the very basics of sailing and we fell in love with the freedom and quietness of being on the water. We can no longer use it because now we have 2 Yorkies who love to ride motorcycles and having the wind blowing through their hair, and now will be sailing with us.
We had to figure out a way to go sailing without having to trailer it, but yet be big enough to hold 2 adults and 2 puppies comfortably. My research came across SailboatsToGo! They have made our dream come true!!
I showed my husband the great videos and pictures from their web site of what I thought would be perfect for us. He agreed and I contacted Jim immediately. Not only was he fast at helping me figure out what we needed, he understood that we were still deciding and he didn't pressure us at all. When we decided to pull the plug (no pun intended), I contacted them and then his partner, Rob responded quickly.
Rob had sent out all of our products immediately and we received them within the next couple days. Any question I have had so far is answered immediately, even on the weekend. This is a company that truly loves sailing and wants to spread that passion to others. I feel that even a year or so from now, if I had a question, they would be very happy to help me. You don't get that very often from other companies.
We haven't been able to use it yet, but we do plan to practice setting it up at the house shortly so we can get it on the water quickly when we do go next month. We are so excited and extremely happy with working with Jim & Rob with SailboatsToGo! I know we have received a great, unusual product that is going to be used for several years to come. Thank you, Jim & Rob for giving our family wonderful memories that will be cherished. You both are the best!
Sandi D., Manassas, VA March 2014
'Excellent service and good prices'
"Thanks so much for the quick service and delivery. I wish I could rig it and go
tomorrow
(unfortunately its snowing right now).
Excellent service and good prices. Good job!"
Scott J. January 2014
'Went to my complete satisfaction'
"Dear Jim,
Recently installed my new outriggers and did a trial run on the Brisbane River. It all went to my complete satisfaction.
Jim, many thanks for a great product, as well as customer service.

Wishing you a Merry Christmas and a happy New Year 2014.
Best Regards,
Jurgen von Ahn " (December 2014)
​Wonderful Additions To My Sea Eagle 420X Kayak!​
"Hi, Jim. I just wanted to compliment you on your TERRIFIC product. I live in the Hampton Roads area of Virginia, so I'm surrounded by water, which means sailing is more or less in my blood. I've been an avid kayaker for many years, and I've been sailing off and on since high school. It never occurred to me to combine the two until I came across your web site. After reading some of your other customer testimonials, I decided to risk it. Money VERY well spent!
Setup was, surprisingly, a breeze. Your instructions were detailed and clear. We did a dry run the day the kit arrived (which, by the way, got here just in time for Labor Day weekend, so thank you!), and by the next day, we were fully rigged and sailing the Chesapeake Bay like pros. I was concerned about how a large, inflatable, flat-bottomed kayak would perform under sail, but those concerns went away as soon as the sail grabbed the wind. This thing is FAST, and the kayak maneuvered a lot more nimbly than I thought it would. I am going to invest in the stabilizer floats, however, because we did hit a few gusts that made the boat heel a little more than I'm comfortable with. We were never in any danger, but I'm all about peace of mind when I'm in deep water.
We got a lot of questions from onlookers and other boaters who were either in the water or getting ready to launch. I directed them all to your web site, so hopefully you'll be seeing more business out of Virginia! The two kayakers we talked to in Onancock seemed especially curious. They asked if the kit would work on their hard-shelled boats, and I assured them it would.
So thanks again for prompt delivery, great customer service, and a great product I'm sure I'll enjoy for years to come."
Chris Benton, September 2013
'Marvelous Invention'
"Jim, I took the Cheyenne II [formerly Navigator II ] for its first sail on Lake Wyola in Shutesbury ma. Thanks for including the L bracket for rear crossbar. The wind was light and the double steering oars served as r
owing oars when needed. Got to try your dancing sailboat maneuver by raising both steering oars. I admired;1- the cleverness of using the clamp for the leeboard mounts as the clamp to lock the side bar extension,2 The shock corded boom and gaff kept inside the sail sleeve , the high quality of all the parts, even the web straps and buckles. I learned something not obvious in the instructions, that the cheyenne II air valves can be locked open by depressing and turning the center pin, not required for inflating with an electric pump, but makes deflating and rolling up the hull quick and easy. I hope you have gotten time to use your marvelous invention this summer. The weather has been so oppressive. Looks like I will be selling/donating my Sunfish! I am looking forward to taking this boat to Cape beaches.
Ted L. Amherst MA " July 2013
The "Cheyenne" is the new name for the Navigator inflatable dinghy. Here's the video: http://www.youtube.com/watch?v=eWX9NBNwJCw
'The sailing experience was as wonderful as your video'
"Hi Jim, we wanted to thank you for a great product. It arrived on time and we have now sailed on 2 lakes in Oregon, puget sound in WA and just got back from 4th sail at desperation state park. Everywhere we go people admire the boat. I have given your website to at least 6 people in the last 6 days.
The sailing experience was as wonderful as your video, minus the caribbean music. We read the entire instruction booklet and appreciate the detail and advice, especially on how to avoid dead zones. In love!
Many thanks. When we upgrade to a larger sail, I'll get the one with the logo.
Barbara and Satoru M. " (July 2013 - bought Sea Eagle 380X and SailboatsToGo 45 SF sail kit with heavy duty mast) They must have meant the 420X video given the reference to Caribbean Music.
"Fastest Speed I have Ever Experienced In a Canoe"
Jim,
I want to give you an update. Both packages arrived as scheduled. Thanks for your awesome performance in getting the order to me just in time! Basically, I marked my Grumman canoe for fitting the gunwale clamps, attached the sail to the boom and spar, and loaded it all on my trailer for a 360 mile trip to Lake Osoyoos just North of Oroville WA. First day, we experienced very light winds - nice calm, sunny sail. Not fast but we covered a lot more distance than paddling would. The second day, the winds were 12 to 15 mph - lots of fun and the fastest speed I have ever experienced in a canoe. We made a trip with three embarked, nice stable run. Later, my friend (who owns two 16 ft Hobie Cats) and I had some fun out in some gusts. He was impressed. Needless to say, we had the only sail rigged canoe on the lake. We got lots of questions and comments from US and Canadian boating enthusiats (the lake spans the border), even the US Border Patrol was interested (but not for boarding purposes). I think the most impressive aspect of the setupt was after crossing the lake several times basically with whitecaps on the beam, we barely had enough water in the boat to float our two paddles sitting on the bottom - extremely stable.
Thanks again, I'll have to save up some more money to buy wheels and maybe a sail upgrade :)
Scott R. Seabeck, WA July 2013. Scott bought the item 999 canoe sail kit in the type H configuration, plus the upgrades to Neil Pryde dacron sail and unbreakable leeboards:
999 Canoe sail kit w/ Hydrodynamic Stabilizer Floats and Free Shipping 1 784.00
5092 Leeboard upgrade - convert your purchase to unbreakable blade 1 49.00
5156 Upgrade to Neil Pryde Dacron Sail - Ready Made 1 70.00
6005 Bag for sail rigs - big 1 39.00
5016 Heavy duty mast upgrade 1 59.00

Sub Total: $1001.00
Shipping: $16.00
Grand Total: $1017.00

---------------CUSTOMER COMMENTS -----------------
type H
red & white 45 NP sail
red floats if possible, otherwise gray
Here's that "Awesome" word again
"Hi Jim,

I bought a Navigator with a sailkit from you months ago and I have to tell you: It's awesome!

I have a question, do you have a magnetic problem with a compass and the proximity of the metallic sailkit ?

Thank you.

Kindest regards,

Alexandre B. " (December 2012)
Glad you are enjoying it. No, I don't think a compass would react to the metal in the sail kit because it is not iron or steel. It's all aluminum and stainless steel (stainless steel is not magnetic). -- Jim
Stabilizers are Awesome
"Hello James
I received the stabilizers on Thursday last week. I tested them on Saturday. Wow I can't tell you how impressed I am with there performance. The stability is amazing. In fact I am able to stand while under power with a 2.5 horse motor with no worry of tipping.
They are awesome.
Thank You so much. I am thoroughly impressed.

Regards
Brian K." (Bought hydrodynamic canoe stabilizers) October 2012
Reply: Glad you like them, but be safe, Brian. Don't let the increase in stability lead you to take unnecesary risks. - Jim and Rob
Columbian Coast Guard Cheered Him With Joy
"Hi James,
Got the sail ... here in Colombia.
Very pleased with this, took it out over the weekend. The wind was very calm but probably good for learning etc first time out. Had a great time with my 5yr old son. Worked very well on my Kayak, set-up very quickly. Even had the Colombian coast guards come take a peek at the set-up who cheered with joy as I guess they had never seen such a set-up before.
Probably should have purchased the bag as the one here is not long enough, so maybe next time I am back in the USA next year I can get one from you.
Regards
Mike" October 2012 (ordered the Any Kayak Sail Kit with Inflatable Stabilizers for his Sevylor Inflatable Kayak)
Canoe Sail Kit Extends His Range
I bought a [canoe sail] kit this spring. Living in Florida I've made good use of it over the past 6 months or so, taking it out 15 times or so..
. Just last week we paddled down a river to the intercostal waterway. We then put up the sail to cover about 3 miles on the waterway. During that time we watched a pod of about 6 dolphins chasing a school of mullets. The mullets would jump out of the water as one to get away from the dolphins. It's incredible to see 100 or more fish in a very tight formation jump at the same time. We then put down the sail and paddled up a creek to watch a group of manatees mating. Later we put the sail back up and went back through the intercostal waterway and back up the river to the car.
>
> The sail on the canoe has been great, not just for the sailing experience but as a range extender in the canoe. With a decent wind we can confidently cover 5 miles with the sail to get the canoe to where we want to go up a creek or estuary. That's up from about 2 miles without the sail.
'Opened the World Of Sailing'
Thanks again for opening the world of sailing to so many, My family and friends have had great fun on your setups! -

- Mike C. Sept 2012 (buyer of Pakboat folding kayak with sail and Navigator II 500 inflatable dinghy with sail, both a while back, and recently inquired about putting his Pakboat rig on an inflatable kayak).
'Outstanding'
Jim,
The rowing package works Outstanding!
I love it!
It seems anytime I want to use my canoe,
I'm faced with 12 knot winds or better. For a single person
paddling, is difficult. Rowing is the equalizer.Rowing is a little easier on my lower back as well.
Great product!
George L.
Wilmington NC Sept. 2012
"Very responsive, comfortable, and stable."
Jim,
I just wanted to say that my wife and I have been very pleased with the Seahawk II we purchased from you. We've named it "Intrepid." :-)
We're retiring and moving from the Chicago area to Florida, soon, so we wanted to acquire a boat, but didn't want all the expense and hassle associated with boats, such as maintenance, storage, transportation, registration, and fuel for power boats. The fuel issue could be avoided with a sailboat, but all the other issues remained, except for registration in some states.
Since a sailboat eliminated some of the issues, we thought some more about them, especially as I spent some time on small sailboats as a teenager, and even did the actual sailling a couple of times, though many decades have passed since then. What I remembered most about them, however, was all the heeling, hiking, and capsizing, so when I recently decided to rent a Sunfish and sail with my wife, I promised her I would sail defensively, i.e., avoid capsizing, if possible, and get back to shore under sail power in a reasonable time. I'm happy to say, we achieved that, but it was not a comfortable sail. I spent a great deal of time spilling wind to avoid excessive heeling and hiking (winds were 10-15 mph), and the Sunfish's small cockpit did not have enough room to accomodate two adults.
That's where your inflatable sailboats came in! They require little maintenance, are very light, and can be stored in a closet and transported in a trunk; plus, they require no fuel, and registration is either cheap or not required, depending on the state. In addition, they are VERY stable, so heeling is minimal, hiking not required, and capsizing unlikely. Finally, they are roomy and dry, with rubbery (though firm) inflated sides and floors, which makes them very comfortable to sit or lean on. It's actually possible to sail relaxed in one of them, even in brisk winds.
We've sailed twice in our Seahawk II, so far, and are very happy with it. It's pretty quick in a moderate or brisk wind, and even with my rusty (though rapidly improving) sailing skills is very responsive, comfortable, and stable. What's more, it was inexpensive to buy; and storage, transportation, and maintenance are a breeze (no pun intended). Finally, it's quite an attention-getter! The first time we sailed it, we noticed some strangers taking our picture, and the second time, a local reporter took pictures and said he was going to write an article about it in a local newspaper. Everyone to whom we describe it is very interested, and two people have asked about how to acquire one. Naturally, we gave them your website address.
We're having a lot of fun. Thanks for providing a great product!! - Rick M. (Sept., 2012)
"Great...Fun...Intuitive...Simple...Stable...Priceless"
"Hi Jim-
Just wanted to feed back to you about our experience with the dinghy rig we bought from you in June. In short: it's GREAT! It went onto our Sevylor "legacy" inflatable with ease. We have had lots of fun sailing around the lakes in southwest Colorado. My wife, who was skeptical at first, became an instant convert, as well as an expert sail-handler in a matter of minutes. Same with our two college kids-- the whole thing is intuitive and simple. The most surprising thing was how *stable* the boat was, even in fairly strong winds.
I'm attaching a photo of the boat on Haviland Lake, near Durango. Getting to experience such scenery from a sailboat is priceless.
Incidentally, we receive a lot of questions and amazed comments. Nobody has ever seen anything like this before. I've doled out your URL to a few inquiring minds-- perhaps you'll get some business from it. I hope so, because this is a great product. (I sound like an advertising shill, I guess, but I'm just a very happy, satisfied customer.)"
Take Care,
Jim G.
Farmington, NM (Sept 2012 - bought item 2001 sail rig for inflatable dinghies)

Strangers Meet at Lake and Become Sailing Buddies
"I love your products- extremely creative. You offer the best deal I could find on a 'ready made' portable sail. I'll be strapping this to a 10ft flat bottom kayak. I ran into a guy that just happened to have your complete sail kit in his trunk at a local lake a few weeks ago. I just happened to have the Kayak he wanted to try it on. Needless to say that within an hour my new friend and I were sailing together."
Mark M., August 2012
'Thanks for Getting Us Back To Our Love of Sailing'
Jim,

The wife and I are loving sailing the lakes here in Germany and France with the 420x inflatable kayak sailing system you've put together. Thanks for everything and getting us back to our love of sailing.

Also, we're going to look into expanding into a kayakamaran next year. What is the cost of upgrading to that system from our current setup.

Brian C. August 2012
Brian - The necessary extensions and straps would be $149 at this time. - Jim
Veteran Sailor of Larger Boats Says "Most Fun Sailing Ever"
Plans on sailing several times a week with our inflatable sailing kayak as opposed to several times a year as he used to with his big sailboat.

See his full review: click here
'My Very Cool Inflatable Sailing Boat'
"Let me know if there is a place where I can write a very positive review of your company. Many people at the beach ask me where I got my cool inflatable sailing boat and I continue to direct them to your web site. I hope you get some more business!" Plans on sailing several times a week with our inflatable sailing kayak as opposed to several times a year as he used to with his big sailboat.





Sincerely,



Paolo C. (bought Navigator III with our 45 SF sail kit in 2011, upgraded to larger 55 SF sail in 2012)
It Was Great!
"Hi, Jim.
[The Super Snark] arrived last Friday in good condition. We assembled it on Saturday morning and sailed it on Lake George on Saturday and Sunday. It was great! You chose wisely in repping Snark.
Thank you for your help."
-Dennis (July 2012)
Sister's Recommendation Sold Her
"I bought this boat [Sea Eagle Fast Track 385FT with SailboatsToGo sail kit] because of my sister Ginger who bought this same boat one year ago. Fun toy and she is a great salesperson for you!" -- Elizabeth N. (June 2012, note on her order).
"...shopping experience easy and fun..."Sister's Recommendation Sold Her
"Thanks. You are fantastic. You made my sailboat shopping experience easy and fun I will expect the "spring" peak experience 55 sail shortly"
Jacqueline M. June 2012 (Bought Sunflower sailboat with Neil Pryde sail upgrade)
"Dream Fulfilled"
"Hello Jim,
I can't tell you how wonderful it has been to have a dream fulfilled - to actually go sailing! I have always wanted to sail but could never afford a "real" sailboat, let alone a trailer and a car that could pull one. I have the Intex Seahawk II and this year got the sailkit from you. I am enjoying it immensely..."
"Fantastic Idea and Execution"
Hi Jim,

" Well, got the Saturn [inflatable kayak] and took it out for a paddle and then a sail. I have to say, I was surprised how well it performed on both counts! Fantastic idea and execution. Thank you!" - - Steve D., May 2012
"Tons of Fun"
"Hi, I have a snark sunflower 3.3, that I purchased from you about a year and a half ago. It has been a wonderful boat, and has provided many hours of enjoyment on the water! Recently we took it on a camping trip, and had tons of fun... " Scott B. May 2012
"We Love It (Seahawk II Inflatable Sailboat)"
Hi Jim,
We bought the sailboat kit for the Seahawk II about a year ago, which we love. It has gone up to Tahoe and to several reservoirs in the San Francisco Bay Area. Everywhere we go, people ask us about it and comment on how cool it is. And now my husband's birthday is approaching and I know he would love to upgrade to the larger sail.
Thanks,
Elizabeth (Email received April 2012)
"This Season of Fishing if Going To Be Fun"
"Saturday was the test run [for the hydrodynamic canoe stabilizer].
My wife and I put the canoe in at Seattle's Portage Bay which connects to Lake Union and is right next to the University of Washington. That waterway connects Lake Washington to Puget Sound so there are plenty of large vessels going by creating sizable wakes.
At one point we had the trolling motor on high in choppy water and we could both stand up without fear of tipping over.
People in kayak's gave us the thumb's up. People in sailboats gave us the thumb's up. People in motorized vessels gave us the thumb's up. But oddly, only some of the people in canoe's gave us a thumb's up. They probably looked at us like we were little kids on a bicycle with training wheels, but I have no doubt they'd have thought differently if we'd actually brought the fishing gear.
In the past I've been somewhat reluctant to fish in the canoe with another person, because it usually involves beer. Not anymore. This season of fishing is going to be fun!
Thanks Jim!
Jordon
SeattleWashington" April 2012
"Dear Mr. Luckett,

I purchased a Navigator II 500 with a sail kit and am quite pleased with everything. "
'It's All You Advertised"
'Am quite enjoying [the] sail kit. It is all you advertised!'

Wayne H. july 2011 (canoe sail kit buyer)


From Post Office to Sailing in Couple of Hours and Having a Great Time!
Just wanted to let you know that we picked up the the sail kit this morning from the Homewood post office... Within a couple of hours, we had assembled the kit and were off sailing on Lake Tahoe! We are very, very pleased with it and just know we're going to have a great time sailing our Seahawk II.
-- James S. June 2011
'Whole New Worlds...Added to My Canoe"
The canoe sail kit has been a joy and the stabilizer floats have also been a great improvement for paddling and fishing. It feels like several whole new worlds of enjoyment have been added to my canoe. I'm looking forward to getting the rowing outriggers. I got just a little glimpse of how well that might work just using the two steering oars on the canoe sail kit -- which is a great idea -- to propel myself a few strokes getting away from a dock and the canoe glided forward nicely." - Steven G. June 2011 (buyer of deluxe canoe sail kit and just ordered rowing outriggers to go with it.)
'Fits Well, Works Well'

We received the sail for the Snark Sunflower on Wednesday. Thank you for your prompt replies and shipment of the sail. We installed the sail and took it out last night. It fit well, and worked well also.
My son and I are very pleased with the sail and again thank you for the great response to my inquiries. This has enabled my son to enjoy the sailboat a few days before he leaves home for 2 months. I will happily recommend your business to anyone who needs sails and related items.

Thank you very much!
Tom and Seth B. June 2011
'Cool Ride'
"Very happy with the Saturn and sail kit. I am a 63 year old male and was very impressed to be told by a teenager that my boat was a cool ride. I thought once we hit 60 we were invisible" - Cheers Peter H. (bought Saturn inflatable kayak and sail kit and sails it near his home in Australia. June 2011).
'Can't wait...'
" I can't wait to go sailing again - it was a blast last summer!" - Joseph P., bought deluxe canoe sail rig package in May 2010, writing in May 2011 to order more stuff.
Peter Sent a Video Link And his Smile Says it All
http://www.youtube.com/watch?v=i4QJMHyBuIU&feature=youtu.be
(Bought Mariner inflatable and sail kit and sails it on the Danube).
'Great Deal of Fun…Thank You!'
"Dear Jim,
All the parts arrived Friday.
Saturday afternoon was the maiden voyage. Kind of blustery, kind of exciting. Sunday was much milder and got several more hours of 'sailin' in.
I have had a great deal of fun over the last two days.
All I know to say is thank you!"
-- Mark T. (April 2011 – bought kayak sail kit and kayakamaran conversion for it)
"I couldn't be happier with the boat, the rig and the performance (and price). "
Tony H. (Australia -- bought Sea Eagle Fast Track 465 FT and sail rig) March 2011
"Nothing But Compliments..."
"Got my canoe rig. Works great...nothing but compliments on the water all day!!! Thank you!"
Aaron K. - Mar 2011 - got canoe sail rig with hydrodynamic floats and white dacron sail
Update from Aaron:
"second outing today...10 to 15 mph winds...talk about speed! Ive probably got one of the most "head turning" vessels on the Banana River Lagoon. 16' green Indian River Canoe with 55 square feet of beautiful white Dacron."
'Fun to Sail Fast'...(and a small problem we can easily solve)
I've been sailing my old Grumman canoe and a Sailboats to go rig from our RV park in Florida quite a few times this winter. I'm surprised at how well it sails! It seems to move in very light wind, something my ComPac Suncat does not do at home. My concern was how it would sail in winds around 10-15 MPH with gusts, and found it very easy to "spill" extra air. Tracking speed with my GPS, I have been able to clock around 6 MPH on a reach. Being retired, we're not supposed to worry about speed, but it's still fun to sail fast and close to the water.
My only question: Do you now of any tricks/techniques to keep the Hydrodynamic floats from turning to the side?

...

I've tightened them by hand as much I can, but don't want to try anything else without your input.
George H

.

, one happy winter sailor!

" Jan 2011
George: It sounds like we need to send you a new set of float arms. The floats don't turn unless there is something is wrong with the clamps at the ends of the float arms. Sometimes they get bored out too much if the drill press operator makes a mistake, and then they won't grip. Give me your address at the RV park and we'll send you a new set right away. Glad you're enjoying the kit. It's amazing how 6 mph feels like 60 in a small boat down close to the water. To heck with that "being retired, we're not supposed to ..." stuff! You're only as old as you feel!
"I like the idea of the stainless steel hex nut... Thanks again for helping me sail/smile/laugh with a very portable, easy to store, boat. George "
'After 2 hours I dropped the wife and kids off so I could sail some more'
I put together everything yesterday for the single 465FT sailing kit and it worked awesome! My wife, son, and daughter all pilled up for a fun ride. After 2 hours of sailing around and getting the hang of things, I dropped them off, so I could sail more. After putting the single together and learning it in an hour (I didn't seperate the kayakamaran items from the others, so it held me up a little until I figured it all out), I'm sure I could set it up now in less than 15 minutes…. Awesome kit and I loved every moment of the sailing, even when I had to row a little.
-- Michael V. Jan. 2011 (buyer of sail kit for the 465 FT Fast Track inflatable kayak and additional parts to make it into a kayakamaran with his hard shell kayak)
"Your rig is all that is advertised"
I just got back from my first outing with your canoe sailing rig on my 15' Coleman Ram X canoe in the inter coastal waterway in Sarasota Florida. It was great. Your rig is all that is advertised. I am a little rusty at sailing but it came back to me and all went well. I am very happy with the rig. I am glad I went with the two steering oars. I found that I could move the steering oar that I was not using out of the way by sliding the end of the oar under the overhang of the high seat. That kept it out of the way very well when I was not using it.
Thanks, I had a great time and have lots of plans for sailing an fishing in the waters around Sarasota.
Great Summer Sailing His Mariner with Family
Good Evening Jim:
I am writing to let you know that i have been sailing with my family at Perry lake in Kansas with my mariner sailboat; great boat, plenty of space and easy to sail. I am very happy with my boat and i have had a great summer sailing time among my studies with the US Army.
I am attaching some photos.
Best regards
Nestor C. (November, 2010)
'A Blast'
Jim ...Just to let you know, I received the extra parts to convert my single kayak rig into a kayakamaran last week, and took my wife out on the maiden voyage yesterday. It was only a small pond in town here, but there was a nice breeze. The set-up worked great, we had a blast sailing it around for a couple of hours.
Lee L. (October 2010)
Hello again Jim,

spent another enjoyable sailing season using both the boats I purchased from you ...Again, thank you for allowing me (and others like me) to sail again without the expense and hassle of traditional crafts -

sincerely,
John O. (October, 2010)
Jim, Had our first sail today in light winds on a Central Penn lake. The rig went together easily without too much head scratching, thanks to the great instructions. Just had to send you a picture and say thanks. The canoe sailed nicely, even in very light winds. Crew VERY HAPPY on comfortable seat in the bow. Most sailors know, when the crew's happy, everything's great.
We'll probably bother you again with some pics in December when we get to FL and sail on the Indian River, east coast of the sunshine state. Thanks again, George and Pat H. (October 2010)
'A blast...'
Hello Jim ... I just used my new rig on Lake Pawtuckaway this weekend; we were camping at Pawtuckaway State Park in Raymond, NH. It was a blast. Saturday was way too windy, but yesterday and today were great. Looking forward to using it again before winter.
Lee L. -- (bought item 6004 kayak sail rig for hard-shell kayak) Oct. 2010
'Well Thought- Out...'
Jim:
I have gotten a lot of mileage out of your plans - many weekends spend happily noodling about in the workshop. The whole thing ended up costing about $300.00, including the canoe.
Again, thanks for the well-thought-out plans. They have provided a lot of fun.
Sincerely,
Steve C. Sept. 2010
'Thank you for providing such wonderful gear.'
"Hi there Jim, I purchased a navigator 500 boat and sail kit from you and have since taken it to Culebra, Vieques, Cinnamon bay Virgin Islands, Costa Rica, Hudson River and even the East River in nyc and it has been wonderful. Thank you for providing such wonderful gear. I have since inherited a canoe and I was wondering if I was able to use or modify the Dinghy sail kit for the canoe.

Thank You.
Mike C. September 2010
Yes you can, Mike. For a standard canoe, you would need 2 pairs of gunwale clamps (one big, one small) and sliding leeboard mount converters. About $79 total plus shipping. And most people would also want stabilizer floats, which are $233 for a pair of floats and float arms. -- Jim (So glad to hear of your travels with the boat!)
Rave Review of Inflatable Sailboat from Spain:
"HOLA JIM:...YA HE RECIBIDO LA BARCA, ESTOY MARAVILLADO ... ME HA SIDO FACIL DE MONTAR TODO PENSABA QUE ERA MAS DIFICIL. SE MANEJA MUY BIEN, YA ME HAN PREGUNTADO DONDE LA HE COMPRADO , POR QUE TODOS ME MIRABAN CUANDO LA ESTUBE MONTANDO Y CUANDO SALI HA NAVEGAR SE QUEDARON ´´SORPRENDIDOS´´. QUE YO SEPA NO HE VISTO NINGUNA BARCA COMO LAS QUE VENDES POR AQUI , NI EN SAN SEBASTIAN QUE ES LA CAPITAL, LO MAS PARECIDO QUE HE VISTO ES UN CATAMARAN. .. BUENO SOY EL HOMBRE MAS FELIZ DEL MUNDO YA QUE PUEDO NAVEGAR QUE ES LO QUE YO QUERIA . MI MUJER ESTA ENCANTADA Y LOS NIÑOS TODAVIA MAS ... UN SALUDO AGUR " (Buyer of Navigator II 500 with sail kit, August 2010)
Translation: "Hi Jim. ... I have received the boat and I am marvelously happy. ..For me it was easy to put everything together. I thought it would be more difficult. It sails very well. People are asking me where I bought it because they are surprised when they see me sailing it. There is no boat like it here. The closest thing to it is a catamaran I have seen. I am the happiest man in the world now that I can sail. This is what I wanted. My wife is enchanted with it and my children even more.
Agur"
"You have done a very nice sail boat. Heartfelt congratulations, again. My friends also enjoyed the boat "
Enis Turan, Turkey, September 2010 (buyer of Navigator II 500 with sail kit)
User Report on the Saturn inflatable Sailing Kayak and Folding Cart
"Jim

Love the boat [Saturn 13' inflatable kayak with 55 SF sail rig].
Inflate and set up in 15 minutes

Trailer [folding boat cart with 12' wheels] helps me easily go 200 yds from parking lot across field to lake

Can collapse trailer into a nylon duffle and squeeze in the bow area

Points [tacks up wind] very well
Very responsive
Going out again tomorrow

Michael H. " (August 2010)
'Could not have been more fun.'
"Seems like forever since you sent me the outriggers - finally got to use them. Stole an actual couple of days off, assembled the set on the Discovery, paddled off Saint Augustine, Fl. Could not have been more fun.
Just wanted to say thanks.
Dave and Cat W."
Pensacola, FL (August 2010)
"I really didn't expect it to be so sturdy..."
"Jim;
I recently purchased one of your kits and a Navigator III boat for use at the beach, and a lake locally. Just got back from a week off the North Carolina coast and thought you might like some feedback. Bottom line; a very good choice. The raft-like qualities of the Nav 3 allowed me to bring it in through surf with waves up to 4 ft tall with no problem. Kept the crew aft and sailed it directly up on the beach on a run. The leeboards retracted nicely, tho I am glad I upgraded to the polycarb. I was also glad I got the stronger mast. It barely flexed in a Beaufort 4 wind with whitecaps everywhere even with the 55 SF sail. In fact, the entire rig held up beautifully. I really didn't expect it to be so sturdy, tho it was obvious the parts and fittings were all high quality. My son and I tested the boat and equipment in light winds first and worked our way up to the Beaufort 4 day as our confidence increased (and as we scraped the rust off our sailing skills). The Nav 3 was also very stable on the open sea. It barely heeled in stiff wind and rode the waves nicely but still provided an exciting ride with 2 people on board (tends to hog down with 3).
The only problem we had was getting the boat out of heavy surf and to open sea when the wind was light and we were on a lee shore. The waves tended to overpower the slight steerageway we achieved close hauled and pushed us back on the beach (the tide was also against us). We could have rowed out and then hoisted sail, but the oars that come with the boat are not up to that. They are short, light, have smooth handles, and a small head. Ok for a recreational lake but not for surf. I am going to replace them with a heavy duty set sold by Sevylor. The rubber oar "clips" integrated into the Nav 3 hull were good for stowing the oars when not in use.
The service you gave us was great. I got everything within less than a week and it was easy ordering. Also, you are prompt in communicating by email which I much appreciated. The web site is pretty good with much good advice scattered through out it (such as remembering to include something with which to bail, that proved to be very important as we shipped a fair amount of water going through the surf on our way out). Your instructions for set up were also very good.
Lastly, I want to say I am very grateful you came up with this idea. I have enjoyed sailing ever since I learned to 25 years ago off Pearl Harbor, Hawaii when I was in the service. But, I live in the heart of the Appalachian mountains where sailing opportunities are limited. I didn't feel I could justify spending much money on a boat I would generally use for a week at the beach once a year. Plus, I knew from sad experience in Hawaii that most small mono-hulls are troublesome in surf and I didn't want to pay for, lug around, and store a catamaran. Sailboat rentals off the coast where we vacation are non-existent. So, I have done only a little sailing over the years when I would break down and drive a couple of hours to rent a cat for an hour or two in Myrtle Beach, S.C.. Then, I stumbled upon your site. I watched the videos, bought the Nav 3 at your suggestion, and crossed my fingers that this thing would work. Last week we sailed every day for hours!!! My son has really caught the bug, he is checking wind direction every day and wondering whether or not we can go out. There is a large TVA lake near us and I am anxious to try the boat there. All thanks to you.
Sincerely;
Bill P. " (August 2010)
Bill: How about getting a second steering oar and rowing with those? You can do some rowing with them in steering position, and if you really want power, transfer them to the oarlocks. -- Jim
"...thrilled..."
"Hello jim,
I bought the Seahawk two package last year and am thrilled with it... thanks again for making sailing so accesible to the ordinary joe in the street.

John O. ( a most satisfied customer : )" August 2010 John went on to say he's thinking of swithing the rig to the lighter Sevylor 4-person boat (what used to be called the K85) now that his son is going off to college.
10-fold Expansion!
"Hello Jim,
Just wanted to thank you for such a great opportunity to buy the Sunflower [sailboat]. She has been treating me well and expanded my exploration of the sea's 10-fold.
Thanks again, Cheers!"
Rich (August 2010)
"...Sails well, points good and is really comfortable..."
"Jim -
This was my first sail in 2010 because of an injured rotator cuff, and did I enjoy it! I think my choice of boat with the center standard rudder is the nicest rig of all. Sails well, points good and is really comfortable...
Thanks again.
Dick M." (July 2010) More info on Navigator III 400
click here
"...Amazed at How Well It Was Made..."
"Jim
Received my
canoe cart
, put it together, and tried it out.
1.) Very easy to assemble.
2.) Was amazed at how well it was made, and thought out.
(even the tie down straps had pads behind the buckles to keep
them from scratching anything)
3.) Works great and very easy to use.
Who could ask for anything more.
Thanks.........Jim"
I was running upwind and drove it everywhere I wanted to go
"Hi Jim,
I received my canoe kit and put it al together this weekend. Everything worked out well and had perfectly light wind yesterday which was very nice for learning. Caught a couple of little gusts that got me going and could see that it's going to be fun and exciting...
I'm brand new at sailing although I did fine. LOTS of people asked questions about the kit and a lot of people that were sailors said I did great. I was running upwind and drove it everywhere I wanted to go. I'm glad the wind was light though. Lotta fun. Looking forward to getting better.


Brian R. " (July 2010 - bought deluxe canoe sail kit)
"...I love and works great..."
My sailkit and everything I've purchased from "Sailboats ToGo"- I love and works great.
Thanks ....
Jim S. July 2010
A Fourth of July Kudo
"Hi Jim, I hope you and your family are enjoying the 4th. I just received your sail kit for the Seahawk . I just tried it yesterday. I loved it." - Andy M., July 4, 2010.
Using Our Any Kayak Sail Rig on Hobie 12 Inflatable Kayak
"Jim, Thanks for everything. Very happy with my sail rig, have used it several times already on The gulf of Mexico off Clearwater beach and in Clearwater Harbor." -- Kevin J., bought item 6004 'Any Kayak Sail Rig' and is using it on a Hobie 12 inflatable.
"Wonderful Product"
I would just like to say what a fan I am of a steering oar over a plain rudder. I didn't know whether I would like it or not but it's so simple to get the boat out of irons with a steering oar. You have a wonderful product.
Last Saturday I sailed all over the tiny reservoir that supplies water to our town. Hundreds of people were there around the lake to celebrate the Memorial Day weekend but only 2 other boats were on the water and those were canoes. Sound carries well over water and I heard a lot of envious comments about my boat from the shore. Have you ever considered franchising?
Regards,
Don B. Arizona, May 2010 - received Seahawk II and sail kit as a present from his wife
[Thanks for the suggestion, Don, but I want to stick with a simple business model so I always have time for sailing. -- Jim]
"It's fun"
Jim,
The boat arrived today. I put it all together and got out on the water for about an hour. Thanks a million!! It's fun. I obviously have a lot to learn still, and I was totally exhausted by the time I got the boat completely rigged, but I'm sure once the learning curve is complete it'll be a cinch.
Thanks again. Looking forward to cruising around the lake all weekend.
Andy M. New Jersey, June 2010 Navigator II 500 with sail.
Hi Jim,
I received my sail kit today, it was simple to put together and it fits real good on the inflateable. Even though the weather here was cold, raining and gusty NE winds, I had to try it out here in our little harbour. I must say it was lots of fun...the boat could easily handle a larger sail. Next one will be larger, but I know it's still going to be a blast sailing with my 7 year old, with this sail.

Thanks!

Darin (Canada, May 2010, sail kit for his small wood-transom tender)
Life after 70 is good -- with a Miata and a Sunflower Sailboat
"Hi Jim,
... wanted to tell you how much I am enjoying my Snark Sunflower. I am 70 years old and have made two purchases in my "after 50" life that I consider the most enjoyable and fantastic investments. One is the first Miata I bought in 1992 (I now own a red 2006 Miata) and the other one is my new Snark sailboat.
I sail almost 4 or 5 times a week (if the wind cooperates) and have always made it back home without using a paddle. Also, even though I was a novice sailor, I still feel proud I have always been able to keep the boat afloat. Thanks soo much for your assistance in helping me acquire this sailboat. It is doing as much and more than I expected...
Ike Eichenauer " May 2010
"Great Fun"
"Jim,

I ordered a pakboat puffin II/saranac folding kayak and the deluxe sail kit with pontoons last September, and have been having great fun with it since.
David Frentup" May 2010
"Sails Great! I Love it!"
Hi Jim!

Sailed for the third time on the setup today. Sails GREAT! I LOVE IT!
Very lively winds today, 12-16 knots at times. Boat handles great under sail, glad I got the inflatable stabilizers for sailing solo. (The hydrodynamic ones would be great but I needed everything to be RV packable.)

Posted a short 'headcam' YouTube video...
http://www.youtube.com/watch?v=X-6q9mNmPaY

Thanks,
Frank K. (May 2010 -- put our sail kit on a Sevylor XK17 inflatable kayak)
A lengthy rowing rig review: click here
Very Happy
"I bought a pakboat sail kit from you two years ago and am very happy with it. "
-- Mel April 2010
New Meaning for "There's a Sail at the Mall"
"Hey Jim,
Got the Seahawk II and sail rig up and running. Took it out for 4 hours on Sunday and had a blast. Had to take my wife to the mall today, so I loaded the boat in the trunk and stopped at a little lake just before the mall. Sailed a couple hours, did lunch, and went to the mall. Everyone came home happy. This is a great, portable sail boat. Thanks!!"
Gary Brummett , March 2010
"Great product"
Hello Jim,
I am a user of your sailing kit living in Tokyo since a few years ago.
This summer I enjoyed it very much on Chuzenji Lake, near Nikko. It attracted attention of the tourists. It's a great product.
Now I am interested in Inflatable stabilizer floats (1013), but WITHOUT THE BAR. Is it possible to purchase only the stabilizer floats?
If yes, how much will they cost, and how much will be the shipping to Tokyo?
Thanks in advance.
--------------------------- Toshi (Sept. 2009)
------------------------------------------------------
"I will sail a lot more with this boat..."
"Jim:
I got the rig for the Navigator II 500 up and running without difficulty. I was delighted with the ease with which everything fit together, and with how secure the mast remains, even in moderate gusts. Everything performed beautifully on the inauqural sailing trip with the boat, even though the steady breezes were light - about 6 mph.
All of the people sailing conventional boats who came within 100 yards of me invariably sidled up and asked about the rig. Several commented on how comfortable it looked - like sailing in a big, overstuffed chair. You web address reached about a dozen sailors who had never considered sailing an inflatable or kayak.
Many thanks for a well-designed and highly functional product. I will sail a lot more with this boat than with my Windmill-class dinghy, because it is so damn easy to get to the lake, launch, and sail single-handed.
I am thinking about a Seahawk II with the basic sailing rig for my brother as his introductory sailboat.
Best wishes,
Steve C." (Sept. 2009)
-----------------------------------------------------------------------------------------------------------
"2nd Voyage of the Good Ship 'My Rubber Ducky'
- Inland lake; breeze great for a small boat...
- Boat points higher than I was expecting (good)...
- It moves pretty darn well for being cat-rigged
- A very nice sail today, and I look forward to many more
Regards "
Dick M. (Sept. 2009 - Buyer of Navigator III 400 inflatable dinghy with sail kit, unbreakable leeboards and center rudder)
-------------------------------------------------------------------------------------------------------------
'Really Fun Kit That's Easy to Put Together'
So I enjoyed sailing my Navigator II [500] with the sail kit! It's a really fun kit that's easy to put together! And while the boat is larger than I expected, it will be much easier to stow it in my basement this winter than having a big boat taking up half my driveway. - Michael Z. August, 2009
--------------------------------------------------------------------------
'The inventor deserves a Ph.D.'
Jim The pontoons were awesome. My friend came down from MIT to go canoeing and he said: The pontoons were awesome. The inventor deserves a PhD. I now have no need for that utility boat I was hankering for. My canoe is now a fishing platform! DMC.
---
'Great System' (Canoe Rowing Rig)
It is a great system - I am enjoying it very much!!!
- Carolyn P. (June 2009 buyer of the canoe rowing setup)
---
'Sailing Great - Sailing Instructions Very Helpful'
Hi Jim--just wanted to let you know that the boat has been sailing great, and the sailing instructions you provided have been very helpful. I've been reading them at night after sailing during the day and keep finding more information to apply. The boat is very forgiving for a beginner like me, as it sailed well on the very first day, but it does seem to get more responsive the more I learn.
Thanks for being so helpful through each stage of this buying process. I would recommend you highly to anyone interested in learning to sail." - Ron B. (July 2009)
---
'so much fun'
Hi Jim,
...purchased a kayakamaran kit earlier this summer. I have been using two sevylor tahitis and so far have had a great time. Thanks for such great products -- I have never been sailing before and was able to tack upwind my first time out! I am having so much fun that I am already thinking of all of the different ways to upgrade. Thanks again!
Heath B. (July 2009)
---
"really quite a blow but the rig held up"
I've been on four sails since receiving the Seahawk and sailing rig: Alamitos Bay, through the waves at Long Beach Harbor, twice off the beach at San Pedro near Angel's Gate. All the locations have strong ocean breezes. Yesterday was really quite a blow but the rig held up. Great fun.
I haven't gotten a decent action pic for you yet but when I do I'll send one along. Something with a container ship looming perhaps.
- J.T. A. (July 2009)
---
"Damaged My Career"
Jim,
Put together a SeahawkII with a standard sail and took her out today. It was real fun and everything worked well... You have damaged my career as I am thinking about the lake more than my job.
-Andrew R. (July 2009)
---
"Extremely Satisfied"
I am extremely satisfied with the products I got from your company (Hydrodynamic stabilizer and recently the oar steering system for a kayak). The products are of excellent quality and the customer service has been great.
Juan B. (July 2009)
---
Wife Loves the Canoe Rowing Rig
...the rig works beautifully and she loves it! It's well designed, flexible for setup positions and a lot of fun. Good product.
Thank you,
Dan P. (July 2009) See it: Canoe Rowing Attachment
---
"Experience Just Fantastic"
Jim,
I purchased an Intex Seahawk 2 with large sail kit from your company a few weeks ago. I want to write in and say that this boat with your sail kit works fantastic. I launched and sailed my boat for the first time today - on Carnegie lake in Princeton, NJ.
For someone with only theoretical knowlege of sailing, I was able to sail really confidently after about half an hour on the water. We were on the lake for a good 3 hours and the experience was just fantastic.
I had setup the rig earlier based on the instruction and then dismantled it (marking the components and settings) to make it easier to reassemble at the lake. I was able to launch in about 40 minutes after we got to the lake. I am sure next time I could do this in 20 minutes or less.
I am looking forward to a great summer sailing (learning to sail better).
Do let me know if there are other fellow STG (sailboats to go) owners who sail in this area.. it will be fun to meet and sail on the weekends.
Thanks,
-- Harshad (June 2009)
---
"MANY Hours of Joy"
Hi Jim!
I hope all is well!
I'm still LOVING my kit and sail every year up in Maine on the ocean with it. Thanks so much for coming up with it. It's been a source of joy to me.
I absolutely love this product and I have had MANY hours of joy using it.
Doug S., Massachusetts, bought a Sevylor 11' Super Caravelle inflatable boat with our sail kit back in 2004, and wrote to us recently (June 2009) with the above comments.
---
"Lots of Fun"
Hi Jim. I bought the Mariner with sail kit a year or two ago and have had lots of fun with it. I got the larger sail and the heavy duty mast...
Thanks again for making these sailkits. I can tell you unequivocally that I would not be sailing now, without them.
Happy summer!
-Christine J. , Buzzards Bay, MA , June 2009
---
"Absolutely Fantastic"
Received the boat and tried it out yesterday - it is absolutely fantastic! Had the most fun in it and only wish I had come across your site years ago. Thank you so much for providing something that lives up to every promise made about it.
-- John O., bought our Seahawk II Inflatable Sailboat June 2009.
---
"Surprised At The Speed"
Hi Jim,
I took my boat out for the first time today. There was very light wind at first so I motored out on the lake before raising the sail. Eventually the wind picked up pretty good and and I practiced tacking upwind. The boat and sailrig worked great and as according to the instructions you included. .. I thought it progressed upwind pretty good, but when I turned downwind to come come back, I was surprised at the speed ...
-William Lardie [Sail Kit for Inflatable Boat] 6/5/2009
---
"A Blast"
Hi Jim,
I just wanted to say that last weekend we finally took the boat out for it's maiden voyage.
Fantastic!
We didn't use the engine (in fact I haven't even set it up yet), but we did use the sail.
My son, daughter and I had a blast whizzing around and my son was enjoying himself so much he didn't want to come back to shore.
30 mins from arriving at the beach we were sailing - not bad for our first attempt. The whole thing is so easy to set up. I was really pleased that there is no sailing equipment in the boat which gave us a lot more room and made the whole thing more comfortable.
-Charles Cliffe 5/28/2009 - Sail kit for the Pakboat folding kayak
---
"No Problem"
Had the boat out this past weekend and had a lot of fun! Your assembly and sailing instructions were very clear and I had no problem with set up and sail..
-Dan Dolittle - Sail kit for Kaboat inflatable 5/14/2009
---
"Love the boat"
Hi Jim,
Thanks to the early delivery I got to sail this weekend I love the boat...very easy to move around and it sails well in a 10 knot wind....
Tony Schlaff - Super Snark Sailboat 4/27/2009
---
"Totally Satisfied"
Dear Jim,
Last year I bought the complete package with a large sail and the Intex Mariner boat.
It's great and I'm totally satisfied.
Now I'm looking for an extra smaller boat that carries the large sail.
Which one's can you recommend?
Regards,
Philip 4/24/2009
Answer: The Intex Seahawk II, Philip, if you want comparable rigidity and handling to the Mariner in a boat half the weight. The Sevylor K105 if you want even greater portability and are willing to sacrifice some rigidity for the sake of something really light weight and portable. -- Jim
---
"Transformer In Action"
Hello Jim,
Here I'm sending you a nice picture of the inaugural trip of my new SAIL SHIP at Chicxulub, Yucatán (the same place where the meteorite that killed the dinosaurs fell down).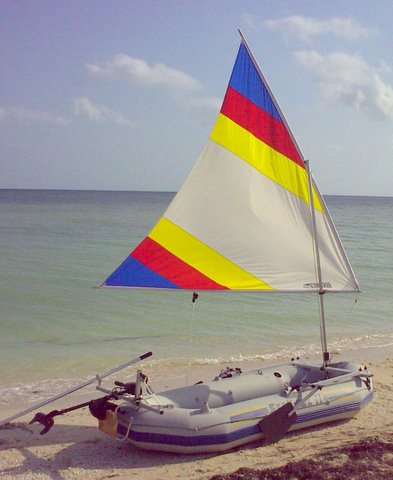 This photo was taken a few seconds before the departure at 9:00 am. The day was perfect, with calm SE winds of 6 knots. You can see the hybrid installation of the Sail and the 30 lbs electric Minn Kota motor. I shared the trip with my wife and my three small kids. I loved to see people and friends fascinated while seeing this transformer in action. Had great fun using it!
Thanks for the delivery and soon I'll send you more photos.
-Alejandro Vales - Seahawk II and sail kit with motor mount 4/20/2009
---
Joyful in Liberia
Dear Sirs,
My boyfriend (Joao Oliveira) recently bought a sail [kit] from you, I have to share with you how joyful are our sailing weekends in the St. Paul River of Monrovia, Liberia.
-Maria - Sail Kit for Sevylor XK2 SVX200 Inflatable Kayak - 4/7/2009
---
"Working Really Well"
Hello, I was wondering if you sell the sails seperatly for the inflatable Intex boats. We bought [an Intex boat] a few years ago and would like to upgrade it to a sail boat if possible. We saw someone using your sail at the lake today and it was working really well! Please e-mail me back and let me know if you sell just the sails and about how much they cost.
Thank you!!!
-Nicole Ezell 3/29/2009
Answer: Yes we do. Item 2001, $569. - Jim
---
Works Well
The sail rig is great and works well with the canoes I have.
Thanks,
-Gareth 3/2/2008
---
"Amazed"
I have to say...every time I set up the sail rig I'm amazed by the quality of the construction of the whole thing. Great product.
-Jeff Trenholm 3/15/2008 (sail kit for inflatable boat)
---
Sail Kit for SVX500 Is "A Beautiful Thing Indeed!"
Hi Jim,
I want to let you know that I've received my sail kit for Sevylor SVX500 and had a chance to test it for over a week now. It's a beautiful thing indeed.
I'm very pleased with it's performance. Thank you very much for creating this product!
-- Arek S., July 2007
---
"Great Sail"
Charlie and i had a great sail today!! Thank you so much for the great design.
-Michael M., Acton, MA June 2007 - Bought Seahawk Sport 400 with SailboatsToGo sail kit.
---
"Exactly What I Wanted"
Hi Jim,
I just wanted to let you know that we finally went sailing on Saturday and had a blast. Your set-up instructions were perfect and easily understood. The pictures really helped a lot. The boat/sail was exactly what I wanted. Fun, easy and headache free. We sailed on a lake in Plymouth, MA for hours. Everyone was commenting on how the cool the sailboat looked, so I gave everyone that came over to me, and there were a lot, your website.
Please feel free to contact me or use this e-mail if you ever need a "HAPPY Customer feedback advertisement plug"!
Thank you again for all of your help and putting up with my tons of questions.
Cheers,
-Stacie W. Massachusetts, June 2007 - Bought Intex Mariner inflatable dinghy with SailboatsToGo sail kit
---
"Thanks For Creating Sailboats To Go"
My wife and I finally made it up to the lake to try out our canoe sailing rig. It took me about 20 minutes to get it all put together and off we went. Everything worked great except for our not noticing that the forestay had an extra wrap around the boom-mast junction which prevented us initially from getting the sail all the way up. After we fixed that on the water, everything else went like clockwork.
Thanks for creating Sailboats To go. You've put some pep in my old paddling routine.
-- John & Cori F. Sonora, CA, June 2007
---
"Telling All My Friends"
I just got the sail. Its great. I set it up in no time. It fits great. I can't tell you how much I love doing business with your company. I'm telling all my friends to buy sails from you!
- Joe L. , Rhode Island, June 2007
---
"Thank You"
Jim,
I just wanted to thank you for my sailing rig. I could not wait to go to the beach and try it out on my ocean kayak, so I decided to give it a whirl on my wife's white water kayak on a small lake near our home. It worked great even on the smaller boat.
--Jim H. - June 2007, North Carolina
---
"Awsome Maiden Voyage"
Took my seakhawk II out on the bay and was amazed how easy sailing is to learn and also how nice this thing handles. ..thank you for introducing me to world of sailing...this will become a lifetime pursuit and something the whole family can enjoy...
-John L., La Mirada, CA, May 2007 [John also inquired about how to adapt his rig to an inflatable kayak he already has, so we'll be helping him with that as well.]
---
"Exhilirating"..."Quality Product"
Good morning Jim...
I thought that you'd be interested in the feed back from a plain rookie.
I prepared the boat according to your instructions. They are as easy to follow as possible ...
I had read the book that you sent to me along with your basic instructions for beginners and just couldn't wait to confront the theory with the real world. All those tips were extremely helpful. Yesterday, I took the little boat to a near-by lake...I found it exhilarating when you get everything just right (only for a few seconds, in my case, of course...) Wooohoo...
I stayed only 2 1/2 hours on the lake, but that got me totally exhausted. I cannot wait to go back and hope that a little more wind will be on the forecast soon...
Thank you for your enthusiasm, your dedication and for a quality product...
Have a great day, Mon Ami, and, once again, many thanks.
-- Marcel (May 2007 -- bought sail rig for Zodiac-type boats)
---
"Deluxe canoe sail kit fantastic"

Jim,

The delux sail rig is fantatic. I have had fun getting the balance of the helm right and even braved a forced 5.

Thanks again,
Alex B. (British armed services, Cypress)

"The Sailboat Handled Beautifully and Was Easy to Rig"

Hi Jim,

Just took her out on a maiden voyage today. Sail weather was perfect. It was 12 to 16 onshore out of the east and 78F. It couldn't have been a more perfect day.

The sailboat handled beautifully and was so easy to rig up. I just loaded her into my van and away we went. Its so simple. So much less of a hassle than the power boat I had. It steered beautifully. Come about was easy. I'm really glad you invented this. I sailed in an area with a lot of kite boarders and they were interested in the fact that it was inflatable.

Their kites are inflatable. It was really nice sitting on something that was soft.


-Suzanne R., Mar 2007, Florida (Bought Seahawk II with larger sail)
---
"Belugas All Around"

We purchased a kit from you last Spring. We came from Quebec city and met you on the lake, then drove back to your home and had a marvellous time both on lakes in Quebec and, as the photo shows, on the St-Lawrence on the North shore in august. You can?t actually see them but the belugas were all around the canoe while we were experimenting with the wind and the waves. We had a great time.
Au plaisir,
-Jocelyne and Michel
---
"It's Great"
Well Jim, just wanted to give feedback on sailing. It's great! Good quality equipment. Thanks for working with me on this, and answering my questions.

Your manuals and sailing intro are well written. Good job. "
-- Brett H., (Utah) November 2006, buyer of Intex Mariner inflatable boat with sail kit
---
"Better Than Christmas"
I want you to know we absolutely love this thing (canoe sail kit from SailboatsToGo). It's better than Christmas. My kids and I are out there almost every other day sailing around and having a ball."
-Ed B. (Maryland), October 2006
---
"Performs Admirably"
"I am really enjoying your sailing kit. It has been through many Ontario lakes and has performed admirably. The amount of work you have put into the design of your kit also really shows in how convenient and customizable it is.
I am currently using an Intex Mariner [inflatable boat] with your heavy duty sailing kit. "
-- Hoa N. (Canada) August 2006<
Update Sept 2006, after he purchased extensions to adapt the rig for use on a Zodiac RIB:
"Thanks very much Jim.
The extensions for the zodiac work wonderfully."

-- Hoa
---
"Have Enjoyed It a Lot"
"I bought a sail kit for my Sport 400 a couple years ago and have enjoyed it a lot."
-Saul G. (Maine) September 2006 ; and Saul's wife writes:
Great Time on The Lake
"I took these shots of Saul with his Seahawk 400 and the sail kit he purchased from you.
We were camping the week of Aug.23-30 at Lake St. George in Liberty, Maine.
The weather was cloudy most of the time, but enough wind for a quick sail around.
Our daughter Maddy, who is 7, loves to sail with her daddy every chance she gets!
Our other daughter Kayla, who is 14, likes to have a hand at it as well.
Thanks so very much for such a wonderful product! Our family has enjoyed it tremendously!"
Take care and blessings,
-Suzi, Saul, Kayla and Maddy G.
---
"Moves Well!"
I finally took out the sail boat kit for the first time that I bought from you back in June. Everything worked great ... I'm using the Intex Sport 400. I sailed it for a few hours in 5-10 mph winds on Lake Erie and it moves well. The 55 sq ft sail works great at this wind speed.
Paul - August 2006
---
"WORKS LIKE A DREAM"
Jim:
I bought your sail kit for my Zodiac earlier this year and have been sailing it on Mission Bay in San Diego. My kit included an upgrade to the heavy duty mast and the dacron sail. Winds here are a consistent 10 to 15 mph and the sailing has been terrific. Your kit is well engineered, easy to install, and works like a dream. I have been approached by a number of interested sailors asking about the rig, including a few on Zodiacs with motors attached. You should see an increase in order inquiries coming from San Diego since the interest here seems high, and the sailing season is year-round. Thanks for making this great kit available.
Richard - San Diego, August 2006
---
Intex Mariner with SailboatsToGo Sail Kit "Great"
"Hi Guys,
I recently bought an Intex Mariner with sail rig and am enjoying very much. Great product!!!"
--Gerardus P., Georgia (He has the version with 55 SF sail and heavy duty mast).
---
Pontoon Praise
"Jim
Just to let you know , I recievied my product, and I love it!! The pontoons are great for fishing out of my canoe..
Thankx again"
-Jeff B.
---
Wife Assembles; He Massages, Sails, Sleeps
"I LOVE THE SAIL KIT"
"Jim, I received the sail Kit and waited patiently for my wife to decipher the instructions because men hate manuals.She did a great job as usual and I promised her the standard two foot rubs ...That aside, I headed out on Lake Simcoe and the Kit FAR exceeded my expectations and the stabilizers were excellent.Other people seem curious and positive about the whole sail Kit on our canoe.After I solitary sail for hours I feel very relaxed and sleep like a baby for the next few nights.It's great to be playful and meditative while relieving my work stress !"
-Ivan D., Ontario
---
Inflatable Sailboat Helped Him Woo & Win Her
"The lady I was dating when we got the sailboat agreed to marry me after spending many hours sailing with me! I was the object of some derision around the lake for my odd looking craft. I cried all the way to the altar!"
-- Gil H., Ohio (Who reports they're still having a ball with their SailboatsToGo inflatable sailboat as married folk.)
---
Grateful Sailor
"Thank you thank you thank you!
It sailed great today. We were only getting 5-10 mph wind but it was moving right along. Got lots of double takes"
-- Jerry C., sailing inflatable Achilles
---
Spiritual & Romantic & Affordable
I've been sailing out the second weekend now... it's enjoyable, spiritual, romantic (I take my girl too) and thanks to you, also affordable.
-- Yotam N. (kayak rig buyer)
---
Loves Sailing His Zodiac
The sail rig was great! [It] arrived in plenty of time. Thank you again for the extra effort.
It went together without any problem. Obviously, lots of thought, high quality materials and excellent machining are evident...
We stayed two weeks on a small lake south of Halifax. We easily ran the assembled boat down to the beach on launching wheels. The sailing was excellent. We were out many days. Calm winds on the small lake blew from every direction made it tricky tacking upwind, but moderate winds were a great experience.
I found that the leeboard extensions did make a noticeable difference.
I only put the motor on for one day just to try it out.
-- John E., Toronto (Zodiac Mk II and SailboatsToGo sail rig with 55 SF sail & leeboard extensions)
---
Really Enjoys the Sail Rigs
I just wanted to tell you that I really enjoy your sailboats to go rigs. I bought the setups to use on canoes and kayaks. The only thing I haven't done is to use it on the kayakamaran. I have been sailing mainly on Morro Bay, California...
Joe S.
---
His "Favorite Toy"
I am a first time sailboat skipper and owner. I wrote this testimonial to reflect all the questions and concerns that I had before I bought and learned how to sail my "sailboattogo." Hopefully, it will answer your questions too! If I can be of help, my email address is below.
FUN & EASY: My inflatable sailboat is my favorite toy - sailing it is fun and exciting! It is refreshingly easy to transport, assemble, clean and store. **And it's easy to sail!** I'd never skippered my own boat before I bought this one.
A SMARTER INVESTMENT THAN A "HARD" SAILBOAT: When I was shopping for a boat, I considered buying a "hard" sailboat - a used Sunfish or something similar. But that required car-topping to get it to the lake and car-topping really requires two people for safety and convenience. And preferably a car you're willing to risk getting scuffed up - unless you also want to buy a trailer. But then you have to buy, install and wire a sturdy trailer hitch rig to your car, and get license plates, registration and insurance for the trailer (depending on your state).
And then there is the question of storage. Does it fit through your backyard gate? Will it require a lot of work just to get it to the lake? How will you and your neighbors feel about looking at a stored boat month after month?
Anyway, as it dawned on me what a headache a hard boat would be, I realized that buying an inflatable from Sailboatstogo.com was the fastest, easiest, least expensive way to get on the water. I spent $650 and 30 minutes buying it. And I store the entire thing on a shelf in my bedroom!!
AMAZING CUSTOMER SERVICE! Finally, if I had any doubts about whether I had made the right choice, they were blown away by Jim Luckett, the President of SailboatsToGo. Jim has provided me with prompt and empathetic customer service - I get the impression that he isn't happy unless his cutomers are.
When was the last time you could sincerely say that about someone you did business with? I'm glad to answer any questions - although I might not be as quick to reply as Jim!
Mike
Princeton NJ
---
THE ADVENTURES OF "THE NAUTICAL FROG"
It was with some, no, make that a lot of trepidation that I ordered a rig for my Sevylor inflatable from "Sailboats-To-Go". To say that I'm poor would be quite an understatement. Combine that with sharing an apartment with a humor-challenged roommate, and you'll understand why I was "Boat-less in Corvallis".
I had looked at the this website offering rigs for inflatables before. It looked clever enough, and I had heard a lot about the Tinker Tramp while living in Britain, so I knew that an inflatable could be made to sail. I held off though, because the rig was made to fit a variety of sizes, and given the fact that summer breezes can be surprisingly light here in Oregon, I felt that the 45 square feet of sail just wouldn't move my HF360, which is the heavyweight of the Sevylor line.
Jim Luckett must have been reading my mind. He offered a 55 square foot version. Of it's own volition (I swear it), my credit card crawled out of my wallet and placed the order itself. The rig arrived in just a few days, followed by the sail.
I would like to say that the first two sails were wonderful. They would have been, if the wind hadn't died almost completely.
I did establish two things. First, if you follow the directions, the rig goes together and attaches to the boat fairly easy. On my HF360, it looks like something National Geographic would take on an wilderness expedition. It certainly attracts a lot of attention. Second (and more important), the boat will move in the lightest breaths of air. I was very impressed with that, and relieved that I had ordered the larger sail. The few minutes of slight wind promised much more fun.
It was the third trip that paid for all. We launched at Waldport on the coast and sailed up the Alsea estuary, poking into side channels and using the tide to help on the upwind return trip. It was all good "Swallows and Amazons" stuff, and I was a very happy camper. The fourth sail was on the Willamette river in Corvallis, where I enjoyed sailing up against the current, then shooting back down, collecting admiring glances from those on shore.
Sailing the "Nautical Frog" has been very easy as I continue to learn about the boat. For example: on my boat and with my arms, it's a lot more relaxing to tack upwind by holding on to the end of the boom instead of the sheet. It makes backing the sail to help the boat through the wind a lot smoother. Also, two short lengths of line secure the oars against the side rails ready to deploy in seconds when shooting a bridge or making the last few yards of a narrow channel. It's a wonderful craft for going exploring.
All in all, this is a product I heartily recommend. Yes, it costs more than the inflatable, but you get what you pay for, and the customer service is excellent. And, after years of not having a sailboat, I'm no longer "Boat-less in Corvallis".
Sincerely,
--Brian Watkins
---
His Wife Uses Her Inflatable Sailboat Every Week
Lesley has been out in her sport 400 every week since it arrived. She has had a really great time with it. I even enjoy sailing in it even though I like full size boats. It is very comfortable and does extremely well in heavy winds. We figure the we can use it almost all winter as long as the lake doesn't freeze. I am trying to convince her to build a ice boat and use the rig on that for the really cold times.
Thanks again. We really have enjoyed your products.
- John K.
---
Do-It-Yourselfer Appreciates Help With His Project
Dear Mr. Luckett,
Thank You for your amazingly prompt reply to my e-mail on a weekend!
...I must say I am extremely impressed with your products and the fact that you stand behind them. Thank You for your excellent product service. When upgrading my canoe, the first place I will look is Sailboatstogo.com. Thankyou also for your patience with a beginner at this interesting sport.
Sincerely,
Ed W.
---
Loves the Versatility of the SailboatsToGo Sailing Canoe Kit
"I bought the canoe sail kit and thanks to Sailboatstogo now have two boats in one! I love the sailing on the canoe?it's quite fast and actually much more exciting than sailing a sunfish yet just as easy. (not to mention, much less costly!) With a sailing canoe rather than a sunfish you get a longer season to sail since you stay dry in the canoe. I've raced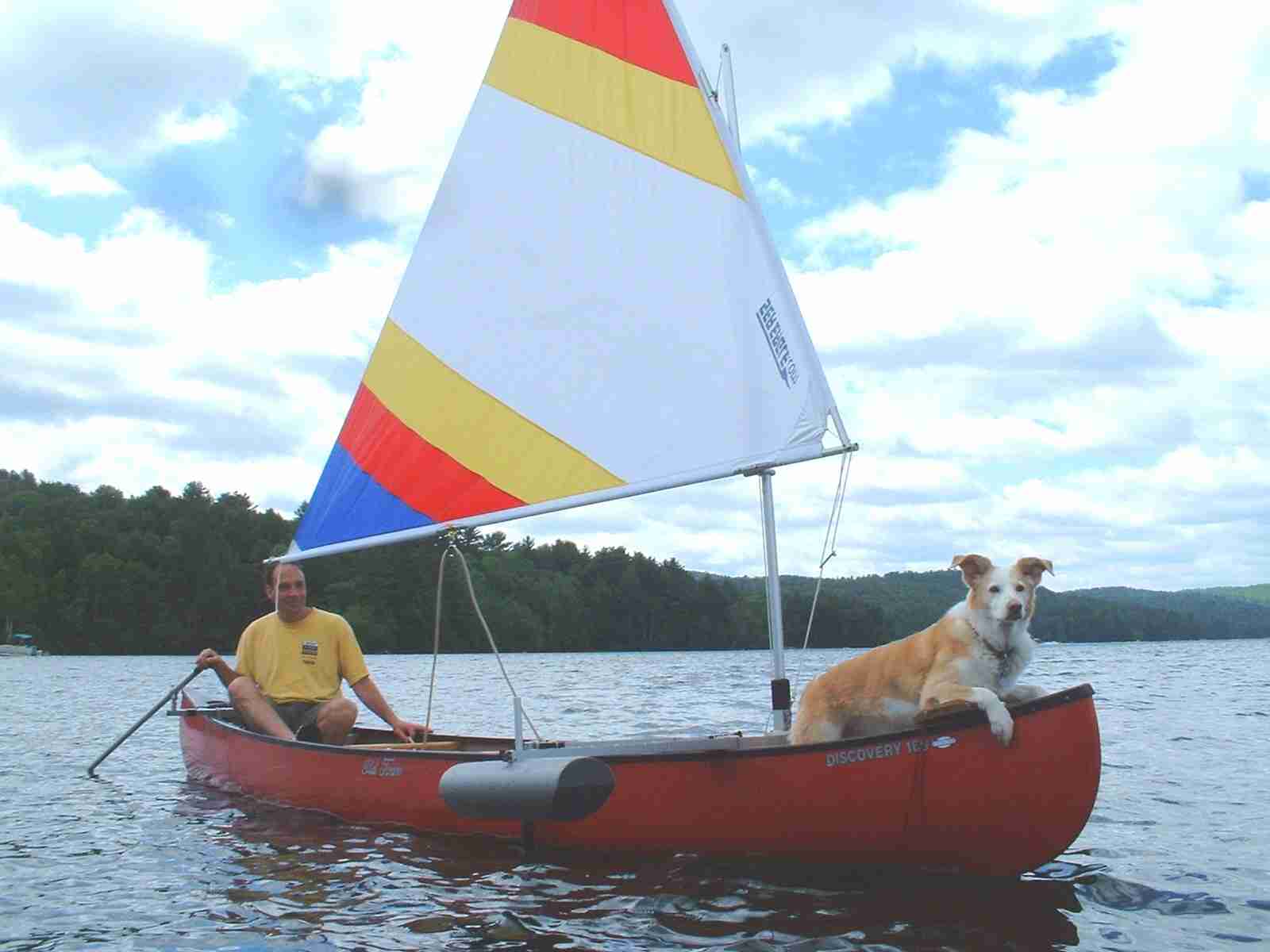 the sailcanoe against a sevylor dinghy that had the sailboatstogo conversion kit with both captains claiming victory! I've taken the boat canoeing with the kit's base pieces remaining clamped on and they don't get in the way at all. Being able to simply let go of the sail and paddle if I want is always a nice option to have that can't be matched by any sailboat without an engine. I bought the optional outriggers, but I was surprised at how stable the boat is and how infrequently the outriggers dip into the water. This kit is solidly built and clearly is going to last for an extremely long time.
- Rob Michael, Westford, MA.
---
Sailing Canoe Kit Performs in Extreme Conditions
"....The sailing rig performed marvelously. We loaded the canoe down and sailed islands in 20 knots without any problems. I sailed in gusts to 30 knots and waves of three feet with my daughter, Alexis, without a hitch. The canoe will plane in winds as low as 8 to 10 knots. The slightest puff would propel you silently though the water. A family of loons were shocked to find us in their midst...I would not consider buying this rig without floats."
-T.Burns, editor - Northern Breezes
---
Rave Review for the Inflatable Sailboat Rig
"It was my 45th birthday, so we tried out my new inflatable sailboat [Sevylor XR116GTX and SailboatsToGo sail rig]. We had a ball! It really worked super. For someone that has never sailed (much) before, I picked it up quickly. It was quite gusty and windy yesterday, but I felt secure in the boat. I was not very worried about tipping and figured I could always let go of the sail if I got nervous."
-Doug S., Whitinsville, MA
---
Canoe Stabilizers Give Secure Feeling. Better Than Sunfish.
"I feel confident bringing our young children along because this kit is less tippy than our Sunfish. When the wind dies, we just drop the sail and in 20 seconds it?s a canoe again. This is much better than dealing with the centerboard. Your sail kit is a well built and carefully engineered product which compared to our Sunfish is quicker and easier to get up and is much easier to sail."
-Dr.Yokel, Melrude,MN
---
Sail Kit More Fun Than Barrel of Monkeys
"Your sail kit is more fun than a barrel of monkeys. I am on my way out the door now for another 'epic voyage'. Everybody in the park remarks on it..."
-Regards-Christopher Guida - E-mail
---
Speed Demon Canoe Sailor
" It's a show stopper where ever I go.... When sailing, I bury the leeward float a good six inches under water and hold on for the ride of my life. The first 3 feet of canoe lifts out of the water as it skips across the lake. When I fly by motor craft, I get looks of disbelief."
-Phil Murphy ~ Fort Collins, CO
---
Sailing His Canoe Brings Back Memories, Sails the Inflatable Too
"When I was a kid I lived on an island called Old Providence and would go sailing with my grandfather... In a canoe. I came here and would tell my friends and they would think I was crazy. 20 years latter I found SailboatsToGo and bought a canoe sail rig.
The kit is light and easy to pack and set up is a breeze. I even got the kit for an inflatable which makes it easy to pack in your car and go sailing when you want. Just a bit of wind and off you go.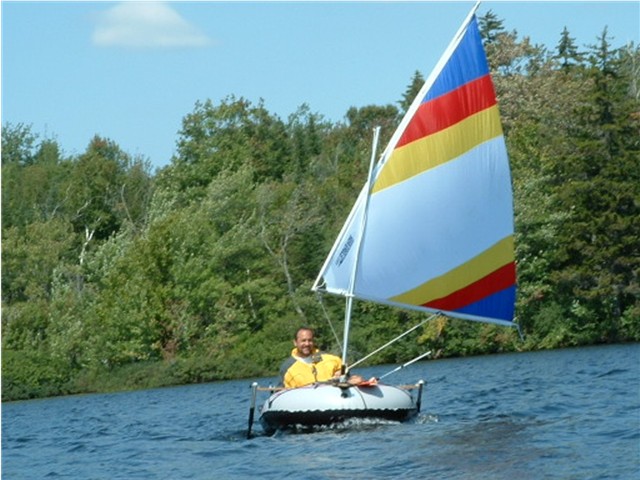 Thanks SailboatsToGo for bringing back the memories."
-Elmer Eubanks - MA
---
Likes the Sailing Canoe How-To Video
"Just finished watching the video [about making your own canoe sail rig]. It is really nicely done with so many clever refinements!"
- Linda S. - Indianapolis
---
Sailing Inflatable Boat Down Under
I bought my Sevylor T280 because I had a requirement for a compact inflatable which I could store in the boot of my Toyota Corolla hatchback and take with me to use as I travel throughout Australia.
I have owned my T280 for several years.It has proven to be robustly built. It can be inflated quickly and, as I am 62 years old, it is light enough for me to carry fully inflated by myself when necessary.
Although designed as a yacht tender I use it mainly for river, lake, and inshore fishing - powered by a 2HP outboard. It is a good fishing boat for two people and gear.
However, as I like to sail occasionally I have also sailed it with my own primitive sailing rig. Because my homemade rig is inefficient and cumbersome I have now dispensed with my rig in favour of the compact, light and efficient, SailBoats To Go sailing rig for inflatables.
-Ken Bailey
---
Praises Service and Support
Recently I purchased an inflatable boat, sail kit and accessories fromsailboatstogo.com and I would like to share my experience with others who may be considering a purchase from sailboatstogo.com.
After my initial contact with sailboatstogo.com and Jim Luckett, the manager at sailboatstogo.com, it did not take long for me to realize that I had found a very conscientious customer oriented internet business and an individual who quickly dispelled any fear I might harbor relating to an online purchase from this internet business.
Prior to my purchase, I flooded Mr. Luckett for days with numerous e-mails full of questions about the boat, sail kit and accessories I was considering. Invariably, my questions were expertly, fully and honestly answered in a very timely manner. To answer some of my questions, Mr. Luckett even spent extra time and effort to take and send pictures to me to more fully address my questions. When my slow internet connect speed would not allow me to view online videos available on the sailboatstogo.com web site, a CD containing the video was sent to me.
Now that I have made the purchase and received the order, the outstanding service and support provided before the sale has not slacked off, as sometimes happens after a sale. My questions still get answered. The user's manuals and assembly manuals provided for the inflatable boat, sail kit and accessories are very well written and easy to understand and follow.
The basic sailing manual included with the purchase is also very well written and informative, even to a seasoned sailor. The quality and design of the inflatable boat, sail kit and accessories are equally impressive. I am looking forward to enjoying my purchase for many years to come. It has indeed been a welcomed pleasure to do business with sailboatstogo.com. It is not often that one finds a product, service, and support equal to that I have received from sailboatstogo.com. I highly recommend them.
Tommy Blanton
Hondo, Texas
---
Loves Her Inflatable Sailboat
WE LOVE IT! Have had it out 4-5 times already. Took our dog and two of our grandsons out for a short sail a couple of weeks ago. Dog hated it, but dog is stupid, kids loved it but told Granpa he needed to learn more about sailing... Took friends out last weekend, had to give them a couple of shots of tequilla to get them to board. They had fun as did we.
Sue E. (Bought 11' Sevylor Super Caravelle and our sail rig)
Fresno, CA
---
"Over the Moon" About Our Sail Rig for Zodiac-Type Boats
I recently bought one of your rigs designed for Zodiacs and as I wanted to sail my inflatable here in the English channel I am using the heavy duty mast and dacron sail. The rig looks very tough and was easy to fit. I am very happy with it and after a bit of experimenting and minor adjustments it sails really well. I would be happy to recommend it to anyone with an inflatable tender as a really fun addition to the fleet. Thank you very much for your help and excellent customer support...I've been testing the setups and now have it as I want it. I have to say JIm, I am over the moon with the rig - I have it all balanced now and can point up really well and the whole thing works a treat... "
Nick from England
---
He Bolted Our Rudder to His Outboard and Now Sails Lake Huron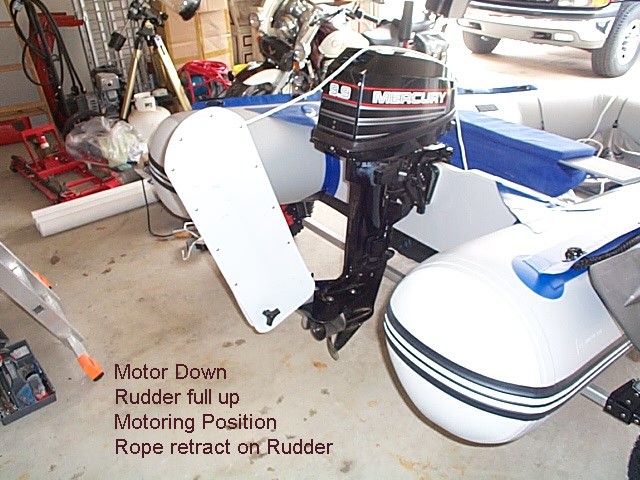 The maiden voyage with my 2004 Sea Eagle 9.2 SR inflatable sport boat, your Sail Boats To Go rig, and your rudder attached to my Mercury 9.9 outboard motors stabilizer fin was a resounding success!
Everything worked perfectly and I had no vibration problems with the rudder up while motoring along at 18 MPH. No other additions or modifications need to be done. It works perfectly as shown in the pictures I emailed you.
The stress on the rudder under full motor power was very light with no danger of cracking the plastic or bending the hardware. The plastic nuts did not vibrate loose and a top bracket to further steady the rudder while in the up position is not needed.
I trailered the boat inflated with everything attached from my campsite in Harbor Beach, MI to the boat launch (4/10 of a mile) and slipped the boat into mighty Lake Huron. The sail was down, leeboards up, motor down, and rudder up as shown in the previous pictures I sent you.
Once we got out of the very shallow harbor (where no regular sailboat could go) I full throttled the engine and quickly got up on plane. My GPS read 18 MPH with my wife and I on board.
I motored about a mile out from shore and cut the motor. I then tilted the motor full up so I could reach the rudder and loosened the plastic handled nut and pushed the rudder to the full down position and put the motor back in the water. The wife lowered the leeboards and I raised the sail and the boat took off under sail.
Getting the boat to steer exactly where we wanted to go was effortless. I set the steering drag on the motor to hold the rudder where I wanted it and tied the sail to a fixed position and sat back and enjoyed the ride. The boat tracked dead straight moving at a 90 degree angle to the wind. The wind was light but moving us well.
We sailed north (with the wind in from the east) for 5 miles to our favorite restaurant. Once we got close I dropped the sail, raised the rudder and leeboards, and motored in to the restaurants dock. After dinner we motored out and sailed back to camp. Half a mile from the camps dock we went back to the motor and drove her right back on the trailer and returned to camp. Lots of other campers came up to look at the rig and asked us questions for over an hour. Some were concerned about taking such a small boat on a Great Lake but I assured them it was very stable and much safer than an aluminum boat. I also mentioned that with the motor pushing it along at 18 MPH you can get to shore and out of trouble quickly. I expect you will be getting a few more big water buyers now that they can have a motor backup.
Eugene S. - Michigan
SailboatsToGo Note: It is not a good safety practice to tie the main sheet to a fixed position. It should be hand held.
---
His Love of Our Sail Kit Endangers Marriage
Jim, finally got to take my boat out on the water with my new sail kit.
To say I had fun is a mild understatement, my wife practically threatened a divorce before I gave up for the day!
Next outing is planned for Coniston water in the lake district (of Donald Campbell & Bluebird fame), can't wait.
Thanks again for a great kit.
Andrew S. Wakefield, England
---
Alexander Technique Teacher Likes Inflatable Sailboat
"Today I sailed across Little Neck Bay (just south of the Throgs Neck Bridge. ) from Bayside Queens to Great Neck. Very nice ...
I put a link to your website on my website.
The BEST idea in extremely portable sailboats."
-- Leland Vall http://www.freeyourneck.com/html/links.html
---
They Love our Stabilizer Down Under
Jim,
I received the stabilizer kit a couple of weeks back and tested it last week end and wanted to thank you for designing, manufacturing and delivering on time a superior product that is fit for purpose and makes me and the family feel safe.
I just sent through a order for you ?wheels? as I use a Minn Kota trolling motor and large battery on my canoe and the wheels will compliment the stabilizers and save my legs and back from multiple hauling trips from the car to the water.
Cheers,
Richard N. - South Australia
"It was my 45th birthday, so we tried out my new inflatable sailboat [Sevylor XR116GTX and SailboatsToGo sail rig]. We had a ball! It really worked super. For someone that has never sailed (much) before, I picked it up quickly. It was quite gusty and windy yesterday, but I felt secure in the boat. I was not very worried about tipping and figured I could always let go of the sail if I got nervous."
-Doug S., Whitinsville, MA
---