Folding Canoe Cart
Also a good trolley for kayaks and other small boats.
Folding hand trailer with superior design and quality $299
New: SportsPal Canoes!
We now offer SportsPal high quality lightweight canoes. Buy a SportsPal Canoe from us and save 10% on your portage cart purchased at the same time.
>>>>>>See the canoe cart Video (click) <<<<<<<<<<<<<
This is the version with 12" tires. Also available in 16" balloon-tire cart click here. Width extender available (see below).
Strong, light, corrosion-proof, high ground clearance, big easy-rolling wheels, easy loading, easy folding, compact cart. Satisfaction guaranteed or return for refund. Don't waste your money on flimsy little carts with small wheels that get stuck on irregular ground, with solid axles that can't clear obstructions and no tongue to stabilize the cart underneath. Get this durable, versatile, portable dolly that's a pleasure to use.
" Hello Jim-
it was really easy to assemble and it looks great! - really sturdy and durable. Well worth it. Thanks and Happy weekend.
Ron " (Bought this cart, June 2011)
jim, I was able to try the canoe cart yesterday. I must have hauled my canoe about 1/2 mile before launching it to the river and it worked great. Nice product.-- Houa L. (September 2015)
Less than 14 lbs!

Comes with Straps!

16" balloon-tire model also available (click the colored words).

Width = About 30" not including wheels.

Two-wheeled canoe and kayak trolley with long tongue for superior stability. In many situations you won't even need the straps because boats sit stable and stick well to the rubber surface of the supports. Just plop the boat on and go. Made of anodized aluminum with stainless steel hardware. Huge ground clearance for rough terrain (no axle connecting the wheels!) Other sellers' solid axle carts have ground no greater than 1/2 of the wheel diameter (just 6" on a 12" wheel). Our cart has over 12" ground clearance! 13.5" clearance in balloon-tire model.


Folding: Crossbar snaps apart. Wheel struts fold against crossbar (that is, wheels fold up like airplane landing gear). Pads and wheels could also be removed, but usually not necessary.

12-inch cart ordering link: Buy Now

Pros and cons of 12-inch vs. 16-inch wheels: The 12-inch version is lighter, more compact and lower in price. The 16-inch version rolls better over rough terrain and in soft sand or mud. 16" balloon-tire cart click here.

Both are pneumatic (air-filled) and axle diameter is 1/2".

"Thanks Jim, the cart came tonight. Easy to setup and very refreshing not to be cheap plastic. I look forward to getting my boat on it tomorrow.

Regards,

Jon R. " (buyer of this cart in August, 2010) Subsequent email:

"... and it works great. Totally does the trick. Great product- I'll buy the sailboat package sometime in the future."

------------------------------------------------------------------------------------------------

"Jim, received the kayak and canoe cart for our Sun Dolphin pro 102 Boat. We are so impressed with the detail and craftmanship. We love the inflatable tires and quality frame. Thanks Jody and Anita" -- buyer (in May 2013) of 12" cart

------------------------------------------------------------------------------------------------

"HOLA JIM: EL SABADO PASADO RECOGI EL PAQUETE , Y MONTE EL CARRO . MUY FACIL Y RAPIDO DE MONTAR . Y AYER ME FUI A NAVEGAR AL PANTANO, Y LLEVE EL CARRO PARA LLEVAR LA BARCA A LA ORILLA ,Y SE TRANSPORTA MUY BIEN, SIN ESFUERZO. ESTOY MUY CONTENTO." Jose H., Spain, June 2011 (He said it is easy to use and he's very happy.)

----------------------------------------------------------------------------------------

"I've been looking for something to tote my Seahawk ll [inflatable dinghy] around for the past year and this works very nice.

It is well designed, compact and sturdy. Thanks so much. Now I'm ready to cruise around in my little boat and catch some fish!!

Have a Great day

Sincerely, Aurelia (Jeanne) A. (August 2013)"

-------------------------------------------------------------------------------------

The cart is great - well made and perfectly functional - I have recently become legally blind and can no longer drive to my neighborhood fishing lake - now I can just take my canoe for a ten minute walk.







Thanks for the great design,







PS - the video on You Tube is what sold the cart - great marketing idea!

Jim C. (November 2013) (Note: We have to credit Chuck at Spring Creek for the design but you can blame us for the video!)

---------------------------------------------------------------------------------------

I bought the 12" Canoe Portage Cart (Item 5059), because of your video. I had looked and tried many other canoe carts, but was never satisfied. I saw your video and ended-up buying and using the 12" Canoe Portage Cart and it is the ideal combination of sturdiness, portability and ease-of-use. (Brian P. Mar. 2014)

<<<< Customer feedback!

12-inch cart ordering link: Buy Now

Weight capacity is 250 lbs!

Loading: Lift up the front of your boat and swing it over above the cart, then just lower the boat onto the cart. When the bottom of the boat contacts the black pads on the cart's crossbar, it forces the cart into a level position and the tongue (the long bar that sticks out forward) automatically flips up and rests against the bottom of the boat. You pull on the boat, not the tongue. (please note: photo shows telescoping handle, cart now comes with a shorter 18" single piece handle)

12-inch cart ordering link: Buy Now

Hi Again Jim,

Just wanted to say thanks for our new cart. My husband was thrilled beyond description with the quality and design. We will be sharing details about your business with our friends here in Sault Ste. Marie and will certainly highly recommend you.

Thanks again -- Lynn R.

<- More Customer Feedback!
Going: On smooth ground, you're ready to go as soon as you drop the boat on. For greater security on rough ground, secure the boat to the cart with straps (included). You just grab hold of the bow handle of your boat and pull or push easily to wherever you want to go.

High ground clearance allows you to use cart on rough terain.

12-inch cart ordering link: Buy Now

Great kayak kart too.

(please note: photo shows telescoping handle, cart now comes with a shorter 18" single piece handle)

Rowboats, pedalboats -- no problem!

Custom widths possible: see extender below or email Jim@sailboatstogo.com




Compact: Comes apart and folds in less than a minute to this handful of small pieces. Pop them into a small duffel bag (optional) and stow anywhere, even in the hold of your kayak (remove axle bolts). Or, just fold up wheels and remove tongue, and leave the rest assembled. Click Here to Add Cart to Your Shopping Cart

Duffel Bag for Canoe Cart




. Free shipping on bag if there is a cart in your order. Otherwise, we will add $7 later in a separate manual transaction to cover shipping.

Buy Bag

Versatile: Dolly works great with a Zodiac or other inflatable boat.

The bunkers (black rubber-topped boat supports on the crossbar) can be slid to any position and locked in place. Maximum spacing between the bunkers is 20 inches outside-to-outside. . Top surface of bunkers is 2 inches above the crossbar and height is not adjustable. Blow-up of this picture at bottom of page.

Cart frame is 30" wide.

>
Click on the arrow at center of image at left to see the video

"Amazed at How Well It Was Made"

"Jim

Received my canoe cart, put it together, and tried it out.

1.) Very easy to assemble.

2.) Was amazed at how well it was made, and thought out.

(even the tie down straps had pads behind the buckles to keep

them from scratching anything)

3.) Works great and very easy to use.

Who could ask for anything more.

Thanks.........Jim

Jim S. " (July 2010)

<---Another unsolicited comment from a buyer of this cart

12-inch cart ordering link: Buy Now

Alternative to a cart:

Slip-on wheels

The slip-on wheels turn our crossbar into a cart substitute, with many convenience advantages. You may already have a crossbar and gunwale clamps because you have a canoe stabilizer, canoe sail kit, or canoe rowing rig that you bought from us. That crossbar can also put wheels under your canoe just by removing whatever accessories are plugged into it and slipping in the prongs of these slip-on wheels.

See video of wheels on canoe: Click Here

Like the cart, the slip-on wheels are available in 12-in. thin-tire and 16-in. balloon-tire versions.

Above: Slip-on wheels added to inflatable boat sail kit. They also work on canoes, kayaks, dinghies and jon boats.

More info and price on 16-inch slip-on wheels

More info and price on 12-inch slip-on wheels

Crossbar and gunwale clamps (for those who don't already have a product incorporating them)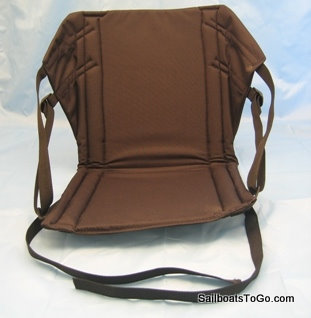 Back support! Internal fiberglass rods. 15 inches high. The best of this type of product. Add to your backless canoe seat. Secures with straps. $45