| | | |
| --- | --- | --- |
| Email Jim@SailboatsToGo.com | Extremely Portable Sailboats | |
Founded in 2003 by Jim Luckett

See what it's like: Click Here for Sailing Video

Order online or by phone: 1-978-263-7598

Sail kits & accessories for virtually any canoe, kayak, rowboat or dinghy!

Affordable, Portable, Capable on Tacks and Quick to setup.

Black Friday Sale - 10% refunded (max $100) on any sail kit.
For Canoes For Kayaks For Snarks

Home of the SQUARE POST system!

Featuring Intex, Sea Eagle & Saturn & SportsPal
Contact Us: Call 1-978-263-7598. Email: Jim@SailboatsToGo.com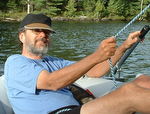 Call me or Email. Hi! I'm Jim Luckett. You can trust SailboatsToGo. I am a boating enthusiast like you, and I'm eager to help. Here's my home phone: 978-263-7598. Call me up to 8 PM Eastern time and let's get acquainted and see what, if any, sail rig is right for you. No pressure, I promise. The only sales I want are ones where the buyer is truly happy and comfortable with their purchase so please feel free to ask for guidance before you buy. I am in my 70s, retired from other successful lines of work. SailboatsToGo LLC is for fun. Started it in 2003. (Video intro: click here)
Our credit card processing is done over an encrypted connection which stands behind our guarantee of honest dealing and secure credit-card processing. If you need any help with a purchase (before, during, or after) give us a call or shoot us an email. More...
I started SailboatsToGo LLC because I love sailing and I hate expense and hassle. See me sail (click here) When I get the impulse to be on the lake or bay under sail, I want to just go and be sailing within the hour. When I'm not sailing, I don't want mooring fees, trailer license fees, storage issues, maintenance issues etc. I looked at and rented a Sunfish -- Too heavy on land and it's strictly bathing-suit sailing, which is no good in early Spring or in Fall. I built a plywood sailboat. Too heavy and it required a trailer, annual maintenance, and was not comfortable. I looked at and rented the Escape. Too heavy. Trailer required. Not comfortable, Not dry. At last I bought a sail rig for my canoe. FABULOUS! Roomy, lightweight, dry, comfy, fun to sail. So great, that I wanted to bring the sail rig with me on vacations to the Caribbean. But there are no canoes to rent where we vacationed in the Caribbean. So I made a rig for an inflatable raft, using some parts from the canoe rig and some ingenuity. The resulting inflatable sailboat worked so surprisingly well, I had to share it with the world...
And in 2003 SailboatsToGo LLC was born!
About our Sail Kits. Everything needed to sail is included except wind, water and you! Nothing in our kit is over 4 feet long when folded. The complete folded kit fits in a bag and the weight of most kits is in the 35 - 45 lb. range. They fit easily in the trunk of a small car with room to spare and store in a closet or even under a bed! Our sail rigs are made tough, to stand up to wind, waves, and salt water. All parts are made from corrosion resistant materials like anodized aluminum, high-performance plastics, and stainless steel. Many of the boats can be setup for rowing and take gas or electric outboard motors (most require an optional motor mount). Will our rigs work on types of boats not listed on our website? Probably yes! Email Jim@SailboatsToGo.com and tell us what make and model boat you want to sail. More...
Boat Safely! Learn and follow the rules of safe boating. Don't take foolish risks. Wear life preservers, bring paddles, and boat only when and where conditions are appropriate to your boat and skill level. Boating has inherent risks of injury or death, that precautions can reduce but not eliminate. By using our products you signify acceptance of those risks. Sailing Safety Tips
General Ordering Information and Return Policy
For a page that has a link to every product we sell, all on one page, click here.