Aluminum Trailer for Canoe, Sunfish, Sunflower, Kayak or Other Small Boat, by Trailex
Easy nuts-and-bolts assembly with detailed clear instructions. A lightweight, no-rust aluminum trailer, delivered to your door. Made in USA. Trailer is only 147 lbs. With a balanced load, the tongue weight can be just 20 lbs. Use it as a boat dolly (park by hand; launch by hand, if you wish). Model SUT-220-S. Additional models of Trailex Trailers Click Here. 1 7/8" ball.

2018 price only $985 plus shipping*. Add to Cart
*You will initially be charged $137 for shipping, which is a typical East Coast or Midwest amount. We will then get a manual shipping quote to your address and contact you so you can either (a) approve the shipping adjustment or (b) cancel the order and get a full refund. Same procedure for shipping cost on all trailer models.
See Assembly Instructions Click Here
More ordering links below, offering a deluxe package and various individual accessories. Basic model is as pictured above, including lights, wiring, cradles, wheels, tires, fenders, front stop and hitch connector. The larger SUT-350-S trailer is also below. Also see the SUT-250-S trailer which is shorter and wider, and is best for Sunchasers and small flat-bottom boats, V-bottom boats and semi-Vs.
"Got it on Monday and put together Tuesday. Very fast. Thanks and will be doing more business with you. Already had friends asking where i got it!" - Customer email May 2012 (Gary B., Ishpeming, Michigan)
Details: 1 year limited warranty from the manufacturer. Certified by the National Association of Trailer Manufacturers. Proven product that has been on the market for 40 years. Trailex is a trusted brand. For boats up to 17' long and 200 lbs. maximum weight. Maximum stern width 36". Maximum mid ship width 4'6". Length 15' 2". Width 5'. Space between fenders 3'. Steel under carriage. See below for accessories such as spare tire, hand winch, 2-kayak conversion.

"Just over a week ago my great little canoe trailer arrived. It went together easily according to your instructions and is now licensed and ready to do its job.

Thank you for a great product.

Walt H. October 2010"
| | |
| --- | --- |
| | Never lift your boat onto a car roof again! |
| | Optional spare tire and spare tire carrier illustrated in photo at left. See item 5132 and 5133 below for ordering. |
| | Optional conversion kit for carrying 2 kayaks. Item 5135 below. |
All Accessories are From Trailex So You Know They Work Together Well. **Shipping rates on accessories subject to adjustment (with your approval) when an accessory is bought without a trailer in the same order.
Prices below subject to change. Put item in your cart to verify price.
5128

Trailer for small boats, Trailex, model SUT 220-S
15' aluminum-frame trailer takes boats up to 17'. Note that shipping cost shown is a placeholder. After order is placed we will get quote on shipping to your address and contact you so you can confirm or cancel the order. Boat weight up to 220 lbs. Trailer weighs a mere 147 lbs., so it also works as a dolley you move manually without vehicle. Easy assembly with very explicit directions and only simple tools required. Arives by UPS. Includes all necessary lighting and wiring. See below for individual accessories or deluxe package. Also, adaptor for hauling 2 kayaks. More details and pictures click here

Canoe sail kit options, upgrades and accessories page: Click Here. Kayak sail kit options, upgrades and accessories page: Click Here.

985.00

Shipping**
137.00

shipping is estimate that will be adjusted, subject to your approval.

Add to Cart
Check Out
5189

Upgrade SUT Trailex Trailer to 12-inch wheels


Upgrade to easier rolling 12-inch wheels by adding this item to your order when ordering an SUT Trailex Trailer. This is a substitution item, meaning the price is net of a credit for deleting the 8-inch standard wheels. It cannot be ordered by itself or at a later time.

12" galvanized wheel and tire option (Pair) Can Be Added To Any SUT Product. Do not inflate to 90 lbs. Refer to tire tag on trailer for proper inflation. OVER INFLATION WILL CAUSE DAMAGE TO TRAILER.
129.00

Shipping**
0.00
Add to Cart
Check Out
** Estimated shipping, which will be adjusted to actual (with your approval) after your order is received and we have a chance to get shipping quote to your address. Note: Trailer accessory shipping amounts assume purchase with trailer. Shipping is higher when accessories are bought without a trailer. Sorry this is not automated on the website.
Closeup showing several options: Spare tire, hand winch and winch stand, parking jack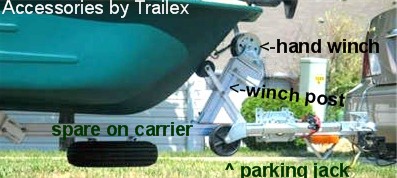 Larger trailer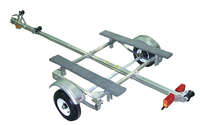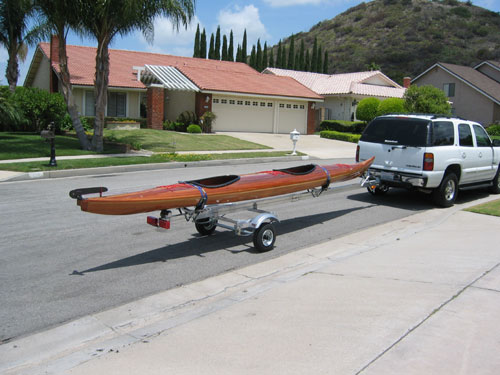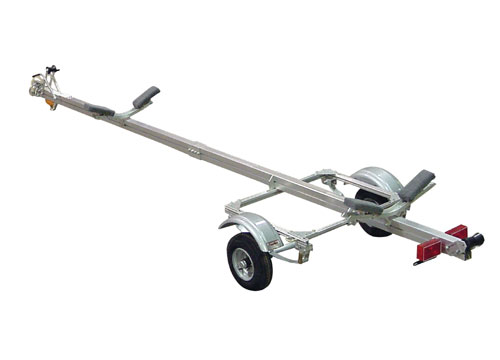 Pictured above: SUT- 350- S Trailer
Model SUT-250-S (Click) is best for Sunchasers
Related products:
Boat Dolleys:
5510

Trailex Boat Dolly SUT-300U


The ultimate lightweight aluminum hand dolly! With its wide air-filled tires this dolly easily transports many small boats, canoes, kayaks up to 300 pounds. Makes it easy to launch and take out. "T" bolt construction makes this dolly completely adjustable - which also allows for easy storage. (Dolly extends from 8' 6" to 4' with no tools) Shipping weight 55 pounds. Assembled width 53". Shipped unassembled. Simple nut and bolt assembly with very good instructions. Options available but not listed: Larger tires, special bunks to support a wide inflatable boat, trailer hitch (not intended for use on public roads!). Shipping cost listed is an estimate, to be adjusted manually (with your approval) after order is placed and before it is shipped. If you don't like the final shipping cost, you can cancel.

Also see the larger 5512 dolley (SUT-350SD).

520.00

(2018 price - check for update)

Shipping**
75.00

Add to Cart
Check Out
5512

SUT-350SD Trailex Boat Dolley


The perfect all aluminum fully adjustable hand dolly. With it's wide air filled tires this dolly easily transports many small boats, canoes, kayaks up to 350 pounds. the length is adjustable from 8'6" to 14' with no tools. The 3" wide strap supporting the back end of the boat is fully adjustable for almost any type of boat. Very clever design! All SUT trailers ship in kit form, shipping additional.Shipping Weight 50 pounds. Assembled width 76". Easy nut & bolt assembly with complete instructions.

Shipping cost shown is an estimate. Cost will be adjusted to actual once you have placed your order and we have obtained a quote from a carrier. You can cancel if you don't like the final shipping quote.

Also see the smaller 5510 dolley.

607.00

(2018 price - check for update)
Shipping**
85.00

Add to Cart
Check Out
Boat Cart - Canoe, Kayak carrier. Folds. Wheel options.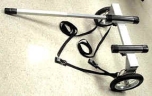 Featured Canoe Accessories (Most popular items for canoes & kayaks)
Sailing Canoes - Clamp our canoe Sail kit onto your canoe. Video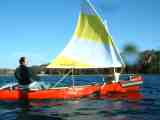 Canoe Stabilizer Outriggers Stay right-side-up!