| | | |
| --- | --- | --- |
| | Sailing Rigs for Fishing Boats, Rowboats, and Dinghies | |
Sailing kits to transform virtually any open fishing boat, rowboat or dinghy!
Fast, Fun, Packable, and Quick Setup!
Our kits fold to the size of a set of golf clubs and fit in your vehicle's trunk.
We offer the largest selection of extremely portable sailboats and sail kits anywhere. In addition to open fishing boat rigs, we also offer sail rigs for canoes, kayaks, and inflatable dinghies, as well as Snark superlight sailboats, rowing packages, and motors and motoring accessories. And we offer Sea Eagle boats, kayaks, and accessories at deep discount prices.
A SailboatsToGo sail kit attaches to your open boat with no tools required. Easy on ... easy off. It sails crosswind, downwind and tacks into the wind. Two sail sizes with 15 different sail patterns and colors. Plus Options, Upgrades, and Accessories for everything you may want!
More Info Ordering Info Sailing Videos About Our Sailkits
_____________________________________________________________________________
Our easy clamp-on, fold-up sail kit transforms any open fishing boat, rowboat, porta-bote, or dinghy into a Sailing Dinghy. Leeboards on the sides work like a centerboard or keel to let you tack into the wind.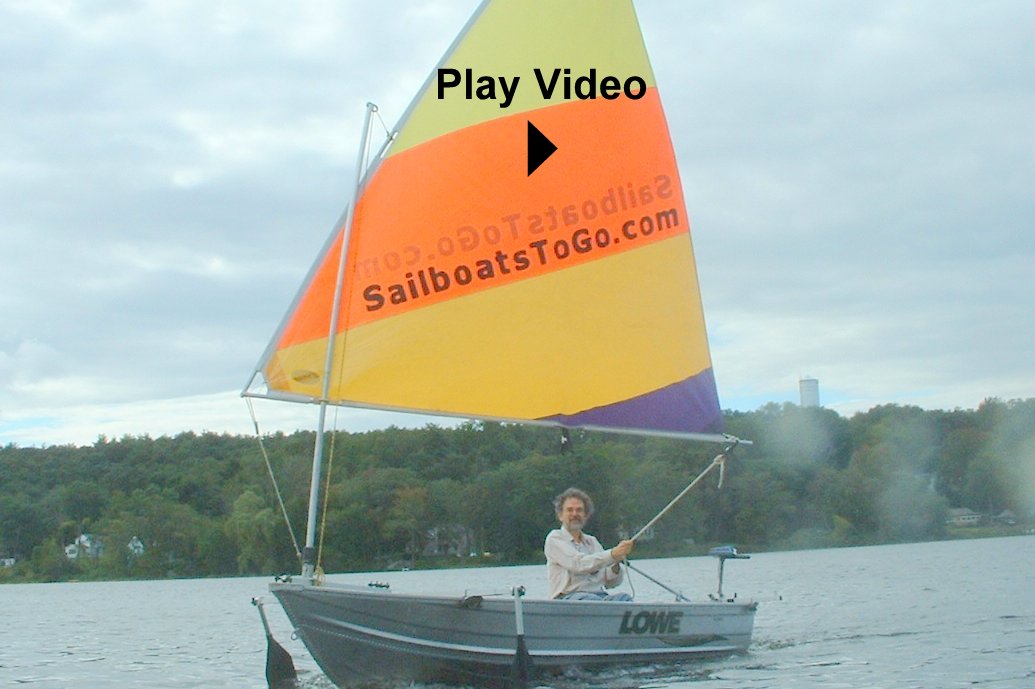 The boat in most of the pictures on this page is a Lowe Sea Nymph 12 footer.
Compact and Easy Setup!
The sail rig folds down to a compact little 4-foot long package (a duffel bag as small as 7" x 12" x 48" would hold everything!), yet it sets up in about 30 minutes to transform your open boat into a sailboat. No modification of your boat is required in most cases. Everything clamps on. You could even sail with your outboard mounted. Headroom is terrific.
To make setup and packup fast and easy, we use snap-together connections and clamping u-bolt connections with star-knob nuts (like large wingnuts). After initial assembly no tools are required to setup your rig for sailing or to take it apart for transport and storage. Initial assembly is done once only and requires a screwdriver and wrench.
Instructions cover everything: initial assembly, installation and removal from your boat, and how to sail. We supplement some instructions with videos. We've gotten lots of compliments on our instructions and we're always here to answer questions.
High Performance!
Our sail rigs are made tough, to stand up to wind, waves, and salt water. All parts are made from corrosion resistant materials like anodized aluminum, high-performance plastics, and stainless steel. You will be impressed with the quality. Read our testimonials page to see what other buyers say.
The Components
The sail kit is complete with everything needed to sail upwind, crosswind, and downwind: Frame, Steering, Mast, Spars, Sail, Ropes, and Leeboards. More details about each of these parts.
A sturdy T-shaped front frame made of anodized aluminum attaches to the front section of your boat and the mast step (socket) and leeboards mount to this frame. The mast is inserted into the mast step. The spars are mounted on the mast using a mast slide that allows the sail to pivot around the mast. Leeboards snap into the sides of the front frame. Leeboards allow you to sail crosswind and upwind as well as downwind. Leeboard perform the same function as a centerboard or keel in this respect and they work just as well. Any of these devices is nothing but a vertical fin in the water making it easier for the boat to go forward and harder for it to slip sideways. You do not need to fiddle with the leeboards while sailing -- just leave them hanging down. You can sail right into the beach and the leeboards will kick up by themselves.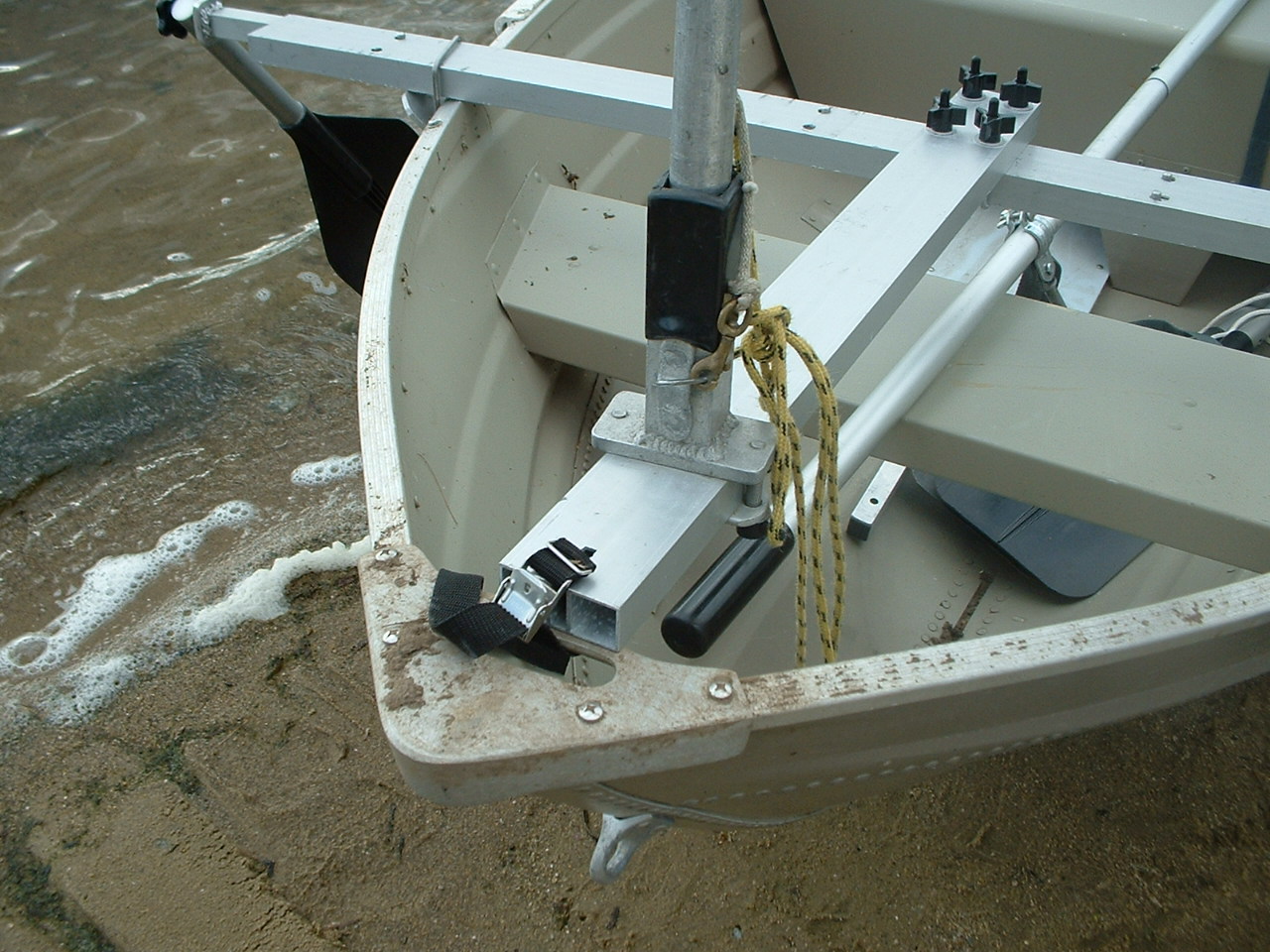 Steering on the standard version of the rig is by a special wide-bladed ruddering oar, which pivots off a crossbar that clamps to your boat near the transom. This rear crossbar has pivot holes that accept the pivot pin attached to the ruddering oar, so you can steer from any position -- center, port side, starboard side, or in between, just by repositioning the oar. You can have a motor in the center and still steer off one side. Steering from an off-center position makes no difference to the handling. Get a second steering oar, put one on each side, and then you can switch to rowing to propel the boat in an instant, using the steering oars as rowing oars.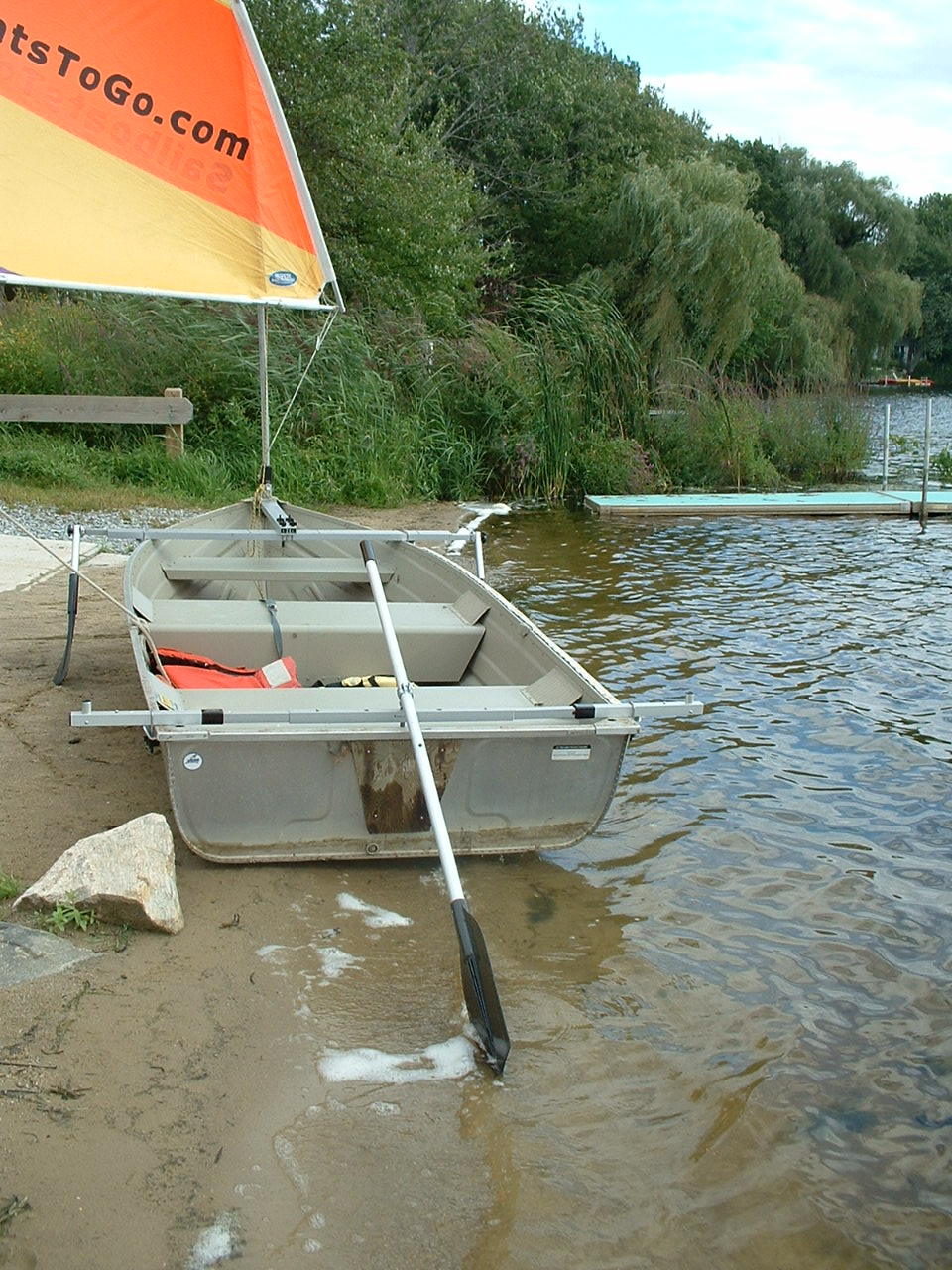 Optional kick-up rudder takes the place of the standard steering oar assembly. You can still beach the boat with rudder mounted, because of the automatic kick-up blade. Rudder is the most effortless steering method, but a steering oar provides much more control if you lose forward motion or for quick turns in tight spaces.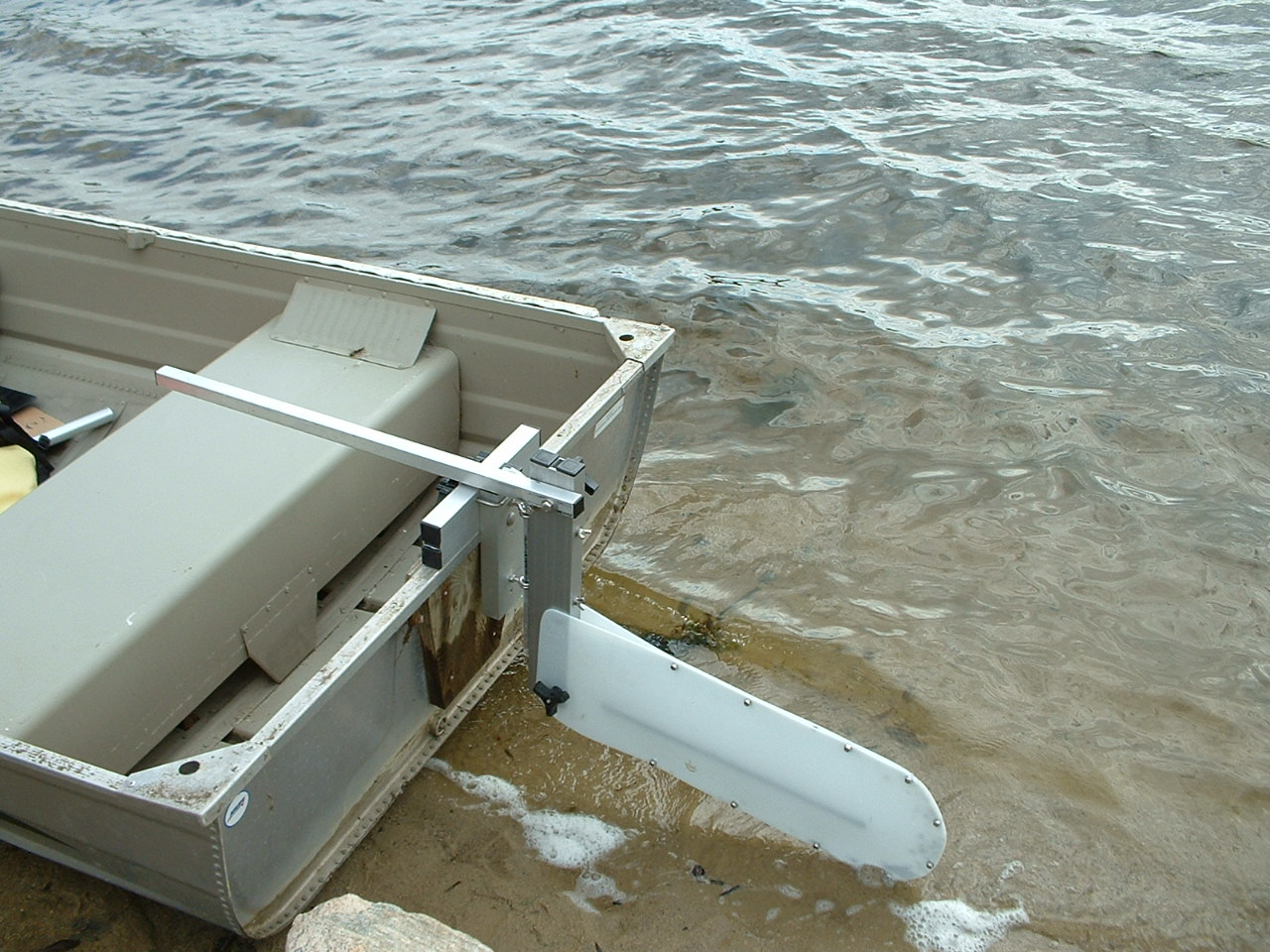 The Porta-Bote adapter kit adds a second crossbar to the front frame and special mounting plates (J brackets) for those boats that lack a gunwale for the kit to clamp onto, like the Porta Bote. Works on any Porta-Bote model. Simpler, less expensive, and more portable than any other sail kit for the Porta-Bote.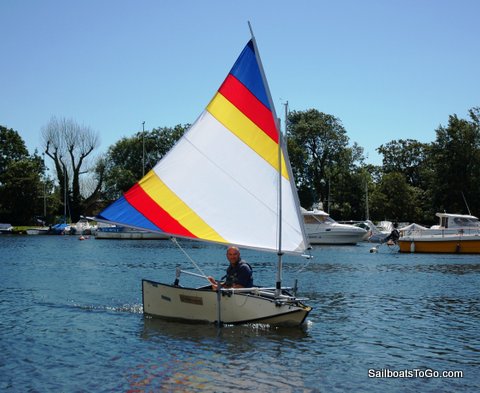 Worried about stability? Add our stabilizer floats. The float arms snap into the front crossbar, but most dinghies don't need them.
"Your sailing rig is a good fit for the Porta-bote. It's light-weight but sturdy and disassembles to a small space ... It seems like the Porta-Bote sails slower than a boat its size built for sailing. For speed, I recommend a Porta-bote owner obtain the larger sail. "
John, Traverse City, MI, July 2008
_____________________________________________________________________________
Questions: Email Jim@sailboatsToGo.com or call 978-263-7598
Sailkit Versions and Options
This sail rig comes in three versions: Standard sailkit, Deluxe sailkit with Steering Oar Steering , and Deluxe sailkit with Rudder Steering. (Click these links for more information or to add to your cart.)
The Standard version has a 45 square foot nylon sail and steering oar type steering.
The Deluxe versions upgrade the sail to 55 square feet, a heavy duty mast, and includes a carry bag. One of the two Deluxe versions comes with steering oar steering like most of our kits. The other subtitutes a clamp on rudder for the steering oar steering.
If you prefer, you can purchase the Standard version and add just the 55 square foot upgrade or just the carry bag using these links:
Order the Standard sailkit only.
Add the 55 square foot sail upgrade.
Add the Carry bag.
About Rudder Steering
The Deluxe Rudder Steering sailkit uses eyebolts mounted into your boat's transom. We also offer an option to change this to a clamp on rudder that mounts over the transom. More Info.
About Your Boat's Gunwales
If your boat does not have a good lip projecting horizontally from the top edge of the gunwale (most boats do), then you will need two pairs of bolt-on J-brackets to receive our gunwale clamps (picture below). Ordering info. Order 2 sets.
You can use the links above to order these items or you can also find them on the fishing boat main page.
This same rig will work on the Porta-Bote with the addition of another, smaller front crossbar up near the base of the mast since the bow on a Porta-Bote is open and not suitable to support the front of the front assembly. Bolt-on J-brackets to receive our gunwale clamps are also required, since the gunwale lip on the Porta-Bote is not suitable. The brackets stay on the boat and the rig installation and removal is still a no-tool operation. The brackets are quite unobtrusive. The complete set of Porta-Bote adapters consists of 3 sets of bolt-on brackets, secondary front crossbar, and additional set of small gunwale clamps for the additional crossbar. Ordering Info.
Picture below shows the small bolt-on bracket and how that mates up with out gunwale clamp.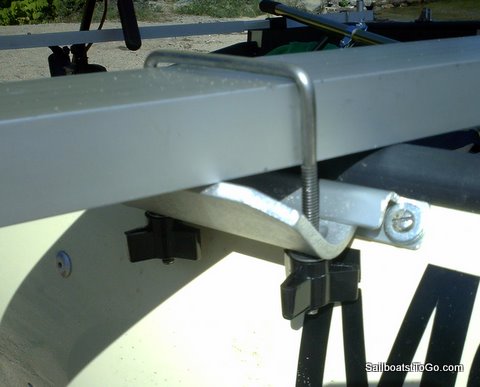 Co-owners Jim Luckett and Rob Michael are passionate about extremely portable sailing. If you need assistance shopping, sailing advice, or have a boat not listed on our site, contact us!
Contact Us: Call 1-888-Joy-Sail or 1-978-263-7598. Email: Jim@SailboatsToGo.com
General Ordering Information and Return Policy