Serendipity
The SailboatsToGo Sail Kit for the West Marine Water Tender hard-shell car-topper dinghy. Also for Sun Dolphin Water Tender.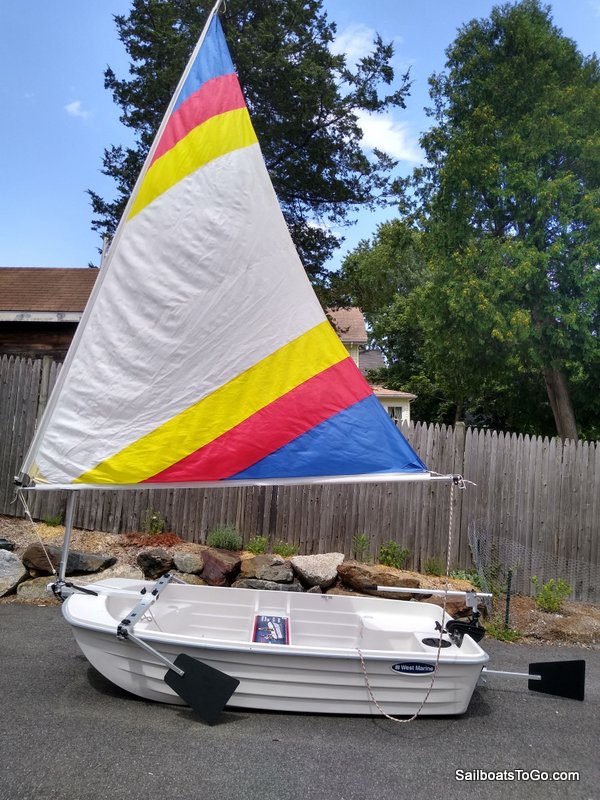 Shown with optional 55 SF nylon sail upgrade. Standard sail size is 45 SF.
Get the hull from Walmart, Amazon or many other places. Just Google Sun Dolphin Water Tender.
Get the sail kit here. (Full description and links to Deluxe and Super Deluxe packages)
How does it sail? Click for Video
The sail kit clamps on in less than 10 minutes. No tools, no drilling. Just turn 5 clamping knobs and it is on!
Many accessories and upgrades available from us. Roof Racks, Wheels, and Much More . Stabilizer pontoons (though it's already very stable). Wheels with crossbar if you don't want the whole sail kit.
Leeboards on the sides (included) work just as well as a centerboard to enable tacking into the wind and sailing across the wind. No centerboard means no centerboard trunk taking away space in the cockpit!
Questions? Email Jim@SailboatsToGo.com or call him at 1-978 263 7598
Recommended accessories and upgrades: Oars, wheels, sail kit bag, 55 SF sail and heavy duty mast