Clamp-on Canoe Stabilizer - Fits All Canoes! 10% off Sale!
Square-Post Option

Aligns Floats Automatically. Adjusts & locks more conveniently & securely . Only sold here!

On Sale Price in your cart will be $379 (regularly $419).
Floats Adjust In, Out, Up, and Down. Clamps Slide to Align with Gunwales.

Float Styles: Ridgid floats made in USA by Spring Creek Manufacturing in Grey, Yellow or Red ... or Inflatable Floats for Lower Cost and Greater Portability (White Only) .

Prices: Square post with rigid floats is $379 (sale price). Round post with rigid floats is $369. Inflatable with square posts is $269.
Crossbar must be long enough to span your canoe width. Can be longer. Add 4 inches for canoes with outside gunwale lip. Round up. Clamps slide anywhere along crossbar to align with gunwales. See below for sizing guide. Don't know your size? Order now anyway here.
Questions? Email Jim@SailboatsToGo.com or call 1-978-263-7598.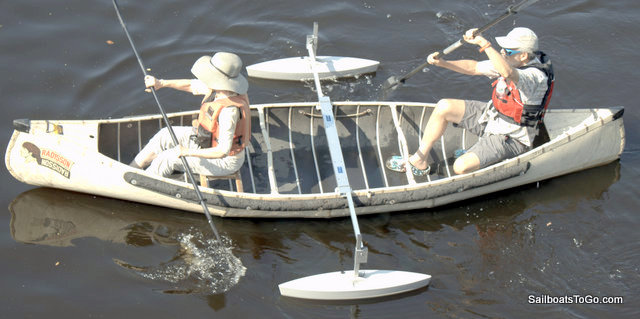 More Info on Square Post Vs. Round Click Here

"Your Stabilizer is a great product. It has surpassed my expectations. It saved us from tipping during sudden bad weather while crossing a lake. Thanks." -- Darren D. (Canada)
Rigid Hydrodynamic Floats are 37 Inches Long and Tapered (7" x 7" At Midpoint). Hollow & Watertight.
State Color Choice In Comment Section of Checkout Page

---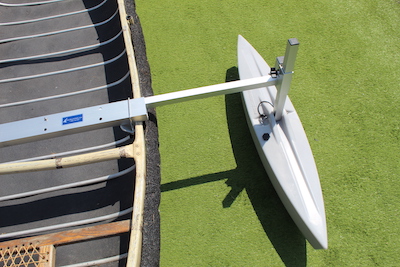 Floats cannot pivot, and will always be inline with the centerline of the boat. Super important for motoring or sailing!
Straight-ahead alignment is automatic, unlike with round-post system.
Easier one-handed height adjustment with star-knob clamp. Minimal hand effort because there is no need for the clamp to be super tight..
Float adjusts in/out and up/down, just like with round post, but float alignment step is eliminated and clamp is easier to operate
Note: State your color choice in the "Comments" section on the checkout page. If not specified, we will ship out gray floats by default.
---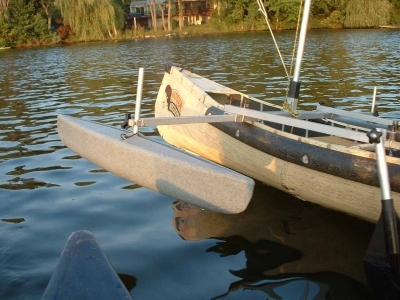 Fully height adjustable
Lever-lock clamp at the end of the horizontal arm grips the round post.
Floats are able to pivot out of alignment if clamps is too loose so be sure to align floats correctly and clamp tightly.
Note: State your color choice in the "Comments" section on the checkout page. If not specified, we will ship out gray floats by default.
---
Inflatable Float - Square Post Style: $269.00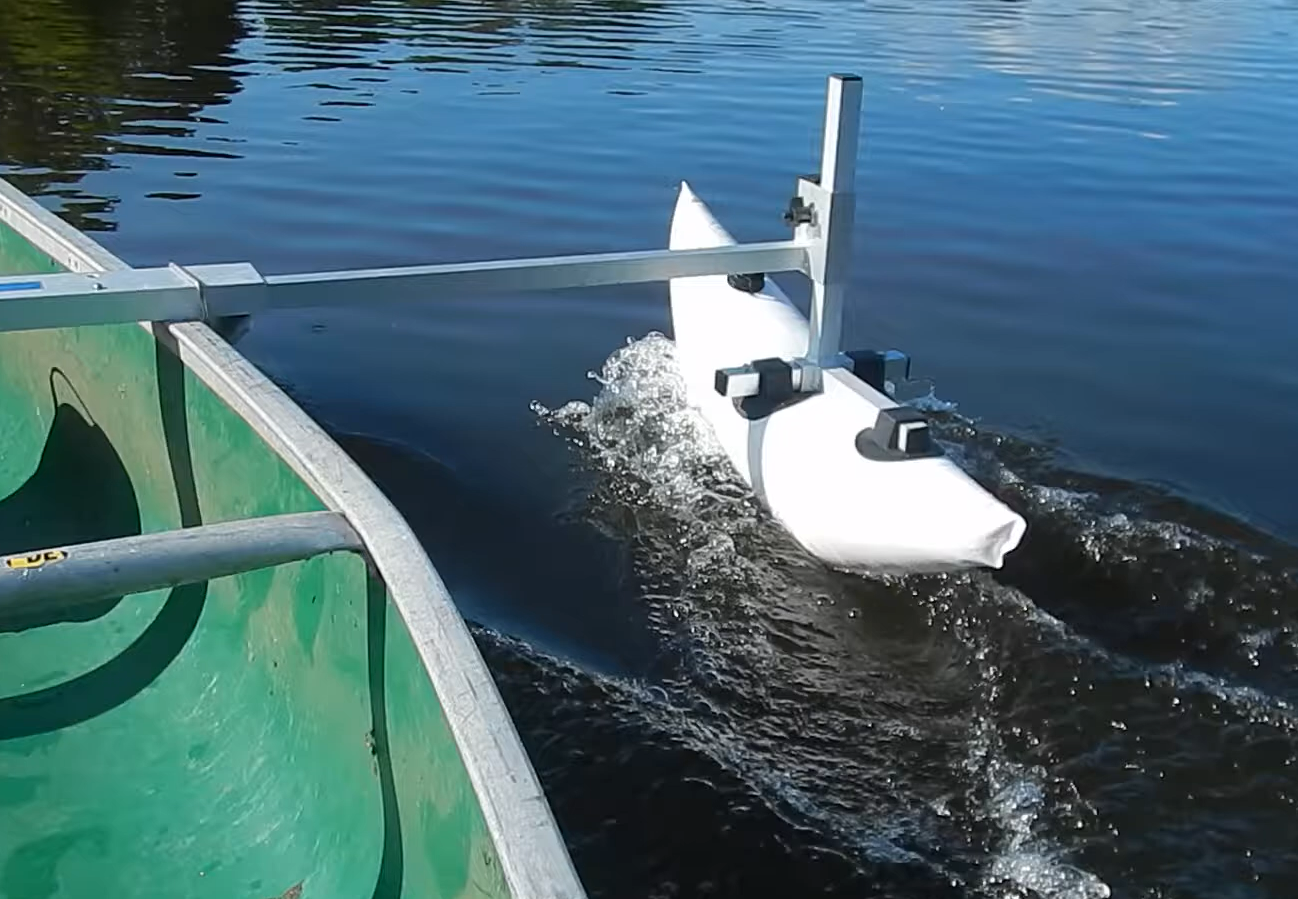 Fully Height Adjustable
Easy One-Hand Star Knob Clamp Locks Height Adjustment
Floats Cannot Pivot. Will lways be inline with the centerline of the boat
Heavy Duty and Light Weight. Easier to Carry and Store.
3-Year Warranty Against Leaks.
Note: Inflatable floats only available in white, with black fittings.
---
How to determine proper crossbar length
Return to: Square post - rigid float | Round post - rigid float | Square post - inflatable float

Measure the outside width of your canoe where you would like to mount the floats. Round up to a standard length (36", 40", 45")
If the "lip" of the gunwhale is on the outside of the canoe, add 4" to the overall width, as the gunwhale clamps will need to mount on the outboard side of the crossbar.
Round up to the next standard length. Or, you can even go longer -- the longest crossbar would work on even the narrowest canoe because the clamps slide anywhere along the corssbar to align with the gunwales.
Custom length crossbars are available at additional cost. Email Jim@SailboatsToGo.com or call 1-978-263-7598
Where to Mount Stabilizer
If you choose a crossbar that is long enough to span the widest part of yout canoe then you can put it anywhere on the canoe. However, the most convenient place to have it is usually near the middle if you are paddling, so it won't interfere with the stroke of either paddler. If you are motoring, that might not be a consideration. You might put it toward the rear. On our canoe sail kits, the floats are up front.
Important safety consideration: For best stability and to maximize the effectiveness of the stabilizers, you should have reasonably balanced weight distribution between bow and stern. If there is no weight in the bow, and the stabilizers are at the bow, the effectiveness of the stabilizers will be greatly reduced. Even just 40 lbs of ballast (water jugs, rocks, sand bags) will help a lot. (Do not tie-in ballast. You want it to dump if you go over.)
Safety
Stabilizers greatly enhance your safety but there is always risk of injury or death when you are on the water. Please learn the rules of safe boating to reduce your risk.