Return to: Sailing Canoe - Canoe Sailing Rigs
Canoe sail kit w/ Hydrodynamic Stabilizer Floats
Item #: 999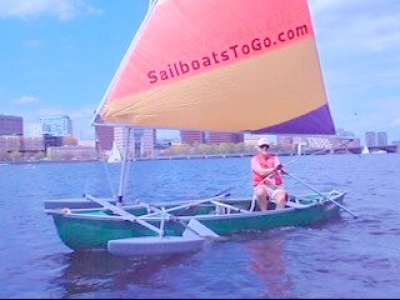 Canoe sail kit with the best stabilizer pontoons on the market -- streamlined hydrodynamic pontoons! (For standard kit without pontoons see item 1001 (click). or with inflatable pontoons, item 1000.)

Our standard kits include EVERYTHING essential to sail a canoe except lifejackets, wind and water. Installs quickly on your canoe with included clamps -- no drilling, no gluing, no modification of your canoe -- and removes just as easily. Many options, upgrades & accessories available to tailor your sail kit order just the way you want it. Deluxe verion available. Fits any canoe; if your canoe is really unusual, let us know so we can be sure your kit will be suitable. Call or email Jim (1-978-263-7598, or Jim@SailboatsToGo.com) for any help needed or to place a phone order. No one offers as many canoe sail kit options or as much personal help as SailboatsToGo.

Complete: Some other suppliers will offer a kit that is just a sail, mast and boom and maybe some rope and call it a "canoe sail kit." But you can't sail with just that. You also need leeboards (necessary to counteract side-slip when sailing in any direction other than straight down wind), steering, mast step (socket), outrigger pontoons, and clamps and crossbars to attach all of this to your canoe. This kit includes all the above! Every part needed to convert your canoe into a fully functional sailboat is included and it all clamps on easily, comes off again easily and folds away for easy transport and storage.

Versatile Stabilizers Not Just for Sailing: The stabilizer pontoon (outrigger) system included with this kit is a $319 value that will prove equally useful when not sailing. Staying right-side-up is a great idea when you paddle, row or motor your canoe as well. Stabilizer pontoons are especially valuable when you fish, swim, picnic or camp with your canoe. You can use the stabilizers without the rest of the sail kit whenever you want. The stabilizers adjust up-down with a lever-lock mechanism and in-out with a spring button system.

Folds: This kit folds for compact storage and easy inside-the-trunk transporting. When folded, the entire kit, including the mast, boom, spar and stabilizer floats, fits in an optional carry-bag that measures just 1'x1'x4'. That's right -- the entire folded kit fits easily in a bag no bigger than a golf club travel-cover bag. Weight is just 44 lbs. including the stabilizer system and every other part mentioned above.

Sail Choices: Pick out any of our sail designs to be included with your kit. Any of the nylon sails are NO EXTRA CHARGE. Choose plain white, dazzling multi-color, soothing 2-tone blue or be a pirate with our black sail sporting a skull and crossbones! Sail color page: Click Here. Tell us your sail color scheme choice in your order comments please. A Dacron sail can be substituted for a small additional charge in white or colors. Or, a high-tech Batwing sail can be substituted at a substantial upcharge.

Consider the Deluxed Package: Consider getting this kit in the deluxe package version (item 1008), for a canoe sail kit with larger sail and other goodies packaged at a discount price.

Options: You can build your own package by putting this item 999 into your cart and then adding options and upgrades one-by-one to your order to customize your kit to your needs, preferences and budget. See the options, upgrades & accessories page.

Details on the canoe sail kit: See Close-Up Pictures.

Also includes Jim's assembly instructions with close-up photographs and detailed narrative plus his how-to-sail guide, all free and only SailboatsToGo offers this. Read about advantages of buying from SailboatsToGo here.

Quality Construction and Good Warranty: This kit is engineered and built to last and be problem-free. One-year parts & labor warranty (5 years on the floats). All metal parts are corrosion resistant -- either anodized aluminum, stainless steel or brass. The kit is so reliable, many years we have no warranty claims at all -- zero! And we've been doing this since 2003.

Videos of this rig in action: CLICK HERE Video A ...and ...CLICK HERE Video B ...and...Video C ...and...Video D.

Already have a stabilizer? If you already have a stabilizer from us or Spring Creek, see item 1017.

Package deal with larger sail, heavy duty mast and no other upgrades: item 1004.

Shipping: Because the kit is so compact and light, (Shipping dimensions 48" x 12" x 12". 44 lbs.) it goes by regular UPS ground. And, we are happy to ship worldwide. Shipping cost to many countries is in the $100 - $200 range. Our foreign customers can email for a shipping quote or just place the order online and we will add the shipping cost to the order later, after emailing you a quote and getting your approval.
PRICE: $999.00 + $45.00 S&H --> BUY NOW! <--
---