The Any Kayak upwind Sail Rig with Hydro-Dynamic Stabilizers
Item #: 6004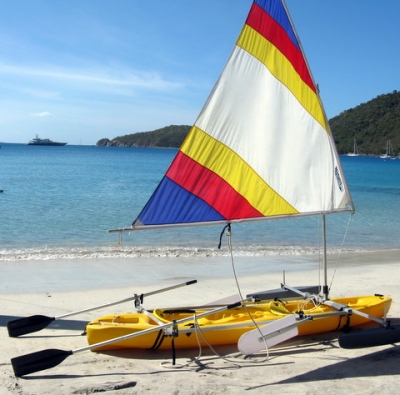 Upwind sail rig for almost any kayak -- inflatable or rigid. Attaches using straps. Makes your kayak into a complete sailboat, including leeboards, mast, sail, spars, rigging, steering and our best rigid stabilizers. How to sail instructions for beginners also included.

See Video Click Here More info, video clips & pics: CLICK HERE

Hydrodynamic stabilizer floats, 2 leeboards (for upwind sailing), 2 steering oars, 45 SF nylon sail included.

CUSTOMER REVIEW WITH PICTURES CLICK HERE

Includes hydrodynamic outrigger stabilizer floats to keep you upright. You can see more about the stabilizer floats at item 1006, but remember, these are included in the price of this kit as is.

(Item 6020 is same rig without floats and item 6001 is same rig with inflatable floats).

Includes adjustable-length aluminum side rails to connect front and rear crossbars, so that no drilling, no glueing, no adding of D rings or eyestraps is required. The frame makes a complete rectangle around the cockpit, but does not obstruct the cockpit and does not crowd the passengers. The complete rectangle frame is the key to its universal fit and easy on & off attachment. (The pictures and videos tell the story best.) Straps go under the kayak and lay flat against the hull, requiring no special attachment fixtures. For rigid kayaks, foam blocks between the rig and the crossbars conform to angles and irregularities of your decks. Length of standard side pieces is adjustable from 5 to 7 feet to fit large and small-cockpit kayaks. Different length ranges available by request. Use comment space to specify or email us. Please also use comment section during check out to tell us about your kayak.

This kit has a lot in common with our other sail kits, so if you want to be able to use it on canoes, or inflatable rafts, you'll only need a few extra pieces. Email or call us and let us know what versatility you want and we'll set you up with the right additional pieces.

The additional shipping cost to UK, Western Europe, Japan is item 1999 .

Standard mounting method is by straps and it works great. If you prefer having a bolt-on connection, order 2 pair of our kayak adapters and deck bracket for this rig, or consider our item 6025 bolt-on rig with no side bars.

Like all our sail rigs, this model folds and comes apart for transport and storage. With item 5092 leeboard upgrade, rig (excluding stabilizer floats) would fit in a box or bag just 7 inches x 9 inches x 47 inches ! Rig and stabilizers, even with standard leeboards, fits in our item 6007 bag, which is 12" x 12" x 48" (like a set of golf clubs).

UPGRADES TO CONSIDER:
You can upgrade the sail kit by putting this item in your shopping cart first, then add upgrades and accessories to it using the links below. You can upgrade several aspects of the sail kit in one fell swoop by choosing one of our upgrade packages (Deluxe or Super Deluxe) or you can upgrade one item at a time by choosing individual items.

SAIL KIT UPGRADES
The sail kit included is a complete sail kit with a 45 square foot nylon sail. You can upgrade to our Deluxe or Super Deluxe packages. The Deluxe sail kit package substitutes in a 55 square foot nylon sail and a heavy duty mast, and adds a carry bag for the sail kit, and a smartphone drybag. The Super Deluxe kit includes all this PLUS it substitutes in a Neil Pryde International Dacron sail and polycarbonate unbreakable leeboards. Compare upgrades.

More Info/Buy: Deluxe Sail Kit upgrade or Super Deluxe Sail Kit Upgrade

INDIVIDUAL SAIL KIT UPGRADES AND ACCESSORIES
You can add individual upgrades and accessories to any sail kit. Here are links to a few of the most popular ones:

Larger 55 Square Foot Sail with Heavy Duty Mast

Bag for Sail Kit

Unbreakable Leeboards Upgrade.

EXAMPLE
(1) You want the best sail kit from us, so you order (a) this item as your starting point, plus (b) the Super Deluxe Sail Kit Upgrade. Before you check out you can go to the Sailkit Upgrades, Options, and Accessories page and choose any additional upgrades and accessories that appeal to you that are not already included in the Super Deluxe package.

(2) You are happy with the base model on the sailkit, but want to add some individual upgrades. So you order (a) this item as your starting point and (b) go to the Sailkit Upgrades, Options, and Accessories page and choose any additional upgrades and accessories that appeal to you.

Need help? Call or email Jim@SailboatsToGo.com 1-978-263-7598

AND DON'T FORGET TO...
Pick out a sail color scheme.
Choose your nylon sail color scheme HERE.
Or Choose your Neil Pryde Dacron sail color scheme (if you have ordered this upgrade) HERE.
PRICE: $999.00 + $75.00 S&H --> BUY NOW! <--
---