Sea Eagle 420X with sail kit.
Item #: 6051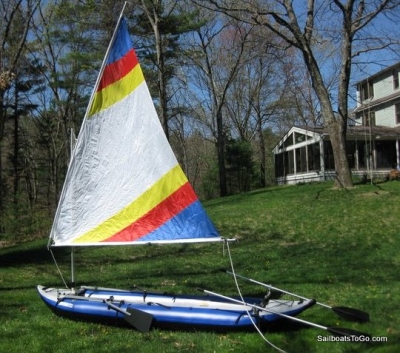 Sea Eagle 420X Explorer kayak (Deluxe Package in Sea Eagle's terminology) package plus our sail kit. Gives you $100 savings plus free shipping, relative to purchase of only sail kit from us and kayak from SeaEagle.com sale price! This package includes 2 tall back inflatable seats, 2 paddles, kayak bag, foot pump, and repair kit and our complete sail kit including leeboards and 2 steering oars. This 14' kayak is big enough for 3 when sailing. Set up for 2 paddlers with lots of room for gear. Available at this price with 45 square foot sail or upgrade to 55 square foot sail (as pictured) by adding item 5011 to your order. Related item numbers: Sail kit only, item 6026; other packages that include this kayak, item 6028, item 6050. Sail kit carry bag is not included but is available, order item 6007. Also consider the Sea Eagle Explorer 380X (same kayak in smaller 12- foot version). 3-year Sea Eagle warranty on kayak and SailboatsToGo 3-year warranty on sail kit. A lower cost option would be the Saturn 12' (item 300) or 13' kayaks (item 302), though part of the reason for the Saturns' lower cost is fewer included accessories and lower-quality paddles. This and the 380X are two of our favorites! Click HERE for 420X sailing video. Note: Sea Eagle has eliminated front web handles on the sides but our instructions cover how to install without them. Kayak sail kit options, upgrades and accessories page: Click Here.
PRICE: $1649.00 + $0.00 S&H --> BUY NOW! <--
---
© 2001 - 2019 SailboatsToGo, LLC. All rights reserved.