Less tippy fishing, rowing, paddling, or sailing.

Stabilizers

Outrigger floats to help keep you right side up!

for

Canoe, Kayak, SUP* and Snark

*for SUP order canoe and specify SUP in order comments. Picture is below, way, way down, at end of canoe section

Hydrodynamic Stabilizers under Sail
Now you can choose the more convenient and secure square-post upgrade! Sold only by us! Details below.
Stay Upright!
| | | | |
| --- | --- | --- | --- |
| | "Very good quality product works great now I can take my dogs with me! Thank you! -- Customer message | | |
Canoe Stabilizer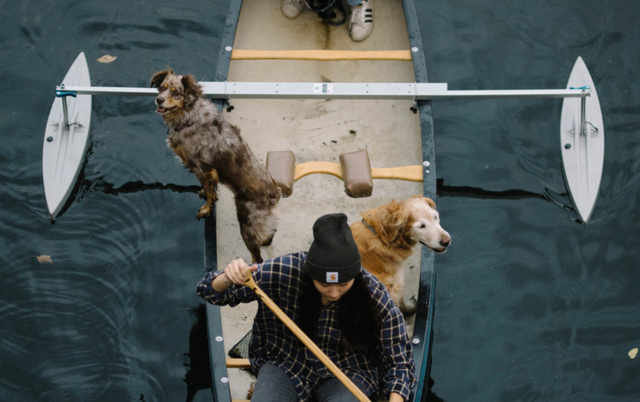 Fits All Canoes - We ship worldwide (see very bottom of page) - In Stock Ready To Ship Despite the Epidemic!
Now Available With Our Exlusive SQUARE POST Option!
Put a square post in a square hole and what do you get? Floats that are automatically and permanently aligned to point straight ahead and be parallel to each other. Plus, you get convenient one-hand. low-effort locking and unlocking of the vertical adjustment.
If you already have floats and want just the square-post converters and the float arms with square clamp to convert yours: Click Here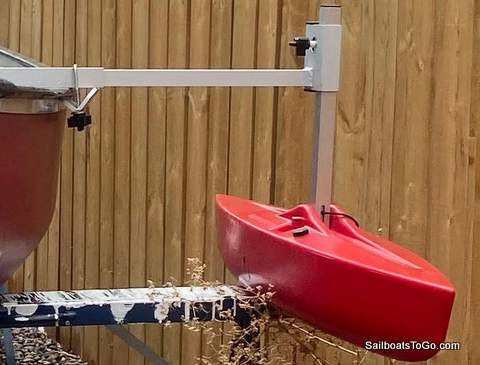 The new Square Post option for Hydrodynamic Stabilizers makes vertical adjustment easier and holds the floats straight. More info
Compact Lower Cost Very High Quality Inflatabile Stabilizers also available: More Info
We ship worldwide at additional cost.
Questions: Jim@SailboatsToGo.com 1 978 263 7598
Hydrodynamic (rigid) Stabilizers come in three colors: Red, Yellow and Grey. Specify color in order comments space during checkout

All major credit cards and paypal accepted. Address paypal payments to Sales@SailboatsToGo.com.
Order Here
Make Your Selection From the Table Below
Questions: 1- 978-263-7598 7 days 9 AM - 8 PM Eastern Jim@SailboatsToGo.com
Click for Explanations: Post Shape Crossbar Length
36-inch Crossbar

40-inch Crossbar

45-inch Crossbar

Round

Post, Rigid Float:

$369 & $20 shipping

$369 & $20 shipping

$369 & $25 shipping

Square

Post, Rigid Float:

$419 & $25 shipping

$419 & $25 shipping

$419 & $25 shipping

Square

Post Inflatable Float:

$269 & $15 shipping

$269 & $15 shipping

$269 & $15 shipping
For Rigid, Specify float color (Red, Yellow or Grey) in order comments during checkout. If you don't specify, we'll send grey. For inflatable, only color is white. Square-post system orders will generally be fulfilled in 2 shipments: One from Minnesota and one from Massachusetts. If you want it all shipped from Massachusetts there is a $20 additional charge.
Already have Spring Creek floats and want to convert to square posts and arms, buy this: Item 1037 Square Post Conversion Kit
A favorite for hunting, fishing, sailing, rowing, or paddling with kids or dog in the boat. Pontoon floats on telescoping outrigger arms to prevent tipping. Lever locks lock the up-down adjustment for round post. Easier star-knob clamps lock it for square post.
Sailing, fishing or just messing around, you want to stay rightside up but you have limited time, space and patience, so your canoe stabilizer has to be simple, strong, versatile, convenient and highly effective. Our floats slide in, out, up and down and lock where you want them. Canoe stabilizer clamps onto any canoe in just a few minutes. Mountable at the bow, middle, stern or in between. Gunwale clamps slide together or apart to adapt to canoe width.
The system accepts accessories like wheels, a bench seat, sail kit, rowing attachment -- all sold by us. Compatible with Spring Creek (maker of the rigid pontoons). Many accessories are listed much lower on this page.
Fits any canoe, just tell us your canoe brand and maximum width in comments section of cart. More sizing info
More info, pictures, and videos.
New: SportsPal Canoes!
We now offer SportsPal high quality lightweight canoes. Buy a SportsPal Canoe from us and save 10% on your stabilizer purchased at the same time.
Custom-Length Crossbar

Click link below to order a custom length crossbar instead of any of the standard lengths. Use order comment space to tell us what length you need. Also order a stabililzer, any length. This item and your order comment will override the crossbar length. Questions: 978-263-7598

Use the order comments space during checkout to tell us size and color (or anything else).

MAD RIVER ADVENTURE CLAMPS

Regular clamps won't work on the Mad River Adventure Canoe or Native Watercraft Ultimate; add this item to substitute specially designed clamps for the standard clamps.

STABILIZER CARRY BAG

Nylon mesh bag with end zipper and shoulder strap. Fits any style stabilizer EXCEPT a 45" crossbar with NOT fit.

$40 and Free Shipping of the bag with Stabilizer order.
($10 charged if purchased separately)
Custom-length upcharge for stabilizer crossbar - You can specify any of our standard lengths at no extra charge (30", 36", 40" or 45"). Just say what length crossbar you want in the comment space during checkout. Over 47" will also incur additional shipping charge, which we will contact you about once we have your order.

Standard lengths work on most canoes because it is okay to have a little bit of overhang. If you want a custom length, even one that is longer than 45 inches, it's $50 extra. Add this item to your order and tell us the exact length you want in the comment space during checkout. We have certain "custom" lengths on the shelf, so they would have a quicker turnaround: 50", 55" and 60". We can also do longer crossbars in a snap-together assembly. The snap-joint is super strong -- don't worry about that. The advantages are (1) no extra shipping cost (2) more convenient for you to store and transport. Off-the-shelf snap-together length would be any combination of 2 standard lengths, for example, two 30" make a 60". A 30" and a 36" make a 66", etc. Any of these is just one custom-length upcharge. If you combine something longer than 45" with a standard one that's under, then that's two custom-length upcharges.


50.00

Shipping**
0.00
Add to Cart
Check Out
SUP STABILIZER
Order 36" roundpost Canoe stabilizer and specify SUP in order comments. Same price and shipping. SUP stabilizer has suction cup feet plus strap that goes all the way under the board from one side to the other, so it is very secure. Also, it has shorter vertical rods. Square post not available. Only available in 36" crossbar length. You can use this link: Add to Cart PLEASE remember to put "SUP stabiliizer" in the order comments or else you will get a canoe stabilizer!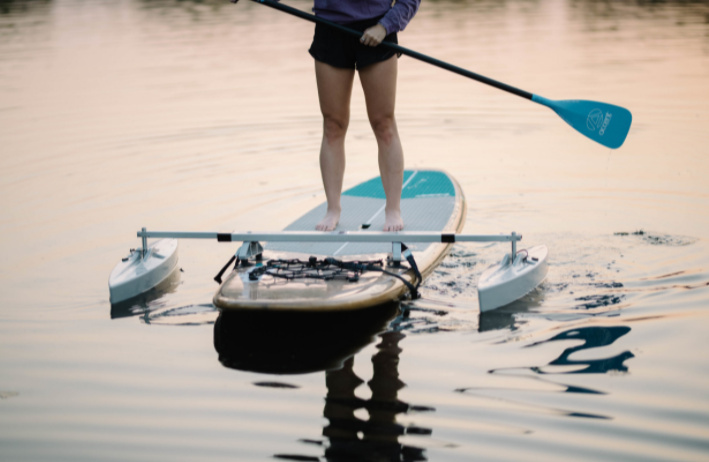 Stay right side up!. Pontoons on telescoping arms with easy-on, easy-off pin release to make installation and removal fast and easy. Rugged: The floats are roto-molded using the same techniques and materials as most kayaks nowadays. Adjustable in and out and up and down. Easy installation. Two little brackets remain on the deck but rest of system removes with just two pins.
HYDRODYNAMIC KAYAK STABILIZER

Streamlined rigid plastic to be highly efficient through water. Adjustable height and width, can be set to be in or above the water. Mount on rear deck or front, far enough from cockpit to be out of the way of your paddle stroke.

Round Post Style $449: Add to Cart

Square Post* Style $499: Add to Cart

*The new Square Post option makes vertical adjustment easier and holds the floats straight more easily. More info.

Call or email for other countries 1 978 263 7598 Jim@SailboatsToGo.com

"Works great! ... everything fits and mounted nicely on my fiberglass/Kevlar/carbon boat... Super stable. A real game changer and makes the boat a breeze to keep steady."--Customer pictured above

STABILIZER CARRY BAG

Nylon bag with full-length zipper and shopping-bag style carrying handles made of webbing that goes all the way under and around twice. Fits any style stabilizer. $35

Free Shipping of the bag with Stabilizer order.
($12 charged if purchased separately)
Greatly reduce risk of capsizing and increase feeling of security. Hydrodynamic streamlined stabilizer floats and anodized aluminum hardware. Attaches in 2 minutes using 2 straps (included). No drilling or other modification to your boat.
SNARK AND SUNFLOWER STABILIZER

Specially adapted for Snarks and Sunflowers with a cushioned strap-on attachment system. 5 year warranty. Priced same as canoe stabilizer.

Call or email for other countries

STABILIZER CARRY BAG

Nylon bag with full-length zipper and shopping-bag style carrying handles made of webbing that goes all the way under and around twice. Fits any style stabilizer.

$35 and Free Shipping of the bag with Stabilizer order.
($12 charged if purchased separately)
SPONSONS

Provides about 45 lbs of flotation. Helps keep your canoe from sinking if it becomes totally swamped or capsized.

PORTAGE CARTS

Strong, light, corrosion-proof, high ground clearance, big easy-rolling wheels, easy loading, easy folding, compact cart.

SLIP-ON WHEELS

These wheels attach to our stabilizer or sail kit crossbar so you can roll your canoe or kayak to or from the water.

HYDRODYNAMIC FLOATS ONLY

Includes just the pontoons (floats) and the vertical float tubes for the hyrdrodynamic stabilizer system

HYDRODYNAMIC FLOATS AND ARMS ONLY

Includes just the pontoons and the arms that snap into the crossbar. For sail kit owners and others that already have a crossbar.

EXTENDERS - SUPER WIDE STANCE

Extend the spread between your stabilizer floats with our Link Arms adaptor and an extension float arm. Can be used with all our 2 float and 4 float stabilizer systems.

SNAP-IN LEEBOARDS

Leeboards that snap into your crossbar -- use with or without stabilizers at same time. Reduces drift from crosswind.

CANE FLOOR SEAT

Use in canoe and on shore - great back support. Lower center of gravity stabilizes canoe. Beautiful ash frame. Folds flat, just 7 lbs.

PADDED SEAT

Back support! Internal fiberglass rods. 15 inches high. The best of this type of product. Add to your backless canoe seat. Secures with straps.

Crossbar Seat

Bench Seat - 8" x 14" attaches to crossbar of your stabilizer (crossbar not included but).

More Info (and price)

CANOE RACK

Bolt to wall, indoors or out. Supports 1 canoe as shown or 2 kayaks on edge. When not in use, horizontal arm folds up. Rustproof.

BILGE PUMP

Removes 8 gallons/minute from your boat.

HEAVY DUTY BAG

Oversized heavy duty bag measures 48 x 12 x 12 inches