Leeboards and crossbar for canoe (leeboard unit)
Item #: 5056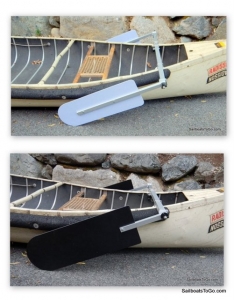 Leeboards help you go straight. Many uses: When motoring clamp this leeboard unit onto your canoe near the front to give much more steering control. Or put at the back when rowing from the middle as tracking fins. Or put up front when paddling from the rear solo to help you go straight. Let's you tack upwind when sailing if you are making your own sail kit (leeboards included with our sail kit). Also available with a single leeboard. (See item 5154 for 1-blade version)

Leeboards are large fins in the water, aligned to help you go straight and to prevent slipping sideways due to the wind.

See video: Click Here

At this price, leeboard blades will be black phenolic. Add item 5092 to your order of this item to upgrade the leeboards to our white polycarbonate "unbreakable" type of leeboards.

Leeboard unit greatly improves steering control and resistance to crosswinds when motoring and allows you to move the motor location forward without loss of steering ability. Motoring from the extreme rear of a canoe can be dangerous (risk of swamping or tipping). Motoring in a crosswind can present control problems. Add leeboards, move motor farther from rear end (using an add-on seat or by turning canoe around and using bow seat as the stern seat) and these problems are reduced. Stabilizers also recommended for motoring. Leeboards help with paddling and rowing too, but effect is not as dramatic. Unit includes: crossbar with snap-in leeboard mounts, 2 leeboards and mounting bolts with hand knobs, pair of gunwale clamps. No-tool, no drill mounting system. Includes two gunwale clamps, two snap-in leeboard mounts, two leeboards. Adjustable length to fit your canoe width (About 31 inches minimum to 47 inches maximum).

Crossbar and gunwale clamps without leeboards is item 5163.

Anodized aluminum with stainless steel hardware.
PRICE: $135.00 + $15.00 S&H --> BUY NOW! <--
---