Any Length Aluminum Motor Mount for Canoes
Item #: 5215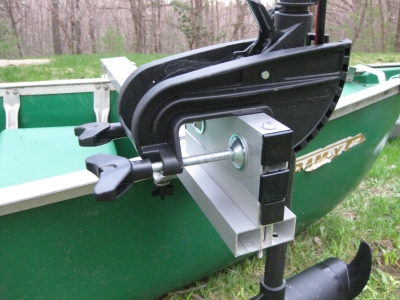 This all-aluminum canoe motor mount is sturdy and versatile. Available in many different lengths so it can span a wide canoe. Made from the same aluminum extrusion as our crossbars so it can accept our slip-on wheels. The block where the motor clamps on is 4 inches tall by 8 inches wide. Standard over-all lengths are 36 inches, 40 inches and 45 inches (including the 8-inch block) so the different size motor mounts can span up to (respectively) 28 inches, 32 inches or 37 inches. Custom lengths are $20 more and if over 47 inches, require manual figuring of shipping cost, to be added on. Specify length in the comments section of your checkout page.The clamps slide to align with your canoe gunwales so it can't be too long. Extra length can just overhang. Most people will do fine with the 36 incher, so we'll send that if you don't specify. Options: For Mad River Adventure, Mycanoe and similar canoes request special clamps in comment section of checkout. If you want us to add the holes so this motor mount will also act as a crossbar to accept any of our canoe stabilizer floats and arms (such as item 1006), request in comment section that it be drilled ($10 extra) for the stabilizer snap buttons. More pictures and details on the Aluminum Motor Mount for Canoe CLICK HERE. Motors up to 3 HP.

Review by a customer: "Best Motor Mount I Ever Tried" "I used this motor mount today on my old town tripper canoe ,with a 40lb thrust minkota endura max . it is extremely strong , there was no flex ,at all , the clamp worked great very secure ,they did not loosen at even with the motor at full power. 20 years ago i bought my first trolling motor for this canoe , but after trying several mount out of frustration i made my own . 20 years later my mount is showing its age , and i saw this one FANTASTIC i don't have to make a new one . Simple design fast to install , lightweight , yet incredibly strong at a great price !"

For MyCanoe owners, be sure to ask for special version in your order comments.
PRICE: $99.00 + $15.00 S&H --> BUY NOW! <--
---