Canoe wheels, 16-in. - slip-on to sail rig, rowing rig or stabilizer system
Item #: 5006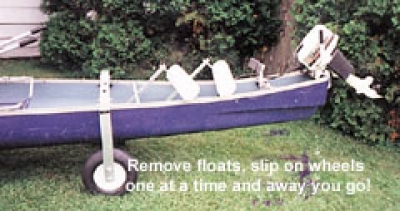 Canoe wheels quickly slip onto main cross bar of the canoe rig, rowing rig or canoe stabilizer system. Just roll your canoe down the trail to the water's edge. Don't have a stabilizer or canoe sail kit and don't want one? Buy crossbar and clamps to accept wheels (item 5034). 16" diameter, fat tires for easier rolling in sand or soft ground -- like the tires on a contractor's wheel barrow.

See item 5063 for same thing but with thinner, 12" tires. We have videos of that version (identical except for tire size).

See video 1 (on dinghy): Click Here

And video 2 (on canoe): Click Here

Spring Creek brand. Canoe sail kit options, upgrades and accessories page: Click Here.
PRICE: $325.00 + $20.00 S&H --> BUY NOW! <--
---