Saturn 13 ft. Pro Angler (or Ocean Fishing) with Sail Kit and Bench Seats
Item #: 299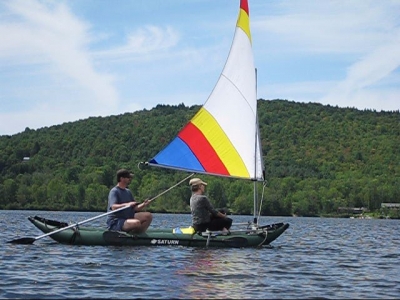 Sail while sitting upright on bench seats like a canoe, or remove the bench seats and sit low as in other kayaks. These kayaks are stable and sturdy. Choose either the self-bailing "Ocean Fishing" version or the non-self-bailing Pro Angler

To see video of Pro Angler, click here. And to see video of the Ocean Fishing self-bailing version click here. Just specify in comment section of checkout which version you want (self-bailing ocean version or standard Pro-Angler kayak). "Self-bailing" means there are drain holes in the floor so that any water that splashes in can drain out (floor is raised so very little water comes in through the holes). Non-self-bailing has a standard water-tight floor, and floor is not raised.

This price includes kayak, bench seats, hand pump, repair kit, boat bag, sail kit with 45 SF sail and standard duty mast, leeboards, 2 steering oars and steering oar unit. Enough room for 2 kids and 2 adults. Links: (1) More Info Including Video and Pictures (2) See how portable all our inflatable sailing kayaks are!

Model: FK396
Overall Length: 13'
Overall Width: 3'
Interior Width: 14"
Tube Diameter: 12"
Air Chambers: 3
Floor Type: High-Pressure Air Deck
Weight: 43 lbs (kayak); 35 lbs (sail kit).
Shipping Size: 45 x 24 x 13" (kayak), 47 x 11 x 9 (sail kit).
Persons Capacity: 2 adults + 2 kids.
Weight Capacity: 700 lbs.
Kayak Color: green. Sail kit only is item 6022.

Here is another little video of the Ocean Fishing version: click here .

UPGRADES TO CONSIDER:
You can upgrade the sail kit by putting this item in your shopping cart first, then add upgrades and accessories to it using the links below. You can upgrade several aspects of the sail kit in one fell swoop by choosing one of our upgrade packages (Deluxe or Super Deluxe) or you can upgrade one item at a time by choosing individual items.

SAIL KIT UPGRADES
The sail kit included is a complete sail kit with a 45 square foot nylon sail. You can upgrade to our Deluxe or Super Deluxe packages. The Deluxe sail kit package substitutes in a 55 square foot nylon sail and a heavy duty mast, and adds a carry bag for the sail kit, and a smartphone drybag. The Super Deluxe kit includes all this PLUS it substitutes in a Neil Pryde International Dacron sail and polycarbonate unbreakable leeboards. Compare upgrades.

More Info/Buy: Deluxe Sail Kit upgrade or Super Deluxe Sail Kit Upgrade

INDIVIDUAL SAIL KIT UPGRADES AND ACCESSORIES
You can add individual upgrades and accessories to any sail kit. Here are links to a few of the most popular ones:

Larger 55 Square Foot Sail with Heavy Duty Mast

Bag for Sail Kit

Unbreakable Leeboards Upgrade.

EXAMPLE
(1) You want the best sail kit from us, so you order (a) this item as your starting point, plus (b) the Super Deluxe Sail Kit Upgrade. Before you check out you can go to the Sailkit Upgrades, Options, and Accessories page and choose any additional upgrades and accessories that appeal to you that are not already included in the Super Deluxe package.

(2) You are happy with the base model on the sailkit, but want to add some individual upgrades. So you order (a) this item as your starting point and (b) go to the Sailkit Upgrades, Options, and Accessories page and choose any additional upgrades and accessories that appeal to you.

Need help? Call or email Jim@SailboatsToGo.com 1-978-263-7598

AND DON'T FORGET TO...
Pick out a sail color scheme.
Choose your nylon sail color scheme HERE.
Or Choose your Neil Pryde Dacron sail color scheme (if you have ordered this upgrade) HERE.
PRICE: $1399.00 + $130.00 S&H --> BUY NOW! <--
---