Sea Eagle 380X 12.5' kayak with sail kit
Item #: 6027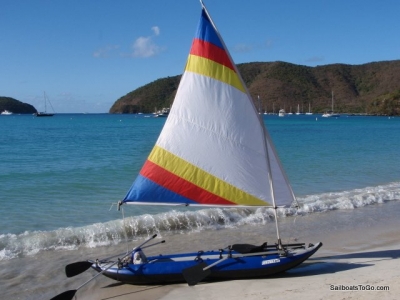 Complete inflatable sailing kayak, 12 1/2 feet long and incredibly sturdy. Gives you $100 saving PLUS free shipping, relative to purchasing boat from SeaEagle.com and only sail kit from us. Includes everything in item 6026 above, plus: Sea Eagle 380X 12.5' Explorer kayak with inflatable seats, paddles, carry bag for the boat, foot pump and repair kit (the Deluxe Package). The Sea Eagle Explorers (see larger 420x below - item 6028) are our most rugged, heavy duty sailing kayaks (equal to Fast Track but with more self-bailing ports and fatter side tubes, which we like) and equal to any we sell in sailing performance.

If you want a kayak that can take maximum punishment, get a Sea Eagle Explorer. They actually stab them with screwdrivers and bash them with the claw side of a claw hammer to demonstrate their toughness. If you have sharp rocks or zebra mussells where you launch, the ruggedness of these hulls is a big plus. Pro package also available (non-inflatable tall back seats instead of inflatable ones, bow and stern bags, plus the items of the Deluxe Package). $100 more. Just order this and email us to upgrade your order. This is the new model with high pressure floor and side strap handles, in all cases. 45 square foot sail.

Upgrades to consider: Larger 55 square foot sail (item 5011), stabilizers (item 1006), sail kit bag (item 6007), polycarb leeboards (item 5092). Specifications on Sea Eagle 380X and SailboatsToGo Sail Kit Click Here Want to see it sail? Click Here for Sea Eagle 380X Video!Kayak sail kit options, upgrades and accessories page: Click Here.

Customer comment: "Hi Jim, we wanted to thank you for a great product. It arrived on time and we have now sailed on 2 lakes in Oregon, puget sound in WA and just got back from 4th sail at desperation state park. Everywhere we go people admire the boat. I have given your website to at least 6 people in the last 6 days. The sailing experience was as wonderful as your video, minus the caribbean music. We read the entire instruction booklet and appreciate the detail and advice, especially on how to avoid dead zones. In love! Many thanks. When we upgrade to a larger sail, I'll get the one with the logo. Barbara and Satoru M. " (July 2013 - bought Sea Eagle 380X and SailboatsToGo 45 SF sail kit with heavy duty mast). 180 trial not applicable.
PRICE: $1549.00 + $0.00 S&H --> BUY NOW! <--
---
© 2001 - 2019 SailboatsToGo, LLC. All rights reserved.