Our Mission: Extremely Portable Sailboats
Sold here. Delivered to your door. Featuring Our Favorite Portable Inflatable Sailboats - Click: Portability Pictures & Videos
Email: Jim@SailboatsToGo.com . Tel.: 1-978 263 7598 (or "1-888-Joy-Sail" toll free) - Jim Luckett and Rob Michael, Co-Owners
Featured Item: Pathfinder II Inflatable Sailing Kayak with great performance and portability: Video; and the Sea Eagle Fast Track 465FT Video
Each square below represents a product department. Look for the department you want and click on the link in that square.
SAILS FOR SNARKS, SUNFLOWERS, ETC CLICK HERE or Canoe Stabilizers with Free Shipping Click Here.
"Jim - I really like your site, particularly the videos of you trying out each product yourself. Thanks for running a good business; you really have your heart in it! " -- Barry K., June 2011
"Thanks for all your help. You have great customer service and even though I never talked you live, you know you're stuff!" -- Anita B., Albuquerque

"It is the experience of sailing that contains the joy, not the size of the sailboat." -- Dennis Fisher, Illinois (click here for full text of his email to us).
So portable we brought a sailboat to Ecuador and sailed in a volcano! See here.
SailboatsToGo Sells:
Because we know many sailors want a handy little sailboat that will:
Sail well and be able to tack into the wind -- YES! Our boats tack well into the wind!
Be comfortable
Set up fast
Not require a trailer
Store compactly - You could stow our inflatable sailboat under your bed!
Be affordably priced
Be versatile -- offer a paddling or rowing option when there is no wind
Use a hull they already own (like your existing kayak, canoe or inflatable)
"It is not often that one finds a product, service, and support equal to that I have received from sailboatstogo.com. I highly recommend them."
Tommy Blanton Hondo, Texas (Buyer of an inflatable sailboat).
"Jim:
I got the rig for the Navigator II 500 up and running without difficulty. I was delighted with the ease with which everything fit together, and with how secure the mast remains, even in moderate gusts. Everything performed beautifully on the inauqural sailing trip with the boat, even though the steady breezes were light - about 6 mph.
All of the people sailing conventional boats who came within 100 yards of me invariably sidled up and asked about the rig. Several commented on how comfortable it looked - like sailing in a big, overstuffed chair. You web address reached about a dozen sailors who had never considered sailing an inflatable or kayak.
Many thanks for a well-designed and highly functional product. I will sail a lot more with this boat than with my Windmill-class dinghy, because it is so damn easy to get to the lake, launch, and sail single-handed.
I am thinking about a Seahawk II with the basic sailing rig for my brother as his introductory sailboat.
Best wishes,
Steve C." (Sept. 2009)
Click Here for Our Youtube Video Channel
Featured Products (red words anywhere are links you can click on)
Intex Mariner 400 with sail rig

Intex Mariner 400 inflatable boat with our sail rig makes a great family sailboat featuring a very rigid hull, roll-up hard floor, and room for 4 with picnic basket, cooler, etc.

Starts at $819 More Info or Buy Now or

see all inflatable sailboats (Mariner with sail is item 1005)

Canoe Stabilizer Outriggers - 2 styles, 2 prices

Clamp-on outrigger floats fit all canoes, help prevent capsizing. Available in two styles: Streamlined Hydrodynamic (pictured) or classic Ethafoam.

Hydrodynamic Canoe Stabilizer $319 Buy Now

Ethafoam Canoe Stabilizer $219 Buy Now

HURRY: FREE SHIPPING SALE ON THESE CANOE STABILIZERS!

"Hi Jim i recently bought the hydrodynamic outriggers for my canoe and i absolutely love them, i am recommending your company to everyone i talk to. " --Customer Mike T. June 2010

Sevylor SVX200 w/ Sail Rig - Inflatable Sailing Kayak VIDEO

Sail the Sevylor SVX200 River XK2-- It's a blast! Two adults, or 1 adult & 2 kids. Shown with optional custom dacron sail.

All Sailing Kayaks Page for other models and for upgrade options, such as custom sails, larger sail (items #5011 or #5002)

Canoe Sail Rig (Canoe Sail Kit)

Easy clamp-on sail rig fits all canoes. Includes sail, mast, spars, mast step, leeboards, ruddering oar and all mounting parts. Stabilizer floats optional. Canoes make great sailboats! More Info

Canoe sail kit, w/ no floats $538 Buy Now

Canoe Sail kit w/ Ethafoam floats $679 Buy Now

Canoe Sail kit w/Hydrodynamic floats $784 FREE Shipping Buy Now Video: http://tinyurl.com/charlesriver4-09

Canoe Rowing Unit

Canoe Rowing Attachment -- Gives your oars great leverage so canoe goes faster.

Complete setup with oars, oarlocks, oarlock outriggers, crossbar and seat $288 Buy Now

You can buy any of the above components separately, or add either style stabilizer floats to your rowing package More Info

Intex Seahawk II w/ sail kit

Inflatable sailboat that's extremely portable and extremely fun. Up to 3 people. Light, compact and portable -- put boat in one duffel bag and sail rig in another. Each is under 40 pounds! Our favorite sailboat for comfort, handling and portability.

Seahawk II Sailboat $669 Buy Now

Comes with hand pump, oars, bag for boat, instructions. Consider getting carry bag for sail kit, item 6005.

See all Inflatable Sailboats carry bags, pumps, accessories ( Seahawk II is item 2021)

Sail Rig for Zodiac Type Inflatable Boats (Hard Transom Tenders)

Our sail rig on your Zodiac, Achilles, Caribe, Sea Eagle, or similar tender makes a great sailing dinghy.

I'm impressed with the quality and versatility of your kit. You obviously put a lot of R&D in it."-- Eugene S., Michigan

More info & upgrade options: item #2009 at bottom of Inflatable Sailboats Page

More pictures of our sail rig for Zodiac-type boats

Sevylor K105 Caravelle w/ sail rig

An inflatable Sailboat w/ extreme portability and affordability. Sevylor K105 Caravelle with our sail rig. Shown with optional upgrade to larger 55 SF sail. Alo available with 45 SF red/white/blue/yellow nylon sail Buy Now

More Inflo See Item #2004 on Inflatable Sailboats page and see item #5011 for sail upgrade.

Replacement Sail for Snark Sailboat

Sail fits Super Snark, Sea Snark, Sea Eagle Paddleski, Spring Creek and SailboatsToGo sailboats and sail kits. 45 SF nylon lateen sail. This listing is for sail only. $89 Buy Now (Small Sea Eagle logo on sail)

More Info and more Snark Parts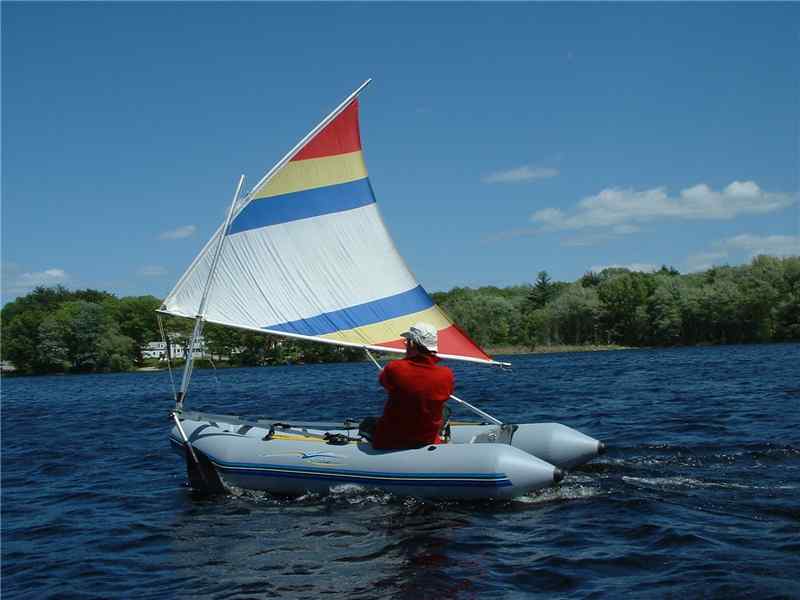 SailboatsToGo sail rig on Zodiac inflatable tender (Item 2009).
More Photos: Gallery
Slide Show: Inflatable Sailboat Models Showcased in Autumn Winds
More Info or To Buy: Catalog
Inflate These Photos: Just click on them.
Super Snark Sailboat and Sunflower Owners
You've already got a sail, mast and spars that will work with our rigs and inflatable sailboats, so send us an email and we'll sell you the rest for $200 off. Sales@sailboatstogo.com When that Snark stryofoam hull goes, you're better off replacing it with an inflatable hull or a canoe. While it lasts, it will be fun to have different hulls your sail will work on. The inflatable and the canoe hold more people and offer more comfort (back support!) and keep you dryer (sail even in the Spring and Fall!) so we think you will use them more than the Snark or Sunflower hull.
Boat Safely! Learn and follow the rules of safe boating. Don't take foolish risks. Wear life preservers, bring paddles, and boat only when and where conditions are appropriate to your boat and skill level. More Safety Tips
We are SailboatsToGo, LLC (not Sailboats2Go nor Sailboats To Go nor BoatsToGo). Learn more about us by clicking here.
Take me to the product pages (click here).
Return Policy: We will accept returns for refund or exchange, less round trip shipping cost, within 30 days of delivery, except as noted below. Returns must be complete, unmodified, in like-new condition, with original packaging. We do not offer "return after on-water trial" on any product. Email or call before sending a return, please. Do not use "foam peanuts" in packaging returns ($50 deducted if we have to deal with foam peanuts). Snark sailboats (Sunflower, Sea Skimmer, Super Snark, Sea Snark) are not returnable. See more terms related to Snark boats on our pages related to those products.