Bolt or Excursion Pro Inflatable Kayak with Sail Kit - Includes Stabilizers!
Item #: 2028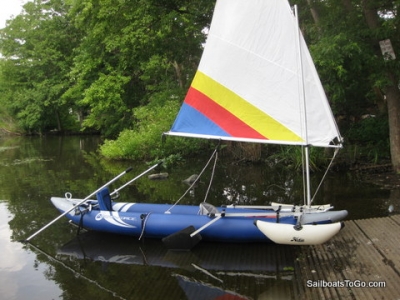 Complete inflatable sailboat. The hull is the Bolt kayak or the Intex Excursion Pro. (The 2 kayaks are extremely similar; The Bolt seems like it has been discontinued so after we sell our last one we are substituting the Intex Excursion Pro) The sail kit is the item 2027 SailboatsToGo kit (see description). This is a great 2-person lightweight, low-cost portable sailboat option that performs well.

The Bolt is more firm and rigid than other inflatable kayaks in its price class, and it has attachment points in all the right places for our sail kit. Because of the rigidity and the attachment points, we were able to design a sail kit for it that has no metal parts on the rear half of the sides, making it easier to get in and out, and creating a more comfortable sailing experience.

If you can afford a bit more money and can tolerate a few more pounds of kayak weight, then consider upgrading to the Sea Eagle 380X or 420X. These are even more firm and rigid, more rugged, include better paddles and have a separate high-pressure floor. The high-pressure floor of the 380X and 420X gives better seating support and does a better job of keeping your butt away from any water that splashes in.

Included: Kayak, pump, pressure gauge, 2 seats, kayak bag. Complete sail kit including inflatable stabilizer floats (rigid stabilizer floats also available, call or email Jim).

Video of Bolt: Click Here



Video of Excursion Pro:click here.

Page with more specs, pics and info on the Excursion Pro: Click Here.

Page with more on the Bolt: Click Here

UPGRADES TO CONSIDER:
You can upgrade the sail kit by putting this item in your shopping cart first, then add upgrades and accessories to it using the links below. You can upgrade several aspects of the sail kit in one fell swoop by choosing one of our upgrade packages (Deluxe or Super Deluxe) or you can upgrade one item at a time by choosing individual items.

SAIL KIT UPGRADES
The sail kit included is a complete sail kit with a 45 square foot nylon sail plus inflatable stabilizer floats. You can upgrade to our Deluxe or Super Deluxe packages. The Deluxe sail kit package substitutes in a 55 square foot nylon sail and a heavy duty mast, and adds a carry bag for the sail kit, and a smartphone drybag. The Super Deluxe kit includes all this PLUS it substitutes in a Neil Pryde International Dacron sail and polycarbonate unbreakable leeboards. Compare upgrades.

More Info/Buy: Deluxe Sail Kit upgrade or Super Deluxe Sail Kit Upgrade

INDIVIDUAL SAIL KIT UPGRADES AND ACCESSORIES
You can add individual upgrades and accessories to any sail kit. Here are links to a few of the most popular ones:

Larger 55 Square Foot Sail with Heavy Duty Mast

Bag for Sail Kit

Unbreakable Leeboards Upgrade.

EXAMPLE
(1) You want the best sail kit from us, so you order (a) this item as your starting point, plus (b) the Super Deluxe Sail Kit Upgrade. Before you check out you can go to the Sailkit Upgrades, Options, and Accessories page and choose any additional upgrades and accessories that appeal to you that are not already included in the Super Deluxe package.

(2) You are happy with the base model on the sailkit, but want to add some individual upgrades. So you order (a) this item as your starting point and (b) go to the Sailkit Upgrades, Options, and Accessories page and choose any additional upgrades and accessories that appeal to you.

Need help? Call or email Jim@SailboatsToGo.com 1-978-263-7598

AND DON'T FORGET TO...
Pick out a sail color scheme.
Choose your nylon sail color scheme HERE.
Or Choose your Neil Pryde Dacron sail color scheme (if you have ordered this upgrade) HERE. br>
Pandemic note: Boat costs have become very volatile so we cannot promise to honor this price. If we need to charge more, we will contact you and give you an opportunity to approve or cancel.
PRICE: $1399.00 + $60.00 S&H --> BUY NOW! <--
---
© 2001 - 2021 SailboatsToGo, LLC. All rights reserved.