Add a High Seat to Your Canoe
Gives You More Seat-Of-The-Pants Control of Canoe Heeling (Tilt)
Great for Sailing! Makes It Easier to Shift Your Weight
Great for Paddling, Rowing and Fishing With HD Stabilizer Floats -- Sit Higher For Comfort
Installs or Uninstalls in Seconds -- No Drilling, No Screws -- Just Adjust & Tighten Clamps!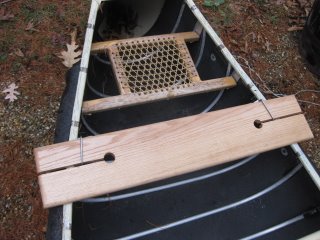 Problem: Canoe makers typically mount canoe seats a few inches below the gunwales, to give you a lower center of gravity, so you can lean and it won't upset the balance of the canoe very much. But sometimes you WANT to sit higher and sometimes you WANT your body position to have greater effect on the canoe.
Solution: The SailboatsToGo Clamp-on High Seat. This seat is up on TOP of the gunwales. It clamps securely onto your canoe in seconds and removes in seconds and you choose where to put it. It can be over one of the present seats, or anywhere else on the canoe*.
Ahoy Sailors: We love the High Seat for sailing. We like to shift our weight to the "high side" (windward, or upwind side) to help keep the mast more nearly vertical. A vertical sail catches the most wind. Also, a sailing canoe that doesn't heel too much doesn't bury its downwind stabilizer float in the water -- and a float that's not in the water produces no drag, so you go faster. With a normal canoe seat, your bum is below the gunwales, so when you try to shift it toward the high side, there's very little you can do -- your hip hits the side of the canoe and stops you from sliding very far. But with the High Seat, you have 36" of unobstructed, flat bench seat that you can shift around on. And, because you are higher, the position of your body weight has more influence on the heeling angle (lean) of the canoe. In short, it greatly enhances your ability to counteract the force of the wind by shifting your body weight. It allows you to use your skill and balance to make the boat sail faster and more upright.
To add to cart click: Buy Now To see current price click here
Adjusting side-to-side balance is useful for sailing. The High Seat gets your bum up to gunwale height so you're better positioned to shift your weight from side to side as you tack. Keeping the sail upright increases the driving power of the sail. Keeping the downwind float out of the water reduces drag. Both factors increase your speed. And the feeling of control increases thrills!

Also: The ability to locate the seat farther forward is a plus for solo sailing, because you can achieve better front-to-back balance. A tail-heavy canoe with its nose up in the air is effectively a shorter boat, in terms of how it behaves hydrodynamically. Keeping the nose down maximizes the effective waterline length, which gives you a higher top speed (longer hulls have higher top speed).
The High Seat also makes fishing and paddling more comfortable, especially for those with long legs and/or big bellies who feel scrunched up on low seats. We recommend using with our Hydrodynamic stabilizer floats so that you don't have to worry about the higher center of gravity. The High seat makes the boat feel (& be) more tippy. Stabilizers are the solution to that tippiness.
Opportunity: You've put our high-bouyancy, Hydrodynamic stabilizer floats on your canoe and now it's a very un-tippy platform for fishing and paddling.
Use that Opportunity: The low seating position that cramps your knees and makes it awkward to paddle, cast, or net a fish is no longer necessary. You can afford to have a higher center of gravity because you've got the stability of stabilizer floats.
Caution: The High Seat enhances your mistakes as much as your correct actions to balance the boat. The High Seat is for those who accept the responsibility of maintaining good balance and body control and the risk that a mistake could put you in the water (by falling overboard or capsizing). The High Seat will help you keep the boat upright if you balance well and it will help you capsize it if you balance poorly. It also increases the risk of falling out of the boat. Wear your lifejacket and if you want to reduce the risk of capsizing, buy our stabilizer floats. Our new Hydrodynamic stabilizer floats are larger and even more bouyant than our classic Ethafoam floats, and therefore offer more stability, so they make a good match for use with the High Seat.
The clamps can be as close as 22 inches apart or as far as 33 inches apart. Got a special need that falls outside that range? We can probably accomodate it. Email Jim@sailboatstogo.com (Phone 978 263 7598 9 am to 9 pm Eastern time 7 days).
Other uses for this product: If you're out on the water fishing, bird watching, writing a novel on your laptop, having a candlit dinner with your sweatheart, or taking water samples for environmental monitoring, you need a desk, a workbench or a table in your canoe. The High Seat can be that work surface. It's secure, flat and wide. It will easily accept clamp-on accessories such as a fishing rod holder.
Approximate Dimensions: 36 " long, 7 inches wide. Oak with clear finish; stainless steel and aluminum hardware.
To add to cart click: Buy Now To see price click here
--------------------------------------------------------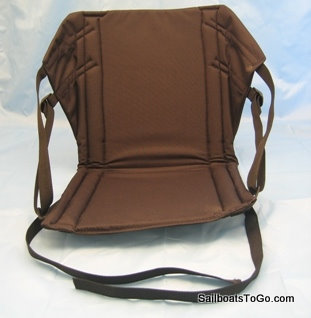 Back support! Internal fiberglass rods. 15 inches high. The best of this type of product. Add to your backless canoe seat. Secures with straps. $45 (2020 price -- to check current price click "buy now" link below. You can always delete it.)