Add Sailing Power & Excitement To Your Canoe!
Many Options and Accessories Available Only from SailboatsToGo!
From Cruising World magazine: Read about a family's Missouri River sailing adventure with our rig
Clamp-on sail rig converts your canoe into a sailboat in minutes. Fun & practical. Available stabilizer outriggers (pontoons on arms) to prevent tipping. Fast, portable, and comfortable. Canoe sailing is a popular sport with a long history. This modern rig makes it easy and hassle free. Rig folds to less than 4-foot-long package for easy storage. Plenty of room for passengers. No damage to canoe. How-to-sail instructions included. It sails crosswind, downwind and tacks into the wind.
Canoes make great sailboats, why?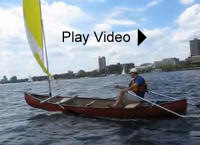 UPGRADES AND OPTIONS: CLICK HERE TO LEARN ABOUT AND ORDER WITH YOUR KIT
Only at SailboatsToGo: Two sail sizes with 15 different sail patterns and colors. Plus exclusive Options, Upgrades, and Accessories not available anywhere else such as our larger sail upgrade available with your standard kit order which upgrades to a larger sail for greater speed!
More Info Options & Accessories FAQs Reviews Sailing Videos Portability

Featured Items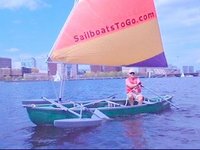 Enjoy the thrilling power of nature's own wonderful wind. Feel that power in the tug of the sail on the rope in your hand, and the throb of the steering oar in your other hand as its blade knifes through the rushing water. You make slight adjustments of steering-oar angle and the sailing canoe instantly responds like a well-trained roping horse. See your outrigger pontoon swooshing in the water like a little torpedo, sending a miniature wake out behind it. Sailing your canoe, you'll enjoy the quiet of a motorless boat -- the only sound is the bump, bump, bump of the canoe hull against the water as it slaps the waves.
Co-owners Jim Luckett and Rob Michael are passionate about extremely portable sailing. If you need assistance shopping, sailing advice, or have a boat not listed on our site, call or email us! (Jim@sailboatstogo.com; 1-978-263-7598).
Explore this website for many pages of photos, videos and written information about sailing canoes. This page has our canoe sailing product catalog at the very bottom of the page. There's lots to explore. Enjoy!
Contact Us: Call 1-888-Joy-Sail or 1-978-263-7598. Email: Jim@SailboatsToGo.com
General Ordering Information and Return Policy