Newport Vessells 36 -lb-thrust trolling motor - saltwater or fresh
Item #: 5235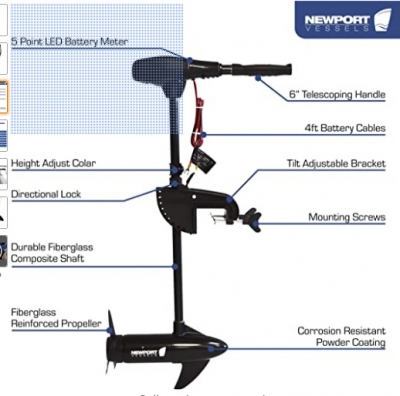 Newport Vessells is a good, reliable brand and they back these motors with a 2 year limited warranty. 30-inch shaft (good for canoes and small boats). Five foward speeds and 3 reverse. Battery level indicator. Okay for saltwater or fresh.

Sales tax on this item will be added in a separate, later charge to your card if you are not in Massachusetts.

Here's a complete package of motor, battery, and battery box:

Order these 3 items:

short-shaft motor item 5113 for kayaks , or Medium-length shaft motor item 5235 for canoes, (the item your are looking at now)

and item 5139 battery box , and

item 5349 battery.

Pandemic note: Motor costs have become very volatile so we cannot promise to honor this price. If we need to charge more, we will contact you and give you an opportunity to approve or cancel.

Upon request, we can upgrade your motor order to 46 ($30 more) or 55 lbs ($70 more) of thrust. Just put a note in the order comments and we can charge your card.

You will also need a charger for your battery (not included). Any automotive parts store and many hardware and home centers sell 12V battery chargers.
PRICE: $179.00 + $25.00 S&H --> BUY NOW! <--
---