Battery Box Power Center
Item #: 5139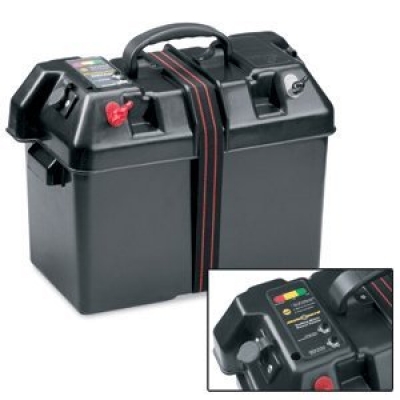 Power center for your 12-volt battery to power a trolling motor. Easy-access batter terminals for connecting leads Built-in battery meter displays current state of charge. Designed to fit group 24- and 27-size batteries. Pair of 12-volt accessory outlets and manual reset circuit breakers. You will need, in addition, deep-cycle marine battery and motor (see links below), battery charger, motor mount for your particular boat if it requires one (we sell them).

Here's a complete package of motor, battery, and battery box:

Order these 3 items:

short-shaft motor item 5113 for kayaks, or Medium-length shaft motor item 5235 for canoes,

and item 5139 battery box (the item you are looking at now), and

item 5349 battery.
PRICE: $79.00 + $10.00 S&H --> BUY NOW! <--
---