Sat Cat - Frameless 11.5' Saturn Catamaran with Sail Kit
Item #: 2064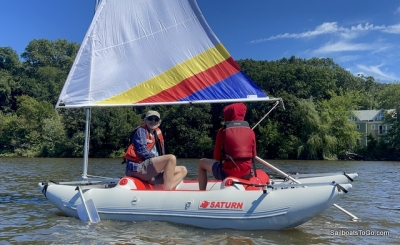 Wonderfully comfortable and portable, the Saturn CR350 frameless inflatable catamaran with Sailboats To Go sail kit is a ton of fun. We call it the "Sat Cat" for short. See specs on the hull on the Saturn website (click this) but come back here to buy because they don't have the sail kit.

You may be able to expand the picture by clicking on it. Picture shows it with these options: unbreakable polycarbonate leeboards, 55 SF sail and heavy-duty mast.

The hull is only about 50 lbs. and deflates for tranport & storage. The sail kit is about 40 lbs and folds to a compact size that easily fits in an optional 4' x 1' x 1' bag with room to spare.

The big rectangular space for people, surrounded by fat air chambers you can sit on top of, or sit adjacent to and lean back on, makes sailing this craft a very sociable and comfortable experience.

Only 1 steering oar is needed for this craft. But we provide 2 oars so that you can row it as auxiliary means of propulsion, using oarlock sockets on each side that are integral to the rear assembly of the sail kit. You wouldn't call it a true rowing frame, but it works nicely as a backup means of propulsion.

At this prices, the sail kit has a 45 SF nylon sail and phenolic leeboards on quick-release mounts. Consider upgrading to the 55 SF sail, and the unbreakable polycarbonate leeboards, adding slip-on wheels, and adding a sail kit bag for a more deluxe experience. You'll find these options and upgrades by CLICKING HERE.

You can add these upgrades and options by first putting this item in your cart, then adding upgrades and options, and then checking out. If you find that confusing or want advice from Jim while you do it, he is only a phone call away: 1-978-263-7598 or email Jim@SailboatsToGo.com.
PRICE: $1399.00 + $135.00 S&H --> BUY NOW! <--
---