Aire Tomcat Tandem with Sail Kit
Item #: 2049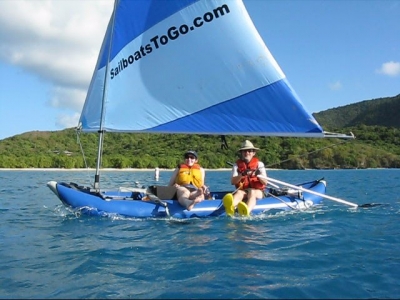 Big enough for 2, stable enough to sail without stabilizer floats (though they are available), and it's a self-bailer with a high floor. You stay relatively dry and any water that gets in runs out again. Rugged outer skin protect inner air bladder. A very good quality kayak. Sail kit is like that on the Trinity II or the Saturn kayaks. Sail kit is available separately see item 2021. Included at this price is the complete sail kit with 2 steering oars, leeboards mast and 45-sq.ft. sail. Add item 5011 to upgrade to a 55-sq.ft. sail and taller, stronger mast. We also have various sail kit bags available, such as item 6005 or item 3012. More info and video: Click HERE Kayak sail kit options, upgrades and accessories page: Click Here.br>
Pandemic note: Boat costs have become very volatile so we cannot promise to honor this price. If we need to charge more, we will contact you and give you an opportunity to approve or cancel.
PRICE: $1999.00 + $70.00 S&H --> BUY NOW! <--
---