T-Front Kayak Sail Rig - Open sides -- for RazorLite, Travel Canoe, and many others
Item #: 2021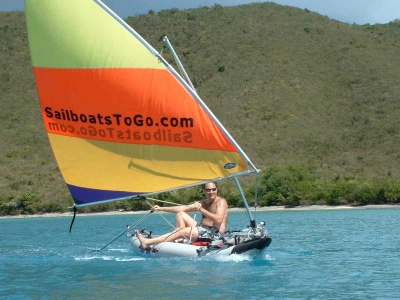 Sail rig for inflatable kayaks and canoes with good rigidity. The front assembly is "T" configuration, instead of a "U," so, yes, it obstructs the front of the cockpit a little, but it leaves most of the side tubes completely unencumbered by metal -- great for putting your feet up on the sides or draping your legs over the sides, boarding from the water, and ease of getting in and out for passengers.

Videos and Photos on RazorLite (similar to Travel Canoe): click here.

Don't obsess over the details of how it attaches to a particular boat in a particular video or photo. It will work and we'll provide the right assortment of straps to make it work on your boat. It's not dependent on the kayak having d-rings or other attachment points in particular places. Fits: Sea Eagle RazorLite kayaks and Travel Canoe, Saturn Expedition kayaks, Aire Tomcat, Outfitter, and similar Aire models, and more. It can even be used on the Sea Eagle Explorer series (380X and 420X) -- see this video. Not suitable for Sea Eage Fast Tracks.

Here's a general explanation covering installatin on any inflatable kayak with good rigidity: installation Video.

Email Jim@sailboatsToGo.com for info and to specify your kayak model after you order.

This item includes everything you need to convert these kayaks to sailing -- 45 SF nylon sail, spars, mast, mast step, front frame, leeboards, 2 steering oars, rear frame. Can be upgraded to larger sail or Batwing.

Narrower kayaks (e.g., RazorLite) and Travel Canoe will need stabilizers, item 1006 or item 1013, to help prevent capsizing.

For SVX2020DS Sport Fisher see item 2039. For Sea Eagle Fast Track, Strait Edge, second option for Saturns, etc. see item 6022. video 1: Click Here video 2: Click Here

Please mention your kayak make and model in comments section of checkout.

Easy to adapt this sail kit for a canoe or Pakboat with addition of gunwale clamps (sold separately)

UPGRADES TO CONSIDER:
You can upgrade the sail kit by putting this item in your shopping cart first, then add upgrades and accessories to it using the links below. You can upgrade several aspects of the sail kit in one fell swoop by choosing one of our upgrade packages (Deluxe or Super Deluxe) or you can upgrade one item at a time by choosing individual items.

SAIL KIT UPGRADES
The sail kit included is a complete sail kit with a 45 square foot nylon sail. You can upgrade to our Deluxe or Super Deluxe packages. The Deluxe sail kit package substitutes in a 55 square foot nylon sail and a heavy duty mast, and adds a carry bag for the sail kit, and a smartphone drybag. The Super Deluxe kit includes all this PLUS it substitutes in a Neil Pryde International Dacron sail and polycarbonate unbreakable leeboards. Compare upgrades.

More Info/Buy: Deluxe Sail Kit upgrade or Super Deluxe Sail Kit Upgrade

INDIVIDUAL SAIL KIT UPGRADES AND ACCESSORIES
You can add individual upgrades and accessories to any sail kit. Here are links to a few of the most popular ones:

Larger 55 Square Foot Sail with Heavy Duty Mast

Stabilizers

Bag for Sail Kit

Unbreakable Leeboards Upgrade.

EXAMPLE
(1) You want the best sail kit from us, so you order (a) this item as your starting point, plus (b) the Super Deluxe Sail Kit Upgrade. Before you check out you can go to the Sailkit Upgrades, Options, and Accessories page and choose any additional upgrades and accessories that appeal to you that are not already included in the Super Deluxe package.

(2) You are happy with the base model on the sailkit, but want to add some individual upgrades. So you order (a) this item as your starting point and (b) go to the Sailkit Upgrades, Options, and Accessories page and choose any additional upgrades and accessories that appeal to you.

Need help? Call or email Jim@SailboatsToGo.com 1-978-263-7598

AND DON'T FORGET TO...
Pick out a sail color scheme.
Choose your nylon sail color scheme HERE.
Or Choose your Neil Pryde Dacron sail color scheme (if you have ordered this upgrade) HERE.

Price and Buy link below video.


Item 2021 rig on Sea Eagle 420X kayak.
PRICE: $799.00 + $40.00 S&H --> BUY NOW! <--
---