Sail kit for Sea Eagle Frameless Fishing Boat 285 fpb Not available
Item #: 2005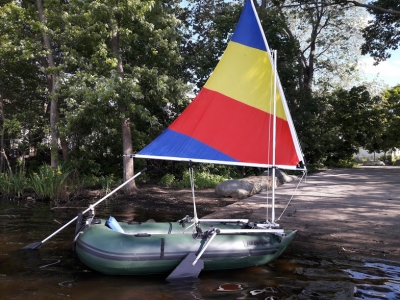 Sail kit for the Sea Eagle Frameless Fishing boat 285 fpb. This sail kit is like our item 2001 sail kit, with some minor changes to make it suitable for the 285fpb. We included hardware to attach the rear crossbar of the sail kit to the motor mount, so that you can have the motor in place and even a motor if you want. Consider the upgraded version of this kit with taller, adjustable-height mast, (item 2006) instead of this one because it gives you more headroom under the boom. Greater headroom is important if you plan to sit on the swivel seat. The item 2006 kit also includes a bag for the sail kit (item 6007), which this base model sail kit does not.

This is a complete sail kit with 45 SF nylon sail, frame, leeboards, steering unit and all necessary attachment straps and hardware, plus installation instructions. It folds for easy traveling (nothing longer than 4 feet when folded and it all fits in our optional sail kit bag).

Choose sail color scheme: CLICK HERE

Dinghy sail kit options, upgrades and accessories page: Click Here.
PRICE: $799.00 + $30.00 S&H --> BUY NOW! <--
---