Serendipity Sail Kit for Water Tender or Classic Dinghy from Sun Dolphin & West Marine
Item #: 1100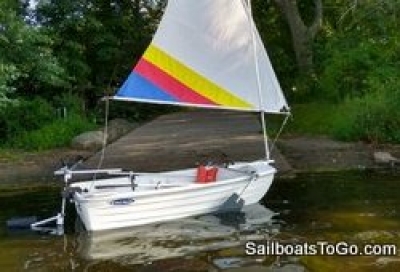 The Water Tender or West Marine Classic Dinghy and a SailboatsToGo sail kit make a real sweet combination. So we gave it a name: "Serendipity."

We designed a special sail kit just for this hull. Hull is available in West Marine stores. It clamps on in less than 10 minutes, just by tightening 5 hand knobs (3 on the front assembly and 2 on the rudder).

Maximum capacity 3 people (480 lbs.) Weight of the boat without sail kit 110 pounds. Sail kit folds and fits in a 4-foot bag (item 6007) and weighs around 40 pounds.

We only sell the sail kit and accessories. Buy the hull direct from West Marine, Walmart or Amazon. Buy the sail kit here (this item).



Customer feedback: "Hi jim .this Antonio from Orlando fl. I tried that sail kit for the first time on the 9.5 West Marine tender about 2 weeks ago and it is amazing how well it works. Even in light winds. Thank you very much for such a good invention."

Here's how to customize your sail kit: This item is the basic sail kit with nylon 45 SF sail and clamp-on rudder. It is a complete sail kit, including sail, mast, spars, ropes, clamp-on frame, mast step, clamp-on rudder and snap-in leeboards. It is everything you need, but we offer many ways to enhance it. So, you buy this item and then add the upgrades and accessories you want, like a sail kit bag, upgrade of the sail and mast to a larger size (55 SF), upgrade of the sail to a Neil Pryde dacron sail, slip-on wheels, car-top roof racks etc. Our stabilizer pontoon (item 1006 or 1013) are compatible with this kit. For upgrades and accessories page click here.

We also offer Deluxe and Super Deluxe packages at a discount, so check them out.

The dinghy does not come with oars, so you'll probably want to get two oars and oarpins here: Item 5031. Don't be confused when you see item 5031 is called "steering oars." They are also great rowing oars. Order 2.

Please state in order comments during checkout whether kit is to be for Water Tender or Classic Dinghy. They are a little different.

More pictures, videos, and information: CLICK HERE.

Choose your sail color scheme and tell us your choice in the order comments (or tell us later if you can't make up your mind today.) Choices are here.


PRICE: $799.00 + $30.00 S&H --> BUY NOW! <--
---