Saturn Lite River Raft RD365 With Sail Kit
Item #: 1076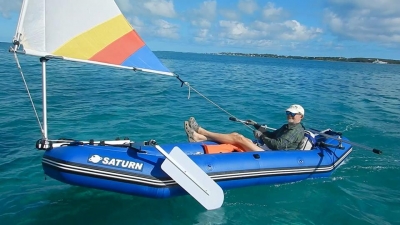 Many will find this the best combination of durability, comfort and performance of all our inflatable dinghy sailboats. It is rugged -- made for river rafting. Very firm and rigid, with high-pressure inflatable floor. Comfort bonus: Sail kit has no metal pieces on the sides of the cockpit so passengers have easier entry and exit and you have acres of unencumbered smooth air chamber area for lounging around against and on top of. Put your feet up! Lean back! Sit on the side! No metal!

Specify gray or dark green.

Also available with traditional center rudder steering instead of steering oar steering. See item 1078.

Size is 12-feet long x 46 inches wide. So it is wide enough for comfort and stability, but still narrow enough for good sailing performance, and narrow enough to be paddled like a kayak.

Video: Click Here.


We have been searching for an inflatable dinghy option that had the durability of a good kayak but with the comfort and stability of a dinghy and now we have found it!

Rear motor mount available (item 1077) for trolling motor. You can have the electric motor mounted on the back as an auxiliary while you are sailing. Fit the battery box under the rear assembly and it will be totally out of the way. Pics and video clips of motoring: Click Here.

Weight of boat without sail kit is 49 pounds. Sail kit is about 35 pounds.

This is a complete inflatable sailboat, including sail, mast, spars, mast step, leeboards, front & rear frames, 2 steering oars, and all necessary straps for attaching. Snap-in leeboard mounts, hand pump, and bag for boat included. Sail kit bag is optional extra (item 6007 or 6021)

Sail kit and optional motor mount attach to factory pre-installed fittings (no need for you to add d-rings or anything).

Consider adding a sail kit bag (item 6007). Also consider upgrading the kit to the larger sail and heavy duty mast (item 5011 is the package of necessary substitutions). See all upgrade and accessory options on our Dinghy Upgrades, Options and Accessories page. At the top of that page are links for adding our "Deluxify" or "Super Deluxify" options to your order which will give you a package of upgrades with one click, including, most importantly, the larger sail and taller, stronger mast. Or add options from that page a la carte.

Warranty against manufacturing defects: 2 years on boat, 1 year on sail kit.

Assembly Video: Click Here.

Notes on accessory and upgrade compatibilities: Not compatible with steering balance tuner nor sliding leeboard mounts. No need for quick-release leeboard mount upgrade as snap-in leeboard mounts are standard on this boat.
PRICE: $1468.00 + $120.00 S&H --> BUY NOW! <--
---