Return to: Sevylor Boats and Accessories
Add Sail Kit to A Sea Eagle Kayak Order
Item #: 2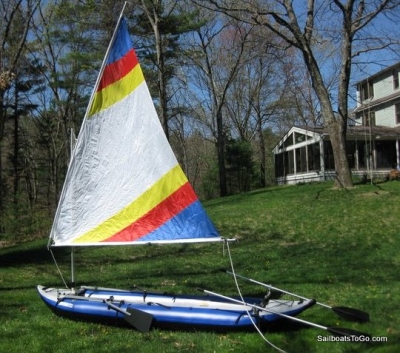 Combine this "Add-The-Sail-Kit" item with purchase of a Sea Eagle kayak from us and get free shipping on both. Order this with any of the Sea Eagle kayaks listed below. This item is a complete SailboatsToGo sail kit, appropriate to the kayak you order, with 45 SF sail, leeboards, 2 steering oars, frame and all necessary rigging and hardware. Add further upgrade items (Click Here) to substitute in a larger sail, add a sail kit bag, add stabilizer floats, change the leeboards, etc. This item can only be ordered in the same transaction with a Sea Eagle kayak. Choose any of our nylon sail color schemes and tell us your choice in the order comments or in a follow-up email.

Sailing Videos:
Fast Track 465 (1)
Fast Track 465 (2)
380X
420X
Paddleski 435PS
385FT
300X
Razorlite (Travel Canoe would be similar)

Note: Most of the kayaks are stable enough to sail without the optional stabilizer floats under appropriate conditions. However the SE330, SE370, Razorlite kayak and the Travel Canoe require stabilizers (add item 1006 or 1013).
PRICE: $599.00 + $0.00 S&H --> BUY NOW! <--
---
© 2001 - 2019 SailboatsToGo, LLC. All rights reserved.