And now a word from our sponsons...
Radisson Canoe Sponsons - Free Shipping!* - Fit Any Canoe
If your canoe were swamped or capsized, would it float or sink? Many canoes sink when swamped, unless you add some flotation. You should test your canoe (in shallow water!) to find out. These flotation strips, called "sponsons", could save your canoe, and maybe save the life of someone who isn't wearing their lifejacket. Even if your canoe is bouyant enough to be unsinkable, could it also support someone clinging to it? A pair of these sponsons provides about 49 pounds of flotation. A typical 200-lb. person needs only about 10 lbs of flotation to keep them from sinking, because the human body is mostly water and fat, neither of which sinks.
A pair of these sponsons also enhances stability. All prices are for a pair. Made by Radisson. Fit any canoe.
SportsPal sponsons also available. Please contact us for pricing. As a rough guide, they are about 50% more. So, two sponsons without hardware in the Sportspal style are $100 for short to $120 for long PLUS shipping as of this writing (2022) Unlike the sponsons listed here, which are sold only in pairs, Sportspal sponson are sold singly. ($50 to $60 each as of this writing). So quantity of 1 for them is not a pair; it is literally one sponson. Contact: Jim@sailboatsToGo.com
1036

Canoe Sponsons with no hardware - Free Shipping.
This is our lowest-cost option for Canoe Sponsons. See other listings for same with stainless steel hardware or plated steel hardware.

$85/pair


Shipping**
Free!

Add to Cart
Sponsons also have these other benefits: They look sharp! They make a nice bumper to protect your boat from dock scrapes. They deflect water coming up at you. If you go to the bottom of this page, you can read customer comments.
*Free shipping is for lower 48 States. Shipping to Canada is usually $30 - $50 (US) by Priority Mail. Go ahead and order and we will contact you for approval of shipping charges. Made in North America, so no duty.
See the black sausages bolted to this canoe on each side? Those are Ethafoam sponsons -- rugged foam flotation strips.

When this picture was taken, the canoe was already 7 years old and had been stored outside the whole time, including in northern winters. The sponsons are still in great shape, despite long exposure to the weather.

Each canoe sponson is 9 feet long by 4 inches high. They are sold in pairs, with mounting bolts included.

A pair of sponsons provides about 45 lbs of flotation. The main purpose is to help keep your canoe from sinking if it becomes totaly swamped or capsizes. Combine with stabilizers to (a) prevent capsizing and (b) provide another 50 lbs. (approx) of flotation.

Sponsons also help a little with stability, provide a nice rub-rail (bumper) when you are alongside a dock or another canoe, and help deflect spray and waves when motoring or sailing fast or sitting low in the water due to heavy load. Helps to keep fingers from getting mashed when you bump sideways into a dock or other boat.

They are made of a closed-cell resilient foam that is not brittle and that resists abrasion and UV degradation. They are flexible and cushiony, yet strong.
Install these sponsons on your canoe for added flotation. Help prevent sinking. Help prevent water coming over the gunwales
Handy Links: PARTS page or Canoe Accessories page
Customer comments:
"I put them on every boat I own. These are going on a 15 foot Lund and people say I'm crazy, but they are just fantastic. Once you put them on, the boat just stays perfectly flat, doesn't matter what's going on. You wouldn't think that little piece of foam right there at the edge of the boat would make so much difference for stability but it surely does. Once you put them on, it cannot tip -- well sure, you do something really crazy you'll tip anything, but I mean anything within reason, once that foam hits the water, the boat is not tipping more. You gotta put them on the right way -- put two people in the boat on the water and mark the loaded water line. Then set those sponsons so they just barely touch the water when the boat is loaded. Then you'll be amazed at how well they perform."
-- James B., Evansville, IN
SailboatsToGo response: Thanks for your comments, James. We recommend the pontoons on outriggers (click
here
) for the biggest boost to stability, but that's great these sponsons meet your stability needs at lower cost.
"Hey Jim!
Okay, the sponsons I purchased from you last week are awesome! We went camping and really loaded the canoe down. Out on the open and rough water the sponsons did a magnificent job of deflecting waves out and away from the canoe as they crashed into us. Normally I may have had to run the bilge pumps a couple of times on a trip like that, but not this time. Hardly any water splashed in, it was truly amazing (of course I did almost fully wrap my entire canoe since I installed two sets!)
Anyway, they worked great, they spliced together very nicely, and really look good on the canoe. I wish I would have ordered them sooner.
Thanks!"
Cary (ordered sponsons June 2009)
********************************************
Our sponsons on an experimental solar boat (2 sets on each side):

The following email was received from the lead student in an engineering school project to build a solar boat (above) and enter it in a competition. They bought 2 pairs of sponsons and made one continuous foam lip the whole length of the boat. As you will read below, their boat won best looking and also performed well:
"Jim,
The Sponsons absolutely made the difference in how well our boat looked. I'm attaching several photos for you to see it. For us the sponsons provided four functions. They prevented splash from hitting the pilot, added extra flotation (though it was not needed according to our buoyancy calculations), dressed the mating point between the hull and the top surface, and they made a nice rubrail.
I have to be honest with you, I could not be happier! Dr. Foroudastan admitted to having doubts about how they would appear, as did a couple of team members. However, ... All apprehension faded away once they were in place.
Our attachment method was with 2-part 5-minute epoxy. We did a three-foot section at a time, keeping hands on it until the tack was sufficient to keep it in place (approx 15 mins). In the end, the bond was so strong that, according to our materials test, the sponson would rip before the bond would break.
You, your website, and your products are all top-notch and first class. Your speedy service and generous discount are well appreciated and I sincerly look forward to the opportunity to do business with you again. I would recommend sailboatstogo.comwithout any hesitation.
As for the attached photos:
Our boat was of a vacuum formed carbon-fiber construction. The top surface was made from the Pink Panther foam boards you would find at a big-box do-it-yourself hardware store. The boards were shaped by hand, laminated with a single layer of fiberglass using epoxy resin (polyester resin is not compatible with all foam). A build primer was applied and sanded down to a final 1000 grit wet sand, and then both went to the paint booth.
The drive-train consists of two golf-cart-type motors with approximately 35 hp available for the sprint run and roughly 1 hp available for the endurance run (the solar panels are only installed for the endurance run, they are removed to reduce weight in the sprint run). Our out drive is an Arneson-type surface drive, designed and machined right in our machine shop. It is trimmed by an electric actuator that uses a string-type potentiometer to sense the position. Steering is achieved through a standard steering push-pull steering cable.
The helm is made of a clear acrylic sheet that was created in a 2-D CAD drawing and cut using a CNC laser cutter. The back was painted black before the instrumentation was added. Our electrical system features dual 240 watt solar panels (480 watt total is the maximum allowed by the rules), dual helm-mounted charge controllers with bypass circuits, dual Altrex 600 Amp motor controllers.
The solar panels are supported by RAM mounts, which also hold the top surface down. Hanger bolts were threaded into the back side of the RAM bases to allow them to perform this dual function. A dog leash attached to a bow eye provides the safety lanyard and hitch for the panels, and a common through-hull connectors completes the easy-on-easy-off solar panel mount system.
The tech report was 42 pages, so suffice it to say that there is a lot going on inside of the boat.
Top speed, with the right propeller, should be around 25 MPH, though we only hit 21 during the race. We received the only "Best Design" award that is handed out at the event, and we received the only "Workmanship" award that is handed out at the event, so we were simply "top dog" in design and workmanship. We received a second place award for our sprint run, so we were the second fastest boat there, and we received an award for seventh overall. Ultimately, an electrical problem prevented us from finishing the endurance run, which pushed us down quite a bit. Typically there would have been a second heat that would have allowed us to do better, but weather shut the event down two days early. Still, we won four awards, two that were top, on that was second, and we were seventh overall. Plus we had the best looking boat there.
When you look at the pictures you'll realize that the sponsons are why the boat looks so awesome. The pics that show the boat without decals are when we first rolled it out of the lab. The pics with decals are at the race.
Forgive any major typos....I'm playing the catch-up game here and time is so short...so so short...but not so short that I don't have time to express my gratitude! Thanks again!
Best regards,"
Cary Woodson (MTSU) June 2013
Boat Cart - Canoe, Kayak carrier. Folds. Wheel options.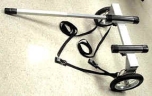 Definition: Sponson - Projections from the side of a watercraft intended to provide bouyancy, stability and/or protection (e.g., bumpers to protect against impact or abrasion from a dock or other watercraft).