Accessories for the W Kayak from WaveWalk
The W Kayak is a unique catamaran-style boat. Scroll down for more accessories...
Strap-on Sail Kit for Wavewalk Kayak With Stabilizer Floats
Item #: 6030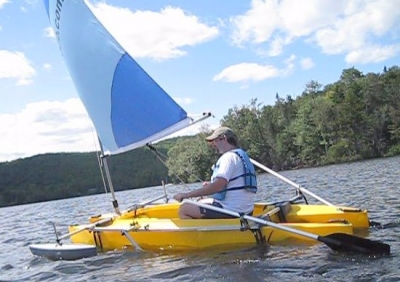 Sail kit for the Wavewalk "W" boats. 45 SF sail, hydrodynamic stabilizer floats, one steering oar, leeboards, straps and everything else you need except the boat, wind, water and lifejacket. Video: CLICK HERE Upgrades and add-ons to consider: Sail kit bag (6005), extra steering oar, substitute heavy-duty mast and 55 SF sail (5011). For bolt-on version of this sail kit, see item 6031. Whole page devoted to accessory and upgrade options click here. Choose sail colors: Click Here.
PRICE: $829.00 $45.00 S&H --> BUY NOW! <--
---
Bolt-on Sail Kit for Wavewalk Kayak with Stabilizer Floats
Item #: 6031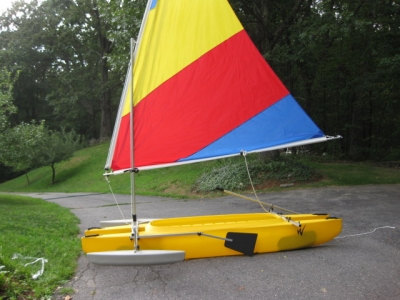 Similar to item 6030 sail kit, but designed for bolt-on installation. Requires drilling a few bolt holes in your kayak. Video: CLICK HERE . Includes stabilizer floats, leeboards, 45 SF sail, 1 steering oar. Upgrades and add-ons to consider: Sail kit bag (6005), 2nd steering oar, upgrade to heavy-duty mast and 55 SF sail (5011). For strap-on version (no drilling) see item 6030. Whole page devoted to accessory and upgrade options click here. Choose sail colors: Click Here
PRICE: $829.00 $40.00 S&H --> BUY NOW! <--
---
Trolling Motor Mount for Wavewalk Kayak
Item #: 6032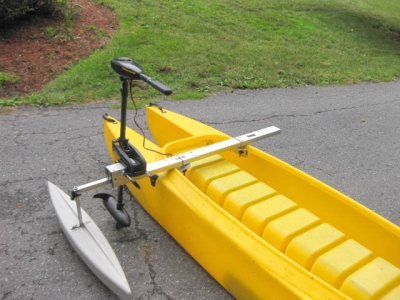 Clamps onto your Wavewalk kayak and accepts trolling motor, supporting it with a streamlined stabilizer float. This is the 1-float version (float only on same side as motor mount). Motor and battery not included. Video: http://www.youtube.com/watch?v=6m1P5xGyRas
PRICE: $299.00 $15.00 S&H --> BUY NOW! <--
---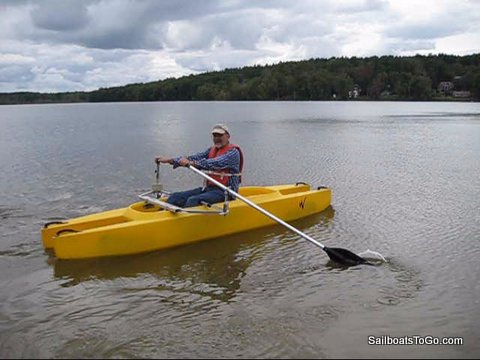 Some find the rowing motion more comfortable than paddling, because you can really put your back into it, and it's a balanced stress on the trunk of your body instead of a side to side twisting stress. The key is to get the oarlocks outboard of the sides of the kayak, so you get proper leverage. Kayaks are too narrow for good placement of the oarlocks on the hull itself. We provide these rowing outriggers (the wishbone-looking dealies) for that purpose. It's just like our popular rowing rig for canoes, but with the special gunwale clamps required for the Wavewalk. Launch Video Click Here
6040

Rowing Rig for Wavewalk Kayak


Converts Wavewalk kayak for rowing. Includes crossbar, rowing outriggers to get the oarlocks wider apart than width of kayak for better leverage, pair of spoon-bladed oars, special gunwale clamps. No-tool, no-drilling installation and removal in just a few minutes. Crossbar can accept our stabilizer floats and the oars will not hit the floats, even when they are extended. Email Jim@sailboatsToGo.com (tel 978 263 7598) to put together a package with wheels, stabilizer floats and/or sail kit and you can use the same crossbar for all, saving $40.
359.00

Shipping**
18.00
Add to Cart
Check Out
5011

Bigger Sail Upgrade -- 55 square foot nylon sail, heavy duty mast, spar extension


Select this item to DELETE the 45-square-foot sail from your order of a sail rig and SUBSTITUTE a 55-square-foot nylon sail. Includes spar extension to carry the larger sail, plus sail, plus free upgrade to heavy duty mast. Bigger sail provides more speed in light to moderate winds (5-12 mph). Not for winds above 18 mph. This price is only for substitution. Choose sail colors: Click Here
159.00

Shipping**
7.00
Add to Cart
Check Out
6005

Bag for sail rigs - big




Big sturdy padded bag with shoulder strap, outside pocket and zipper closure. Accepts entire sail kit including pontoons. Measures 48" x 12" x 12".

39.00

Shipping**
10.00
Add to Cart
Check Out
---
Trolling Motor Mount for Wavewalk Kayak




Clamps onto your Wavewalk kayak and accepts trolling motor, supporting it with a streamlined stabilizer float. This is the 1-float version (float only on same side as motor mount). Motor and battery not included.

299.00

Shipping**
15.00
Add to Cart
Check Out
6033

Motor mount for Wavewalk Kayak with 2 floats




Same as item 6032 except it has floats on both sides.

409.00

Shipping**
20.00
Add to Cart
Check Out
6034

Hydrodynamic Stabilizer System for Wavewalk Kayak




Hydrodynamic stabilizer system clamps onto cockpit rim of Wavewalk Kayak. No drilling. No motor mount included. See 6033 above for that.

400.00

Shipping**
15.00
Add to Cart
Check Out
6036

Super Strong Motor Mount for Wavewalk Kayak




Canoe-style motor mount clamps onto the cockpit rim of the Wavewalk kayak and accepts small motors. Not a part of our modular pontoon/wheel kit/sail kit/motor mount system. This is just a plain motor mount. Extremely sturdy and well made. Regular canoe motor mounts will not work. This one is long enough (comes with extension on the bar to make it long enough) and has the special clamps to fit Wavewalk gunwale.

129.00

Shipping**
15.00
Add to Cart
Check Out
6037

Hinged Motor Mount for Wavewalk Kayak




Like item 6036 but it has a hinged block that your trolling motor clamps onto, instead of fixed block. Advantage: If you hit an underwater object, the motor will tip up, turning it into glancing blow. Disadvantage: Not good for running motor in reverse and tipping up with motor's own tip-up mechanism is a little tricky.

129.00

Shipping**
15.00
Add to Cart
Check Out
6038

Slip-on Wheels for Wavewalk Kayak - 12-inch.




Allows you to roll your kayak on land. Wheels mate up to the crossbar of the sail kit or stabilizer pontoon system (sold separately) and cannot be used by themselves. Outside diameter of tire is 12 inches. Pneumatic. Wheel and leg it mounts to (included) slip on an off without tools and can be stowed in the ends of the Wavewalk kayak pontoons.

See video below. For a narrow cart that fits under the W kayak and does not require the clamp-on cross bar: http://www.sailboatstogo.com/v_page.php?content=cart and here are videos of using the cart: https://plus.google.com/photos/106647144818838684308/albums/5908792485858042433
175.00

Shipping**
15.00
Add to Cart
Check Out
5031

Steering Oar & Oarpin




Flat-bladed 7' oar with clamp-on oarpin. Use with our sail kits. Sail kits come with one, but you may like to have a second one. It's very convenient, when sailing, to have steering oars on both sides. You don't use them both at once for steering, but it allows you to steer with either hand without having to shift the steering oar from side to side. Can also be used for propulsion.

49.00

Shipping**
7.00
Add to Cart
Check Out
Videos
Sailing:
Motoring:
Wheels, roof rack, stabilizer pontoons, snap-in motor mount:
Rowing Video : Click Here
Also explore these links: http://www.sailboatstogo.com/v_page.php?content=cart (boat cart)
https://plus.google.com/photos/106647144818838684308/albums/5908792485858042433 (cart videos)
http://www.sailboatstogo.com/v_page.php?content=roof_racks (roof racks)