Snark Sunchaser I Sailboat
Note: As of March 2021, no Snarks are avalable and there is no timetable for when they will be
Carries 4 people (900 lbs) in comfort on bench seats and can take a motor. Yet is weighs only 125 pounds. It's a classic design with a long history and many satisfied owners. The Sunchaser I (this model) carries 72 square feet of sail area in a single sail. The Sunchaser II has the same hull but carries 100 square feet of sail in 2 sails. Click on Sunchaser II link to see videos of what it's like to be aboard! This video (click colored word) was done by a customer and it's great. It's a 2015 video of a very old Sunchaser, so it demonstrates both performance and longevity of the boat. Here is another video link on the Sunchaser I.
Shipped right to your door by a freight carrier. Shipping cost varies (generally $600 - $900) - you can place your order and we'll adjust the shipping after checking with you or call or email with your zip code and ask for a shipping quote. 1-888-JOY-SAIL (1-888-569 7245). Jim@SailboatsToGo.com. ( From Canada, call 978 263 7598 or email). Click Here to Order:
More info, Price, or To Buy: Click Here Price is $4006 plus shipping.
*($600 shipping will be charged initially. Your final cost could be more or less than this. The shipping charge will be adjusted later, when actual shipping cost is know, with your permission)
Bonus offer - 2 lifejackets, or a long skinny bag that protects the sail, mast and spars for car topping and storage (your choice) just for putting the word "Bonus" in the comment space when you check out.
Which is best for you? Sunchaser I? Or Sunchaser II? Read below:
Snark Sunchaser I

The Sunchaser I has a 72-square-foot lateen sail. The advantage of the lateen sail is it is very easy to use. Very easy to rig and very easy to raise and lower the sail. And with just one sail to handle, it's very easy to sail.

Those who want more speed and the fun of handling 2 sails, and who are willing to accept the extra steps involved in setting up a sloop rig, should consider the Sunchaser II instead.

As you can see in this photo, there is comfortable seating space for 4 adults.

Videos:

View from above with sail removed. The two black triangles on the bow (top of photo) are hatches that open and close. You can store gear and food in there.

The hull is a plastic foam core covered with an ABS plastic shell.

You can transport a Sunchaser on the roof of a vehicle, or on a trailer. It is only 125 pounds.

All Snark Sailboats are intended for dry sailing, meaning you should store them out of the water when not sailing.

Oarlocks included (but not oars)

The footwell area is 49" x 27".

Note: Snark has eliminated the dagger board plug in current design, though it is still listed in intstructions.

Specifications

Sunchaser I


Weight
125 lbs.
Centerline Length
12'
Beam
4' 8"
Depth
-
Transom Width
-
Transom Height
-
Persons
4
Max. Capacity
900 lbs.
Max. Horsepower
-
Hull Thickness
ABS Armorclad
Sail Type
Lateen
Main Sail Area
72 sq. ft.
Up to 5 HP motor

Only differences in specifications for the Sunchaser II are (a) Main Sail area = 80 sq. ft. and it has a 20 sq. ft. jib.

Rated for up to 5 HP outboard. Electric trolling motor recommended.

Take a look at the sloop-rig Sunchaser II model and see videos. Click: Sunchaser II .

Terms: Not returnable. Defects covered by manufacturer's warranty. Delivery dates are estimates only. Inspect before accepting delivery and refuse a damaged boat.

For other models click each name: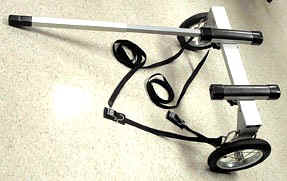 Cart: Lightweight folding hand trailer for your Snark Sailboat- Click here
Roof Racks Click Here See carrier bar with telescoping extension to make it much easier getting your Snark on and off the car roof without damage to you, it or your car.
Trailer for Canoe, Kayak or Small Boat - FREE Shipping!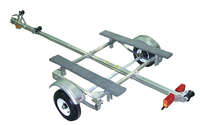 Model SUT-250-S is best for Sunchasers