Sunchaser I by Snark - waiting list reservation
Item #: 8013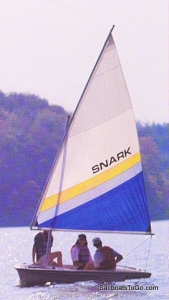 Only 125 pounds but it carries 4 people (900 pounds) in comfort on bench seating. This is the single-sail version of the Sunchaser (lower price, quicker to raise and lower the sail). See item 8014 for 2-sail version. Sail area of this model is 72 Square Feet (vs. 100 SF for Sunchaser II). All Snarks are meant to be dry sailed, not left in water. Delivered to your door by freight carrier. Please call or email for shipping quote. Jim@sailboatsToGo.com. 1-888-JOY-SAIL (1-888-569-7245). Or place the order and we can adjust shipping afterward, with your permission. More Info Click Here

More about shipping cost -- Shipping of $600 will be automatically charged as a placeholder. We will adjust this with an additional charge or credit to your credit card when we know the actual shipping. The range that we have seen is $500 - $900. Any additional charge will be done only after you approve it.
PRICE: $0.01 + $0.00 S&H --> BUY NOW! <--
---