Snark Sailboats
There are five Snark Sailboat models. The Super Snark, The Sunflower, The Sea Skimmer, The Sunchaser I, and the Sunchaser II. The Super Snark, Sunflower, and Sea Skimmer are for 1 or 2 people. The Sunchasers are for up to 4 people.
The Super Snark and Sunflower are same length (11 feet) and weight (50 lbs) and equally easy to sail. The Sunflower is a little deeper and wider and has a lot more sail area (22%) so it is faster and more spacious. The Sunflower has a splash deck up front to help keep splashing water out, so it's a little dryer. The photo below shows the Sunflower (left) and the Super Snark (right). (NOTE: The Sunflower has an older sail, the current sail does not have a flower bloom on it, just the word "Sunflower" as shown.)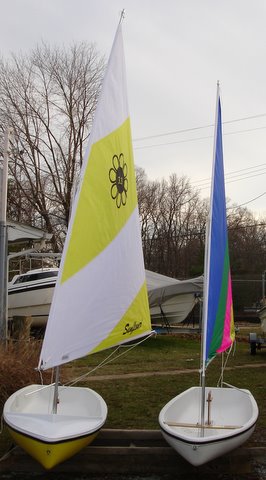 The Sea Skimmer has 2 sails and no sides -- think of it as a paddleboard sailboat -- and is a little longer (12') and little heavier (55 lbs). The Sea Skimmer is faster, more challenging to sail, can carry more weight and is less comfortable.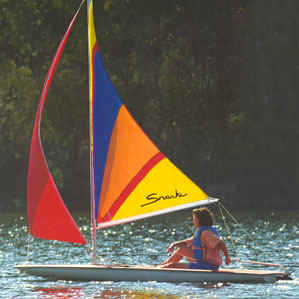 The Sunchaser I and II are big step up in passenger capacity (4 people), comfort (bench seats!) and speed -- and also in weight (125 lbs). But even the Sunchasers can be car topped. Both Sunchaser Sailboats are made with the same hull, the Sunchaser I is rigged with a single Lateen sail and the Sunchaser II is rigged as a sloop (2 sails one in front of the mast, the other behind)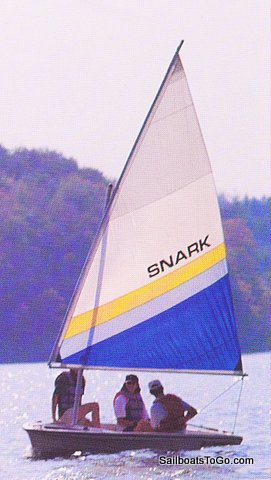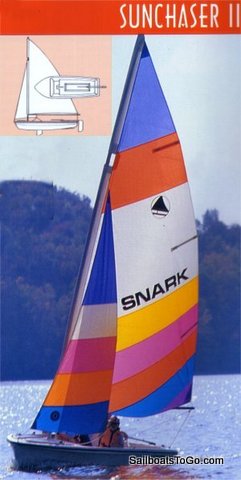 The Sunchaser I The Sunchaser II


The Sunchaser I and II hull
For more information on each of the models: Super Snark Sunflower Sea Skimmer Sunchaser I Sunchaser II