Sail Kit for
Ozark Trail Bolt Kayak and Hydro-Force Bolt Kayak X2
Want an extremely portable, extremely affordable and extremely fun sailboat? Here you go!
Buying links: Sail kit only Complete Kayak With Sail Kit
Sailing Video
Click arrow in center of frame above to launch video.
Kayak Specs:
- Only 25 lbs!
- Three air chambers
- Water drain port
- Almost 13 feet long and about 3 feet wide (152" x 37")
- Removable fin for directional stability when paddling. Remove for sailing.
- Room for 2 adults gear. 374 lbs. rated carrying capacity.
- Includes 2 paddles, carry bag for boat, 2 seats, air pump, pressure gauge.
Sail Kit Specs:
- Complete sailing conversion, including steering, leeboards so you can tack upwind, sail, mast, frame, spars, straps and ropes, stabilizer pontoons
- How-to-sail instructions included.
- Video below shows you how to assemble. Complete written instructions also included. It's easy!
- Initial one-time assembly steps might take about an hour. After that, it's about 15 minutes from bag to water.
- Standard equipment: Two steering oars, two leeboards, 45-sq. ft. sail and standard mast, inflatable pontoons
- Optional upgrades and accessories: Larger 55 Sq. Ft. sail and heavy duty mast (item 5011); Carry bag for sail kit (item 6007); Unbreakable white leeboards (item 5092); and more... click here for more upgrade info
- Your choice of sail color schemes from plain white, to multicolor jazzy to all black with skull & crossbones! See them here.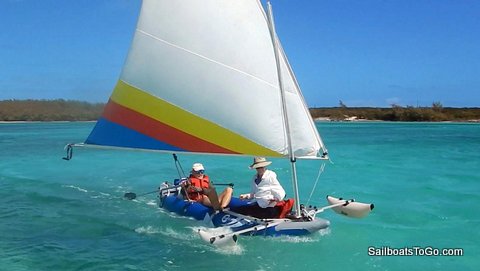 Assembly Video
Here is a very complete and detailed video on assembly, and it also discusses upgrade options and shows a few sailing clips:
Click arrow at center of frame below to launch video