SailboatsToGo Telescoping Kayak Stabilizers with Lever Lock Clamps
Stay right side up!. Pontoons on telescoping arms with easy-on, easy-off pin release to make installation and removal fast and easy. Two styles(see below) and optional carry bag. We ship worldwide. Questions on anything: Jim@sailboatsToGo.com. 1-978-263-7598
| | | |
| --- | --- | --- |
| Hydrodynamic floats in medium-extension position. They can go wider (see photo at right) and they can come all the way into the hull. They also adjust up and down. | Ethafoam floats in fully extended position | |
| We sell two styles. Picture above is the Hydrodynamic style.. It is more expensive than the Ethafoam style but it features a more streamlined float for less splash and less drag. Buy Now $348 Rugged: The floats are roto-molded using the same techniques and materials as most kayaks nowadays. Four float colors available: Red, Yellow, Magno and Gray. Specify in comment space during checkout. Clamp at end of float arms is now lever lock design on both styles. | For $100 less, we offer the Ethafoam float style. It's very effective and durable. Ethafoam is resilient, tough, not brittle, and very UV resistant. Gray only. $248 Buy Now | Optional carry bag for either style stabilizer. Keep all the parts together and carry them easily when off the kayak. Only $29 and no additional shipping when bought with stabilizer. Photo shows hydrodynamic floats in yellow. |
As you scroll down the rest of this page you will learn more about the system and its installation. Here is a schematic drawing showing the parts of the system from head on. All parts are included. Photos below will make it even easier to understand.


Adjustable in and out and up and down. Easy installation. Two little brackets remain on the deck but rest of system removes with just two pins. Corrosion resistant aluminum and stainless steel.
Here is how it works:
1. Bolt brackets to deck. Brackets, bolts and nuts are included with stabilizer.

Optional rubber nuts: If bolting where you have no access to back side, no problem -- use rubber expansion nuts (well nuts) $5 set of 4. Buy Rubber Nuts Now

Optional extra pair deck brackets ($10) Buy Extra Brackets Now

This is the only part that is permanently installed on your kayak. The rest of the system mates to it with 2 pins and therefore goes on and comes off quickly and easily.

More Photos

2. Easy- on, easy-off legs attach with pin. Included with stabilizer.

Legs & brackets also available w/out stabilizer: Buy Legs & brackets Only Now

Floats in retracted position (above) and fully extended (below)

3. Crossbar is clamped by legs. Floats are either Ethafoam (shown here ) or Hydrodynamic (further down the page). Works for sit-on-tops too, using rubber nuts. Back deck installation works too.

Easy adjustment in/out and up/down.

Easy removal -- just pull the pins.

Standard crossbar length for either float style is 30 inches. (Crossbar is the center section that float arms slide into. Also called a "universal Receiver or UR). If you prefer a 36-inch, 40-inch or 45-inch crossbar, please request it in the comment space when you check out. No extra charge for a longer crossbar.

4. Float arms slide into tunnels in the crossbar and snap into position (snap detents at 6-inch intervals). Ready to buy?

Kayak stabilizer with Ethafoam floats:

$248 $15 shipping*

Buy Now Or see Hydrodynamic streamline style below.

We ship to most parts of the world.
Extra $55 shipping cost for shipping kayak stabilizer to Europe, Japan, Australia, New Zealand, UK: Add shipping by clicking here. Buyer responsible for any foreign taxes. Kayak stabilizer with Hydrodynamic Floats
Kayak stabilizer with Hydrodynamic Floats
Kayak stabilizer with Hydrodynamic Floats

$348 $20 shipping Buy Now (item 5027)

If planning to get kayak sail kit later, these floats are better for sailing. And the come in colors! Also better for motoring.

(Hydodynamic floats only)
International shipments: Email Jim@sailboatsToGo.com for shipping quote and then use item 8889 (custom shipping cost ) to add shipping cost difference to your order. In 2013, Australia and New Zealand are $120, Canada is $60, most "European destinations are around $70 and same for Japan and Taiwan.
All metal parts are aluminum or stainless steel so it's ready for the salt water.
Pontoon height adjustable. No tool adjustment: Lever locks tighten the float clamps.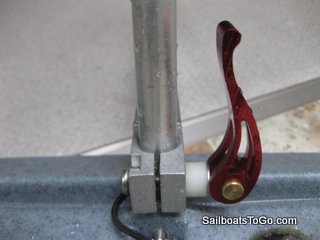 Kayak Stabilizer Floats also called "kayak amas" or "kayak outriggers"
See them on unmanned kayak drone built by MIT engineers: Click Here
Hi Jim,
I'm loving how easy the stabilizer outrigger and pontoons were to install on my kayak (WS Tarpon 100).
- Rick R., May 2006
Accessories and Parts
Gunwale clamps to put stabilizer on Canoe $30 Buy Now Be sure to email Jim@sailboatsToGo.com and tell him canoe width & brand if you plan to use kayak stabilizer on Canoe.
Set of 4 rubber expansion nuts for installation where you can't get to under side of deck to hold a conventional nut. These "well nuts" have brass female threads bonded to a rubber casing that inserts into the hole like a hollow-wall anchor you might use in your house(only stronger, because your deck is not made of sheetrock!). Same fastener sometimes used to attach luggage racks to cars. 4 rubber nuts $5 Buy Now
Kayak Sail Rigs -- Click Here for Details (entire kayak sail kit department) ; Featured sail kit products:
Bolt-on, quick-release kayak sail kit ; Strap-on Any Kayak Sail kit (no drilling).
There are many different terms used for this type of thing: Kayak stabilizers, kayak outriggers, kayak pontoons, kayak amas, etc.
More photos: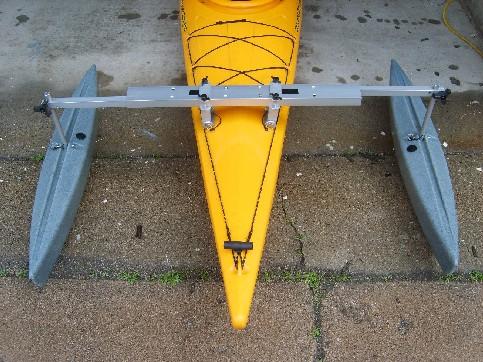 Above: Kayak stabilizer with gray HD floats. Yellow, red and mango also available usually. Specify color in comment space when you check out (gray is the default if you do not specify).
Below: A closer look at the mounting system.