Canoe and Kayak Accessories
Canoe Stabilizer Outriggers

Clamp-on outrigger floats fit all canoes, help prevent capsizing.

Hydrodynamic Canoe Stabilizer Buy Now

High strength, low drag and low splash.
Wheels snap into stabilizer crossbar More Info
Fat 16" tiresBuy Now
Leeboards snap into stabilizer crossbar -- use with or without stabilizers at same time. Buy Now

Make your canoe a real sailboat. Goes great on all tacks. Most fun on the water! More Info
Row your canoe - faster, great exercise. Sliding seat or fixed. More Info
Bench Seat - 36" x 8 x 5/8" attaches to stabilizer crossbar. Buy Now ("High Seat SR")
Oversized heavy duty bag with padded strap. Takes stabilizer & more. Buy Now

Cane floor seat - use in canoe and on shore - great back support. Lower center of gravity stabilizes canoe. Beautiful ash frame. Folds flat, just 7 lbs. Buy Now
Bilge pump - removes 8 gallons/minute from your boat. Buy Now
Super Strong Canoe Motor Mount - 3 HP max. or 35 lbs. weight. Also for all electrics. 5 lbs Clamps slide to adjust to canoe width, up to 20 inches apart, Extension available. Buy Now More info and more options for canoe motor mounts Click Here
Motor mount attachment snaps into the end of the stabilizer crossbar. The telescoping arm of the stabilizer float passes right through it. Order --->

We also have conventional canoe motor mounts. click here

Snap in motor mount, Buy Now

Great with bench seat above.

Back support! Internal fiberglass rods. 15 inches high. The best of this type of product. Add to your backless canoe seat. Secures with straps.

Canoe rack set. Bolt to wall, indoors or out. Consists of 2 Big "L" brackets, one for supporting each end of boat -- 12" vertical arm bolts to the wall, 36" horizontal arm supports 1 canoe as shown or 2 kayaks on edge (we sell stops that clamp on to keep kayak on edge from sliding - item 5115 on parts page) up to 110 lbs. When not in use, horizontal arm folds up. Works on canoes wider than 36" because even a wide canoe is narrow at the ends. Won't rust.
Canoe Cart
Dinghy Dolly, Kayak Kart
Folding hand trailer with superior design and quality
Canoe Caddy, Kayak Trolley, Boat Buggy.
This is the version with 12" tires. Also available in 16" balloon-tire cart click here. Width extender available (see below).
Strong, light, corrosion-proof, high ground clearance, big easy-rolling wheels, easy loading, easy folding, compact cart. Satisfaction guaranteed or return for refund. Don't waste your money on flimsy little carts with small wheels that get stuck on irregular ground, with solid axles that can't clear obstructions and no tongue to stabilize the cart underneath. Get this durable, versatile, portable dolly that's a pleasure to use.
Only 15 lbs!

16" balloon-tire model also available (click the red words).

Width = About 27" standard. Extensions available to make it wider (see below).

Two-wheeled canoe trolley with long tongue for superior stability. In many situations you won't even need the straps because boats sit stable and stick well to the rubber surface of the supports. Just plop the boat on and go. Made of anodized aluminum with stainless steel hardware. Huge ground clearance for rough terrain (no axle connecting the wheels!) Other sellers' solid axle carts have ground no greater than 1/2 of the wheel diameter (just 6" on a 12" wheel). Our cart has over 12" ground clearance! More than 16" clearance in balloon-tire model.


Folding: Crossbar snaps apart. Wheel struts fold against crossbar (that is, wheels fold up like airplane landing gear). Tongue telescopes to half length and snaps free of crossbar. Pads and wheels could also be removed, but usually not necessary.

Weight capacity is 250 lbs!

Loading: Lift up the front of your boat and swing it over above the cart, then just lower the boat onto the cart. When the bottom of the boat contacts the black pads on the cart's crossbar, it forces the cart into a level position and the tongue (the long bar that sticks out forward) automatically flips up and rests against the bottom of the boat. You pull on the boat, not the tongue.

Hi Again Jim,

Just wanted to say thanks for our new cart. My husband was thrilled beyond description with the quality and design. We will be sharing details about your business with our friends here in Sault Ste. Marie and will certainly highly recommend you.

Thanks again -- Lynn R.

Customer Feedback!
Going: On smooth ground, you're ready to go as soon as you drop the boat on. For greater security on rough ground, secure the boat to the cart with straps (included). You just grab hold of the bow handle of your boat and pull or push easily to wherever you want to go.
High ground clearance allows you to use cart on rough terain.
Great kayak kart too.

Rowboats, pedalboats -- no problem!

Custom widths possible: see extender below or email Jim@sailboatstogo.com




Compact: Comes apart and folds in less than a minute to this handful of small pieces. Pop them into a small duffel bag (optional) and stow anywhere, even in the hold of your kayak (remove axle bolts). Or, just fold up wheels and remove tongue, and leave the rest assembled. Click Here to Add Cart to Your Shopping Cart

Versatile: Dolly works great with a Zodiac or other inflatable boat.

Optional Extension snaps into middle. Result: Wider cart with no loss of portability! With or without extension, cart is very strong.

Extend Width

Widen it: In photos at left, we see cart with 15" extension installed, making cart about 42" wide. 10-second installation, no tools. Other lengths available (email Jim@SailboatsTogo.com).

Snap-in 15" cart width extender, works with either 12"- or 16"-wheel cart, a . href="https://sailboatstogo.com/catalog/cart.php?prod_id=5101" target="_blank">Buy Now

Idea: 2 carts can be snapped together to make a 4-wheel dolly for specialized applications. Email us for details.

VIDEO
Click see the portage cart video
1026

WindPaddle Cruiser - Larger Downwind Sail


Larger version of the WindPaddle Adventure (item 1015). Round sail you simply set up in front of you and tie onto your boat -- no installation necessary. Folds and stows in a compact package. Blue & white red & white or yellow & white -- email Jim@SailboatsToGo.com or call 978 263 7598 to specify. If you don't specify, we'll make a random color selection. MORE INFO CLICK HERE
Add item to cart to see price. You can always delete it.
Add to Cart
1015

Windpaddle Adventure downwind sail - like a kite


Fly this from your kayak deck or canoe thwart, or from your inflatable boat. Like flying behind a kite (but lower -- it stays right in front of you so you can control it). Nothing to bolt on. Yellow/white, blue/white, red/white -- email jim@sailboatsToGo.com or call 978 263 7598 to specify -- if you don't specify we'll make a random selection. Larger version, "Cruiser" see item 1026. MORE INFO CLICK HERE
Add to Cart
5088

Ethafoam canoe sponsons - foam flotation - 1 pair


Some canoes will sink if swamped. Sponsons add flotation to help keep swamped canoe afloat. Might save your canoe, might even save the life of a person clinging to overturned canoe. Each sponson is a 4" diameter half-round, that is 9 feet long. Together, the pair of sponsons provide about 45 lbs of flotation (meaning they displace 45 lbs of water) which might make the crucial difference between sinking and floating. Add a pair of our stabilizer floats, and there's another 50 lbs (approx) of flotation. Sponsons also add a little stability, act as a splash rail to deflect spray when motoring or sailing, and a rub rail (bumper) when alongside a dock or another canoe (might save mashed finger!). Bolt on (bolts provided) or glue on. black. More Info
Add to Cart
Roof RacK - Totally Secure, Yet Easy On and Off - Telescoping Loading Bar Enables One-Man Loading of a Heavy Boat.
Carrier Bar, extremely high quality and versatile: Made of aluminum and stainless steel with padded top surface and telescoping ends (next picture) for wide loads and to make it easier for one person to load a heavy canoe or similar long object. 300-lb. capacity (subject to roof's own capacity).

Available with suction cup feet (picture at left) or rain-gutter clamp feet (4th picture down).

CONTINUED NEXT PANEL

Easy one-person loading using retractable extension bars (included). Inside each end of the carrier bar is a telescoping extension bar. Pull it out up to 20" -- now you can load a heavy canoe more easily by yourself. Lift one end of the canoe and angle it onto the extended bar. Walk around to other end of canoe, lift it and swing it up onto the other bar. Now slide the canoe over to center it over the vehicle and slide the extension bars back inside the carrier bars. Click Here for More Info or To Buy
Trailer for Canoe, Kayak or Small Boat, with Free Shipping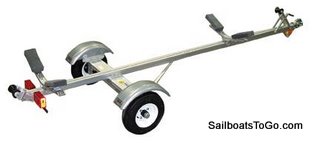 Portage yoke/canoe seat combination (picture at left). As a yoke, it raises the canoe so you can see and not bump your head on the floor. Reverse it into seat mode and it gives you a low center of gravity. Both modes benefit from the wide padded straps. Click Here for More Info or to buy.
Drop-in seat (picture at right).

Drop-in Canoe Seat




Add a canoe seat quickly and easily with this clamp-on design.

Add to Cart
Check Out
5138

Ash Motor Mount for Trolling Motor on Canoe




Beautiful and economical reinforced wood motor mount for your canoe. Trolling motors only. Ash wood, stainless steel clamps, phenolic knobs. Made in USA.




Add to Cart
Check Out