Bolt-on Kayak Sail Rig (item 6025 - price and ordering link at bottom of page.)
Most kayakers opt for our strap-on rig (item 6004) but here is the bolt-on alternative:
The advantages of this rig are no side pieces, so it's easier to paddle and get in and out of, plus the elegance and security of a bolt-on mounting system. "Bolt-on" sounds permanent, but no! -- the rig removes from the kayak just by pulling 5 pins, leaving just 5 tiny low-profile brackets bolted to your kayak deck (3 in front, 2 in back).
The rig consists of a front assembly, shaped like a "T" that carries the leeboards and mast, and a rear crossbar that carries the steering oar.
Front Assembly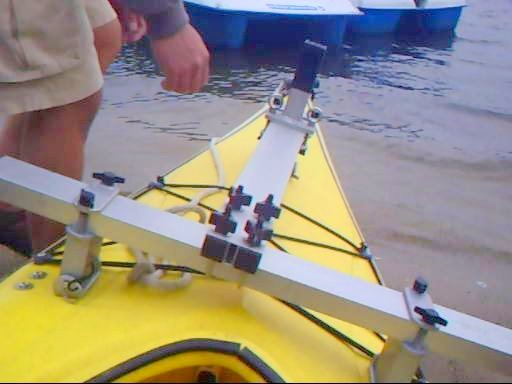 One hollow aluminum bar is oriented across the deck and a second one connects to it and goes forward. The mast step (socket) clamps onto the front of the second bar. The leeboards attach to each end of the crossbar. Leeboards are short fins that go in the water to reduce side slippage, so you can tack upwind (takes the place of a centerboard). The crossbar also accepts the extension arms of optional stabilizer floats (pontoons).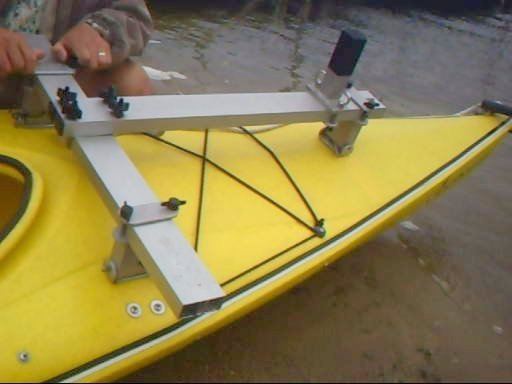 The only thing that is bolted to your kayak more or less permanently, is the little bracket at the base of each leg. Each leg is attached to its deck bracket by means of a slide-in, slide-out pin. Pull the 3 pins, and the front assembly and legs come off you kayak.
| | |
| --- | --- |
| | |
| Above is the little bracket that bolts to your deck . | A short leg attaches to the brackets by means of a pin. |
| | |
| Bracket with leg, showing space at top where the hollow bar goes. | Legs pivot on pin so that bracket can bolt to a sloping suface and still attach to leg in a vertical orientation. |
A pair of the same legs and brackets are used to mount the rear crossbar. The rear crossbar has a socket at each end to accept the oarlock pin of the steering oar. It's a clamp-on oarlock, so you can let go and it won't slide away and the blade is always held vertical for you.
Rear Crossbar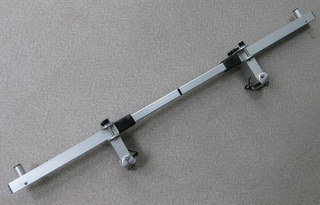 3 views of a completed installation on a small kayak, sent in by a customer (Ed B.) . This customer chose to use two steering oars. You don't use them both at the same time -- one or the other trails along in the water unattended at any given moment -- but it is convenient to be able to use either hand without having to move the oar over to your other side.

"I love my rig!" - Ed B. (May 2008)
| | |
| --- | --- |
| | Customer Khan V. sails his bolt-on kayak rig. Khan has a big wide kayak that's stable enough without stabilizer floats, even with the big 55 -sq. ft. sail. |
| | This rig is item 6025 on the Kayk Sail Rig page. Shown here with the item 5011 upgrade to a larger 55 sq. ft. nylon sail. |
More info: Jim@sailboatstogo.com 978 263 7598
6025

Bolt-on upwind kayak rig (no stabilizers)


A sail rig that fastens to your kayak with metal legs and brackets, but is still easy and quick to remove. Most kayaks choose our strap-on rig (item 6004 or 6020) so they don't have to do any drilling and bolting. But the bolt-on rig has advantages, such as no side bars (makes it easier to paddle and easier to get in and out) and the elegance of an all-metal attachment system. Most kayaks will need stabilizer floats (see item 1006 for the most popular, highest-performing option) and these are ordered separately. If your kayak is at least 36 inches wide, you might get away without them. Kit includes everything else you need to sail: Sail, spars, mast, rigging, mast step, front frame assembly, leeboards, 1 steering oar and oarpin, rear crossbar for mounting steering oar, and 5 mounting legs (kayak adapters). Options and upgrades to consider: Larger sail with heavy-duty mast (item 5011). Second steering oar. Carry bag (item 6005). Unbreakable, high aspect-ratio leeboards (5092). Rig folds to a slim bundle, less than 4 feet long, and fits in our item 6005 bag. About 35 lbs. The accessories and upgrades mentioned are available on the main kayak rig page.
679.00

Shipping**
30.00
Add to Cart