Return to: Snark Sailboats - Parts and Accessories
55 SF Sail, nylon, yellow and white C55
Item #: 5025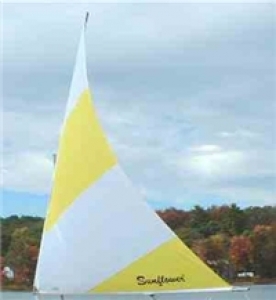 This sail fits our sail rigs if you have the spar extension already. If you don't, order sail with spar extension (item 5012). Approximately 11'8" on the luff (the almost vertical, forward edge) and about 9' 8" on the foot (bottom, horizontal edge). Yellow and white. May not say "Sunflower" on it. If you have a preference for having "Sunflower" on your sail, mention that in the order comments and we can probably accommodate you on that.
PRICE: $129.00 + $7.00 S&H --> BUY NOW! <--
---
© 2001 - 2022 SailboatsToGo, LLC. All rights reserved.