Clamps for Canoe Motor Mounts or DIY projects (1 pair) - free ship!
Item #: 5090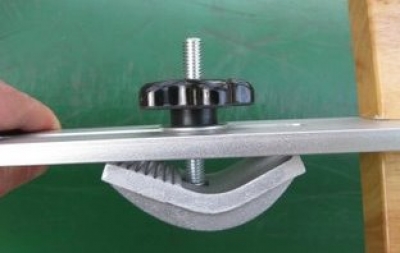 Clamping jaws, bolt and star-knob nut to replace a lost or damaged set of gunwale clamps on our Super Strong or Hinged canoe motor mounts. These are also popular components for do-it-yourselfers who need a clamp to attach any kind of crossbar to a canoe or dinghy. These clamps work by reaching under the gunwale lip and clamping the crossbar down to the gunwale. There must be a slot in the crossbar for their bolts to go through. Very strong and corrosion-resistant. Although you see a section of a crossbar in the photo, it is not included. This item is just 2 jaws, 2 bolts and 2 star-knob nuts. Free shipping in lower 48 states. Other locations will be charged at postal rates, and we'll contribute $7 and charge you the rest.
PRICE: $45.00 + $0.00 S&H --> BUY NOW! <--
---
© 2001 - 2021 SailboatsToGo, LLC. All rights reserved.