Motor mount for Canoe - Super Strong for up to 3 HP
Item #: 5053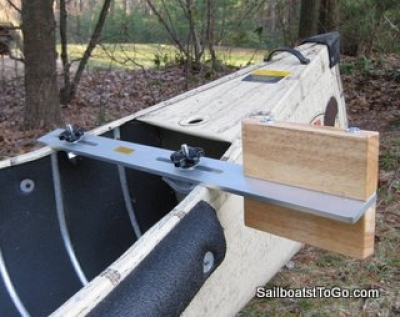 Similar to hinged motor mount (item 5052) but rigid and stronger with bigger block for mounting motor. Great for electrics and also gas motors up to 3 HP. Maximum motor weight is 35 lbs. Clamps slide to adjust to canoe width, up to 20 inches apart, but with extension (item 5054) can fit up to 30 inch width. Heavy-duty construction: The crossbar is 3/8" thick by 2 1/2" wide solid marine-alloy aluminum. The clamps are heavy, ribbed castings for strength and rigidity, with 3/8" diameter threaded shanks for the hand knobs on top that you use to tighten the clamps. Click on picture to enlarge.

Mad River Adventure canoes require substitution of special clamps (no extra cost); request them in comment section of checkout. Safety note: Motoring solo from the rear seat of a canoe is dangerous, because the uneven weight distribution puts the bow up in the air, and then the thrust of the motor can put it more up in the air, to the point where you could flip or swamp. At a minimum, put some weight up front. Better yet, turn canoe around and use the bow seat as the rear seat, which will put you and the motor closer to the middle. A set of our leeboards will improve steering control and help you fight crosswinds (item 5056). Set of our canoe stabilizers also strongly recommended for capsize prevention. See item 5215 for a motor mount that accepts stabilizer pontoons without need for another crossbar and is available in any length without need for extension. Clamps available separate from motor mount -- see item 5090 -- in case you need replacement or have a project in mind that could use them. See video on this motor mount.For MyCanoe owners, be sure to ask for special version in your order comments.
PRICE: $115.00 + $15.00 S&H --> BUY NOW! <--
---