Steering Oar & Oar Pin & Short Strap.
Item #: 5031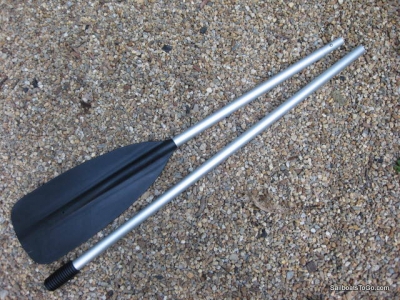 Oar w/ clamp-on oar pin. Flat blade, 7' length. Short strap included to secure oarpin in socket. Free shipping if ordered with a sail kit. Otherwise, $15 shipping* added after checkout. Use with our sail kits and canoe rowing attachment. Sail kits come with one, but you may like to have a second one. Some kits already come with 2, so check the kit description. It's very convenient, when sailing, to have steering oars on both sides. You don't use them both at once for steering, but it allows you to steer with either hand without having to shift the steering oar from side to side. MORE INFO & VIDEOS CLICK HERE See item 5174 for oar without oarpin. See item 5175 for joining sleeve to mate two blade sections to make one kayak paddle. *Continental US only.

Cheaper by the pair if need 2 or want a spare: See item 3030.
PRICE: $49.00 + $0.00 S&H --> BUY NOW! <--
---