Quick Release Leeboard Mounts - pair
Item #: 4806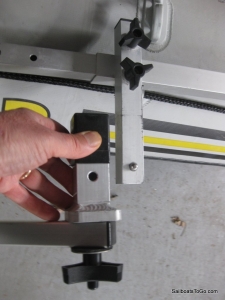 Tired of screwing leeboard bolts in and out? These quick-release mounts make that unnecessary! One part of the leeboard mount stays bolted to the leeboard and they get put away like that without unscrewing anything. Mounting and dismounting is by spring button. Screw less, sail more!

This product is the complete mounts. If you are ordering a sail kit or complete inflatable sailboat and want to upgrade to (substitute) these in your order, use item item 4807 (click) instead.

These are only for our sail kits that use the U-shaped front assembly, where the leeboard mount is on the side rail. Not for our T-shaped front assemblies that already have snap-in leeboard mounts.

Another great benefit of these is greater durability. The other style of mount that these replace has aluminum female threads. Aluminum is soft and can strip. These have stainless steel for both male and female threads.

A third great benefit is the knobs that lock the leeboard angle have a nylon friction ring in the female thread, to help keep the knob tight when you tighten it.
PRICE: $59.00 + $8.00 S&H --> BUY NOW! <--
---