Old style Intex Motor Mount -- for Seahawk Sport 400 etc.
Item #: 3024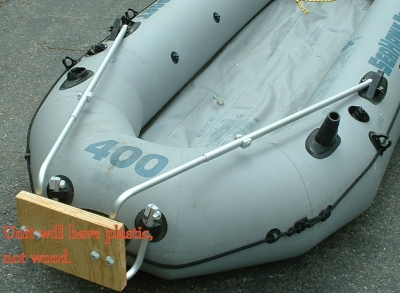 This motor mount is for Seahawk Sport 400 and all older (pre-2005) Intex boats with motor mount fittings. Has longer arms than new-style (see item 3015 for new style). As far as we know, we are the only source in the world for this item. Allow a few extra days because we custom make part of this for each order.

Please make sure your old boat is still good BEFORE ordering this item. This item is not returnable based on changing your mind or discovering your old boat is no good, because of the custom fabrication aspect.

. Contrary to photo, item is metal and plastic, not metal and wood. If you want to sail with motor mount in place, order clamps for steering oar assembly (item 3022). Dinghy sail kit options, upgrades and accessories page: Click Here.
PRICE: $99.00 + $15.00 S&H --> BUY NOW! <--
---