Sail Kit for Saturn Nanocats
Item #: 2061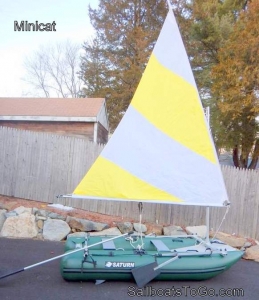 Sail kit only, for Saturn Minicat "Nanocat" (for larger Minicat read on). This is the steering oar version. For the center rudder version (can't be used with motor) order item 2009 (click). Center rudder cannot be used with motor in place, so this steering oar sail kit will be the way to go for many folks.

. Also, this item number is for the Nanocat, which is only about 4 feet wide. For the wider boats of this type, the price is a little higher and the item number is 2062 so please click here for that. Includes 45 SF nylon sail, mast, spars, frame, leeboards, steering unit with 1 steering oar, attachment straps, full instructions. If you don't have the boat already, see our minicat-boat-with-sail-kit packages (items 2058,2059 and 2060). Also see link at the end of this write-up for the options and upgrades, because you probably want to consider upgrading to the larger sail and other cool features, and you may want the sail kit bag.

Click picture to enlarge.

Options and upgrades available include upgrade to larger sail, carry bag, second steering oar. See: Sail kit accessories, options and upgrades page CLICK HERE.


PRICE: $799.00 + $35.00 S&H --> BUY NOW! <--
---